Online Poker Legislation 2017
There's no doubt that the past few years has seen a sea change in legislation across the world with regards to online poker.
While some countries have caught up with the Internet gambling revolution and embraced it, others have strengthened their anti-poker laws to make it harder to bet online than ever before.
Meanwhile, in the US, the post-Black Friday years have led to green shoots of regulation in states like Nevada and New Jersey.
Here, we take a closer look at current 2017 laws in the US and further afield.
USA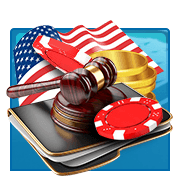 Federal Laws
Current: UIGEA (Unlawful Internet Gambling Enforcement Act)
Potential: RAWA (Restoration of America's Wire Act)
The biggest piece of legislation to arrive in the US in recent years is UIGEA (Unlawful Internet Gambling Enforcement Act) which was signed in 2006 and became implemented in late 2009, just as Barack Obama was taking office.
Despite widespread criticism and lawsuits, UIGEA was passed due to its attachment to a wider piece of anti-terrorism legislation, the SAFE Port Act.
While not explicitly banning online poker in the US, UIGEA outlaws the processing of bank and credit card payments made to offshore, "illegal", online poker sites.
After Black Friday in April 2011, when the DOJ indicted the heads of major poker sites who'd flouted UIGEA, the DOJ later relaxed their interpretation of the 1961 Wire Act (which bans bets taken over state lines) to make it clear that it only applied to sportsbetting. It also allowed states to introduce their own legislation if they see fit.
That paved the way for individual states, unencumbered by federal laws, to push on with legislation of their own.
Attempts have been made to pass countrywide legislation governing online gaming, however.
A 2013 Bill put forward by Peter King, the Internet Gambling Regulation, Consumer Protection, and Enforcement Act, sought that, "Internet gambling in the United States should be controlled by a strict Federal licensing and regulatory framework to protect underage and otherwise vulnerable individuals, to ensure the games are fair, to address the concerns of law enforcement, and to enforce any limitations on the activity established by the States and Indian tribes." [1]
Chaffetz, Adelson and RAWA
While there have been attempts to introduce new legislation overturning UIGEA and allowing online poker on a federal level, none have yet been successful.
Meanwhile, there have been moves in the United States to have all online gaming in the country outlawed.
Utah congressman Jason Chaffetz, backed by casino mogul, Sheldon Adelson, are trying to overturn the DOJ's reinterpretation of the Wire Act and ban ALL online gambling in the US across the country.
Chaffetz's HR707, also dubbed RAWA (Restoration of America's Wire Act) will seek to overturn the DOJ's 2011 reinterpretation of the outdated Wire Act which paved the way for individual states to legalize online gambling.
However, a 2014 report by the Washington Post hinted that a number of Republican members are concerned that outlawing all forms of online gambling at a federal level would undermine conservative core values. [2]
The billionaire Sands CEO's crusade against Internet gambling in the US could well backfire. After all, he was once pro-online gambling. If the Republicans take the White House (they already control Congress) in the upcoming election, Adelson's Bill could die.
At time of writing (March 2017 ), a hearing was being scheduled in the House Subcommittee on Crime, Terrorism, Homeland Security, and Investigations to discuss RAWA. If passed, states like Nevada, New Jersey and Delaware who have already introduced their own legislation for online poker will have to repeal all laws.
Nevada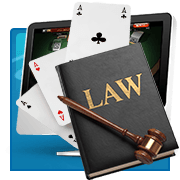 Main Laws: AB258, AB294, AB114
The home of gambling in the United States, Nevada was already toying with online gambling legislation before the DOJ reinterpreted the Wire Act. With the new stance, Nevada lawmakers ensure they were the first state to start going it alone.
Assembly Bill 258 was passed in 2011, several months before the DOJ moved its opinion, which allowed for the licensing and operation of online poker within state borders. [3]
After further laws like Assembly Bill 294 (AB294) which lifted the restriction on mobile gaming, the first gaming licenses were issued in 2012. [4]
With a relatively tiny player pool in Nevada (the population hovers above 2 million as it stands) the future of regulated poker in Nevada rested on "inter-state" compacts whereby fellow regulated US states could share player pools. [5]
In 2014, NV Governor Sandoval signed a 'Multi-State Internet Wager Agreement' with his Delaware counterpart, Jack Markell, so that the two newly-regulated states could share players and business. That agreement looks like going live in early 2017 . [6]
It hasn't been plain sailing for legalized online poker in Nevada, however. The first license-holders in the state, Ultimate Poker, went bust just months after opening, but the remaining big players like WSOP are positive about business picking up in 2017 and beyond.
Delaware
Main Laws: HB333
The tiny state of Delaware (pop. 920,000) was the second state to legalize online poker within state borders to its residents.
The Delaware Gaming Competitiveness Act of 2012 makes it legal to wager online, but in addition to poker, online casino games like roulette and blackjack are permitted. [7]
As mentioned above, the future of Internet poker in Delaware rests on the success of inter-state pacts like the one the state has just signed with Nevada. Delaware, at time of writing, has three poker sites operating compared to Nevada's two. Meanwhile, global powerhouse 888 operates the software behind all three of Delaware's rooms.
New Jersey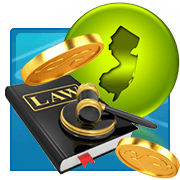 Main Laws: A2578, S3167
New Jersey became the third state in the US to "go legal" when in February 2013 it passed Bill A2578 into the legislature books. [8]
The first legal poker sites, operated in partnership with existing land-based casinos in Atlantic City, opened in late 2013 after Governor Chris Christie put pen to paper.
With big NJ players like Caesars, the Borgata and Trump in tow, companies that had previously left the US market like 888 and PartyGaming made a big return, although sites indicted after Black Friday like PokerStars are still (as of March 2017 ) frozen out.
As in Delaware, New Jersey residents can bet on online blackjack and roulette as well as poker, but with Trump going bust, and Atlantic City experiencing a downturn, the future of online poker sites in the Garden State rests on "bad actors" like PokerStars being allowed back in and also the introduction of interstate pacts with Nevada and Delaware.
However, with three times the population of both Nevada and Delaware, NJ may stand to lose more than it could gain from such a compact right now.
US States To Go Legal in 2017
So, who could join Nevada, Delaware and New Jersey in the 'legal' club in the US?
Pennsylvania has been talked up as a possible candidate, but with the state only recently introducing legalized land-based casinos, it could be some time before anything hits the statute books.
All eyes will be on the House Committee on Gaming Oversight in April to see if they can buck the trend of falling casino revenue. [9]
While Massachusetts, Florida, and Maryland are all possibles, the most likely to "drop" is California. It already has legalized live poker, with some of the biggest and best cardrooms in the world, and the population to make it work.
AB167, or the Internet Poker Consumer Protection Act, is Assemblyman Reggie Jones-Sawyer's proposed bill, and would allow "bad actors" like PokerStars to return and racetracks to have their own poker sites. The success of the bill rests on support from California's powerful Indian tribes.
US States Where Online Gambling Is Definitely Illegal
We've covered the states which have legalized and regulated online poker, but what about the states that continue to ban poker outright?
While most states in the union sit on the fence with regards to Internet gambling, operating under legal gray areas or outdated, ancient laws that don't cover the web, several states have banned the game entirely.
Under an amendment made in 2006, it became a Class C felony in Washington State to gamble for real money online, and that includes poker. [10]
Meanwhile, Georgia bans outright gambling of any sort. Under Section 16-12-21 of the Georgia Code, playing and betting for money on ANY game played with cards is an offense. [11]
Online Poker Laws Around the World
The UK currently enjoys fully regulated, licensed and legal online poker under first the Gambling Act of 2005, and then the updated Gambling (Licensing and Advertising) Act 2014.
Australia's online laws stretch back to 2001 and the Interactive Gambling Act. While not illegal for Aussies to play online, it does outlaw unlicensed overseas sites from operating in the country. Poker players in Canada are free to play at offshore sites, although several provinces, such as Quebec and British Columbia, operate their own state-run gaming sites. PokerStars, however, currently considers Canada a legal "gray area" and pulled out of the market there in 2014.
Finally, South Africa has been in the news in early 2017 for its will they-won't they legislation on poker. In early 2017 , however, the government look set to pass the National Gambling Amendment Bill which will regulate an industry ridden with crime. [12][13]
Resources:
[1]https://www.congress.gov/bill/113th-congress/house-bill/2282
[2]http://www.washingtonpost.com/politics/gop-megadonor-sheldon-adelson-faces-conservative-rebellion-over-online-gambling/2014/11/20/b0b03318-6f44-11e4-ad12-3734c461eab6_story.html
[3]https://nelis.leg.state.nv.us/77th2013/App#/77th2013/Bill/Text/AB258
[4]https://www.leg.state.nv.us/Session/76th2011/Bills/AB/AB294.pdf
[5]https://nelis.leg.state.nv.us/77th2013/App#/77th2013/Bill/Text/ab114
[6]http://www.reviewjournal.com/politics/government/nevada-braces-sandoval-urges-gop-pass-homeland-security-bill
[7]http://delcode.delaware.gov/sessionlaws/ga146/chp285a.pdf
[8]https://legiscan.com/NJ/bill/A2578/2012
[9]http://www.legis.state.pa.us/cfdocs/legis/cms/index.cfm?chamber=H
[10]http://apps.leg.wa.gov/RCW/default.aspx?cite=9.46.240
[11]http://law.justia.com/codes/georgia/2010/title-16/chapter-12/article-2/part-1/16-12-21
[12]http://www.gamingintelligence.com/legal/29938-south-african-government-dismisses-prospect-of-igaming-regulation
[13]http://www.balancingact-africa.com/news/en/issue-no-406/internet/south-africa-parliam/en
More Related Guides