Legal Online Poker
When it comes to poker online, legal websites offer safe, secure games to wager your cash at.
Real money legal poker has been around for years, but many countries still have rather vague laws overseeing the legality and regulation of gambling online.
In 2017, some countries specifically permit legal online poker, others ban overseas sites but don't ban players, and others still that have banned Internet gaming altogether.
If you're playing poker online, legal games are best for a happy poker life. At OnlinePoker.com we find the best online poker legal sites.
Play at legal poker sites online:
Regulated, licensed poker rooms on the net
Good record of fast cashouts
Excellent security and player protection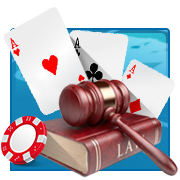 Our
Best

Online Poker Sites for 2017
How Legal Is Real Money Poker?
Two federal laws changed Internet gaming in the US forever: UIGEA and the Wire Act.
The Wire Act had long been used to outlaw bets taken across state borders, but it wasn't until 2011 when the Department of Justice decreed that the old law applied to sports bets only.
That opened the possibility of individual states introducing their own legal online poker and gambling legislation.
To date, several US states have laws permitting real money legal sites within their borders (see box).
Most Important Online Poker Laws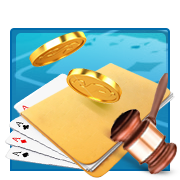 In the US, UIGEA (introduced in 2006) made it illegal for Internet poker rooms to accept and process real cash payments. While not outlawing poker itself, many operators simply upped sticks and left the US market.
Since the Black Friday raids of 2011, when several major sites who had flouted the new law were shut down, a relaxation of the Wire Act means that US states have started to go it alone.
There have been efforts by figures like Sands CEO Sheldon Adelson to push through legislation banning online poker in America altogether. Currently in 2017 , there is neither a federal law permitting, nor outlawing, real money legal poker on the web in the United States. That means that in 2017, many thousands of Americans living in unregulated states can still enjoy poker online.
Legal regulations exist in other countries too. In the UK online poker is regulated by the Gambling Commission. Under new laws passed in 2014, sites are required to have licenses issued by the Commission in order to offer games.
In Australia and Canada, the online poker legal situation is a little greyer. There are no laws prohibiting Hold'em players from enjoying games on their PCs or Macs but sites are not able to operate from within the country's borders.
"As things stand now in 2017, there are no federal laws permitting or outlawing legal online poker in the United States.
The situation in 2017 is that some of the bigger Internet poker rooms are now playing safe and pulling out of jurisdictions around the world who exist in this 'gray area'. >
Why Are Legal Rooms Good?
If a Texas Hold'em site is legal it's properly licensed and regulated to offer real cash gambling action.
That means it is required to commit to independent auditing of its Random Number Generators (RNGs), uphold standards and offer secure payments and protected data to its customers.
When you play online poker, legal websites offer a safe place to enjoy games without the risk of being defrauded.
Track Down Top Real Money Legal Rooms
2017 has never been a better time to play poker online. Legal rooms give you the opportunity to play Hold'em, Omaha or Stud safely and in the knowledge that the authorities aren't going to shut the site down. With great real money legal websites you can play as much as you want and build up a healthy bankroll. Our reviewers even find the best rooms for loyalty programs and bonuses so you can make your poker pay even more.
US Online Gambling Laws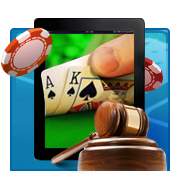 Nevada passed Assembly Bill 258 and AB294 in 2013 which allowed intrastate legal poker online for NV residents. The latter bill made it possible for operators to form inter-state compacts so that players in other regulated states could play against one another.
New Jersey not only allows online poker; legal casino games can be played on the net within state borders. Assembly Bill 2578 paved the way for legit poker, roulette and blackjack at sites partnered with existing brick and mortar casinos.
Delaware also has legal gaming after it passed HB 333, or the Delaware Gaming Competitiveness Act of 2012. Delaware residents are free to play poker. Legal roulette and blackjack can also be played for real cash.
New York could go legal next in 2017, with two online bills introduced in 2014. California and Pennsylvania, two states with existing live cardrooms or casinos, could well join NY this year in offering legal poker online.
Whatever happens in 2017, OnlinePoker.com will be there when it happens