Alabama Poker 2017
Alabama is traditionally among the most conservative-minded states when it comes to gambling. There is legislation in place to guard against lotteries and most types of commercial gambling. The only legal, land-based, real cash gambling you can access in Alabama can be found at racetracks or the three Native American bingo casinos. Pari-mutuel betting and charitable betting are also allowed.
Electronic bingo has been a particularly hot issue in Alabama. A popular gaming option with state residents, the real cash machines have now been outlawed by the Alabama Supreme Court.
These factors combined leave most AL residents with only one reasonable choice when it comes to playing for real money in their home state – taking their gambling online to visit the host of U.S. and international online casinos and poker rooms that accept Alabama players.
Read on to find out:
Alabama's poker laws
Where to play online poker
How to play real money poker in AL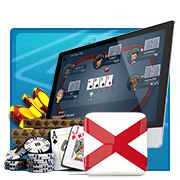 Online Gambling Law in Alabama
There is no specific law in place to deal with online gambling in AL. It's illegal to set up an online casino in the state, but when it comes to playing online as a general punter, there is no evidence whatsoever to suggest players will be prosecuted for their actions.
When we look closely at Alabama legislature [1], as follows, there does appear to be a case against online gambling.
"A person engages in gambling if he stakes or risks something of value upon the outcome of a contest of chance or a future contingent event not under his control or influence, upon an agreement or understanding that he or someone else will receive something of value in the event of a certain outcome."
Can Players from Alabama Play Online Poker?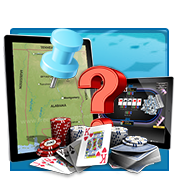 We would always advise you consult with a legal professional for qualified counsel, but anecdotal evidence strongly suggests Alabama can partake in real cash online poker games without fear of repercussion. We can find no evidence of an individual being prosecuted for gambling online for real money in Alabama. Here are some key points to be aware of, when it comes to real cash online poker play in the state of Alabama.
Strictly speaking, gambling for real money in Alabama is illegal unless specified in the state's laws (pari-mutuel betting for e.g.)
Online poker has never been addressed specifically in legislation
There are no recorded cases (that we have found) of an individual being prosecuted for playing online poker in Alabama
Recent Developments
Encouraged by the Federal government to take matters into their own hands, three states in the U.S. have already legalized real cash online gambling. Those states are New Jersey, Nevada and Delaware
Thus far, however, there has been no movement from Alabama to head in that direction. Most connected will tell you Alabama won't be moving anytime soon to make online gambling for real money legal either, such is the state's general stance against gambling.
The Facts
The History of Gambling in Alabama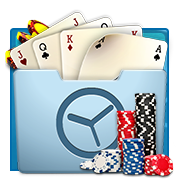 It was back in 1901 [2] that Alabama first outlawed gambling for real money in the state. In 1971, pari-mutuel betting was legalized for dog and horse racing, with charitable bingo following in 1981.
In 1988 Native American casinos were first allowed, with the proviso they were built on Native American soil.
It was in 2003 that electronic bingo was legalized, but that decision has since been reversed. At no point has online gambling been directly addressed in state legislation.
Regulated Gambling Options in Alabama
Pari-mutuel and charitable betting for real cash are regulated, legal options. You can also attend casinos built on Native American soil.
The Future of Regulated Online Gambling in Alabama
Alabama residents should not hold their breath when it comes to legal online gambling in their state. Despite the fact there is considerable tax money to be made from such an initiative, Alabama continues to take a strong stance against gambling and is a long way from moving to advance it online.
That said, real cash online casinos continue to accept players from Alabama and we've yet to see a single example of an Alabama-based player being prosecuted playing online for real money.
The Bottom Line
Seek qualified legal advice if you're concerned about the implications of real cash online gambling in Alabama, but be aware the risk of being prosecuted is extremely slim – perhaps even non-existent.
References
[1] Alabama gambling legislature
[2] Gambling in the state of Alabama has a complicated history
More Related Guides