Alaska Poker Law 2017
Alaska is as cold to legal land-based gambling as its weather. The state has very few real money options when it comes to traditional gambling, with racetrack betting outlawed along with pari-mutuel betting and most forms of commercial betting.
There is no state lottery to play in Alaska either, with the only legalized land-based options to be found at qualifying charitable events, or at the eight casinos built on Native American land in Alaska. Social poker games are allowed to involve real cash play.
There are also special permits available for, [1] "bingo, raffles and lotteries, pull-tab games, ice classics, rain classics, mushing sweepstakes, fish derbies and contests of skill within the state." These are only available to, "qualified organizations, and municipalities," however.
Learn all there is to know about:
Where to gamble in AK
How to play online poker legally
The best Alaskan-friendly poker sites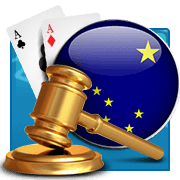 Online Gambling Law in Alaska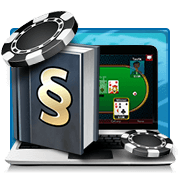 Alaska is not among the three U.S. states to have made a point of legalizing online real cash gambling – those being Nevada, New Jersey and Delaware. That being said, there is no clear legislation that addresses online gambling, and we can find no evidence to support the notion that an individual would be prosecuted for gambling for real money online.
According to 2014 Alaska state legislature [2], "a person commits the offense of gambling if the person engages in unlawful gambling." The legislature does go on to say that a defense to this charge can be successfully brought if the gambling is deemed to be "social" in its nature.
Online gambling is clearly a grey area here. While most forms of gambling are outlawed in Alaska, online gambling for real money doesn't appear to be an area the authorities are particularly focused on policing. We would always advise you consult with a legal professional before proceeding however.
Can Players from Alaska Play Online Poker?
The simple answer is yes. A good number of online poker sites, in the U.S. and internationally, will accept players from Alaska and allow them to play for real cash at their online poker tables.
Is it legal for Alaska residents to play online poker? If we go by the letter of law, perhaps not, but anecdotal evidence strongly suggests Alaskans can proceed without fear of prosecution should they decide to visit online poker rooms.
Recent Developments
Not much is developing when it comes to gambling laws in Alaska. In 2008 the Alaska Gaming Commission Initiative sought to become a recognized body licensing gambling facilities in the state [3]. They were defeated in the ballot, however, by a majority of 61.36.
The Facts
Alaska is a tough nut to crack when it comes to real money gambling laws. A few Native American land-based casinos have popped up, and there are some categories of gambling that are legal, but for the most part it's among the most conservative states when it comes to gambling.
A quick reminder of AK's real cash gambling laws:
There is no racetrack betting in Alaska
There are no commercial casinos in Alaska
There is no state lottery in Alaska
Online gambling is not specifically addressed in legislation
The History of Gambling in Alaska
Back in Alaska's rough and ready infancy it's hard to imagine that gambling wasn't rife, but the modern day state is aggressively opposed to real money gambling. There are limited opportunities to gamble for real cash, and relative to Alaska being the biggest state in America, there are in seriously scarce supply.
Recent developments have seen Native American establishments pop up in Alaska, but there has been no dramatic shift in policy or rush to legalize real money gambling across the state.
Regulated Gambling Options in Alaska
As previously addressed, Alaskans can take part in real cash, charitable gambling games, and a number of licensed outdoor activities when the event is granted a special license. The state's eight casinos on Native American land offer bingo, gaming machines and pull-tab games for real cash.
The Future of Regulated Online Gambling in Alaska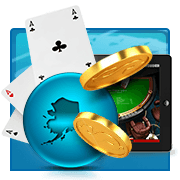 The U.S. federal government has made it clear that states wanting to legalize online gambling should feel invited to submit their own bills, but there's no sign whatsoever AK is ready to go the way of Nevada, New Jersey and Delaware.
For now real money online gambling remains in a gray area of Alaska law, where literal interpretation makes it illegal but nobody is concerned whatsoever with prosecuting those who participate.
The Bottom Line
While Alaska has a strong stance against gambling generally, those wanting to gamble online for real cash can go ahead with virtually no fear of a consequence. As ever we would advise Alaskans to consult with legal professionals before making their decision.
References
[1] Alaska Dept. of Revenue: Tax Division [2] Alaska state legislature [3] Alaska gaming commission: measure one
More Related Guides