Arkansas Poker & Gambling Legislation 2017
Back in the 1800s and early-to-mid 1900s, Arkansas was quite the gambling Mecca in America. Those days have long gone, and there are now limited options when it comes to real money play in the natural state.
Arkansas has legal pari-mutuel betting at horseracing and greyhound tracks, to be found at the two legal "racinos" you can attend in the state. Video gaming machines offering the likes of poker and blackjack are allowed with a license, and you can also win real cash by playing the state lottery. Charitable gambling is also permitted with special license.
According to the World Casino Directory [1], Arkansas has two real money racinos to offer, with the biggest being Southland Park Gaming and Racing, which puts on more than 400 dog races a year and also offers electronic gaming machines.
This page will teach you about:
Arkansas' gambling history
AR online poker laws
Latest legal developments
Depositing in USD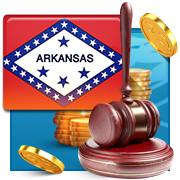 Online Gambling Law in Arkansas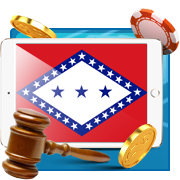 There is no direct reference to online gambling written into Arkansas legislation, and we can find no examples of individuals being prosecuted for the act of accessing a real money online casino in the state. These two facts combined would suggest playing for real cash online in AR is unlikely to deliver a consequence.
That being said, we would always advise you consult with a legal professional on matters pertaining to the law. When you reference Arkansas legislature, there is a description of betting that would appear to cover online gambling, as follows [2]":
"If a person bets any money or any valuable thing on any game of hazard or skill, upon conviction he or she is guilty of a violation and shall be fined in any sum not less than ten dollars ($10.00) nor more than twenty-five dollars (.00)."
Can Players from Arkansas Play Online Poker?
There is no shortage of choice when it comes to online poker sites that will accept Arkansas players. Online real cash games are readily available to those in the state, and it's typically a straightforward process to deposit and withdraw funds from your account once you've set one up.
Is it fully legal to play online poker in Arkansas? If you consult state law the answer would have to be no – with a clear reference to poker in the wording and a fine attached to anybody who engages in real money play.
"If a person bets any money or any valuable thing on any game of brag, bluff, poker, seven-up, three-up, twenty-one, vingt-et-un, thirteen cards, the odd trick, forty-five, whist, or at any other game of cards known by any name now known to the law or with any other or new name or without any name, upon conviction he or she is guilty of a violation and shall be fined in any sum not less than ten dollars ($10.00) nor more than twenty-five dollars ($25.00)."
That being said, we return to the fact that prosecution of those engaging in online poker for real cash would appear to be extremely unlikely. We can't find a single example of a case being brought.
Recent Developments
The Federal government has put an onus on states to pursue their own path when it comes to online gambling law. Thus far Delaware, New Jersey and Nevada are the only three states to have passed bills legalizing online real money play.
There is yet to be a move from Arkansas to follow this path. The state has remained outside of the debate to legalize real money online gambling and appears unlikely to join the party anytime soon.
The Facts
Arkansas remains a relatively conservative state when it comes to gambling laws. The following notes summarize the current climate for real money gambling.
AK has two legal racinos where pari-mutuel betting and gaming machines are available
Playing card games for real cash, such as poker or twenty-one, is illegal and carries a fine
Arkansas has no commercial casinos offering table games
Arkansas has no casinos built on Native American land
Arkansas is not actively seeking to legalize online gambling at this time
Online real cash gambling is readily accessible in AK and there is no record of an individual being prosecuted for playing (that we have come upon)
The History of Gambling in Arkansas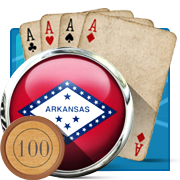 Hot Springs in Arkansas was once an extremely popular gambling destination for Americans. During the late 1800s and early-to-mid 1900s, crowds converged on Hot Springs to enjoy the wide selection of casinos and gambling dens in operation. Al Capone was among the noted regulars and real cash gambling was rife.
That all changed in 1967 when the majority of the gambling establishments were shut down in a government crackdown. Since then the state has taken a cautious line on gambling law and now has a relatively slim offering in the realm of real cash play.
The two remaining venues of note in Arkansas are Southland Park and Oaklawn Park, where you can catch greyhound and thoroughbred horseracing respectively.
Regulated Gambling Options in Arkansas
As referenced, there are still some regulated gambling options available to Arkansas residents. The two tracks at Southland Park and Oaklawn Park offer pari-mutuel betting and gaming machines, and there's also the state lottery to indulge in for real cash prizes.
In addition, charitable events are allowed to operate gambling games with a license.
The Future of Regulated Online Gambling in Arkansas
Will Arkansas join Nevada, New Jersey and Delaware in legalizing online gambling? It seems unlikely to happen anytime soon, based on the state's current stance against real money gambling, but if the tide continues to turn towards legality AR may be tempted to move.
There could be huge tax income to be made from regulated online gambling, and that may ultimately tempt a state like Arkansas to relax its stance and go full out for real cash online gambling in the future.
The Bottom Line
Arkanas residents are limited when it comes their regulated gambling options, but there is little to suggest they might be prosecuted for indulging in online casino play. That said, we would always suggest speaking to a qualified legal professional before proceeding.
References
[1] World Casino Directory, Arkansas
[2] Gambleonline.co Arkansas law breakdown
More Related Guides