California Online Poker Guide 2017
California is among the more progressive states when it comes to real money gambling laws in the U.S.
The golden state has legal pari-mutuel betting, a state lottery offering huge prizes, and a large number of Native American casinos on tribal land that offer real cash gaming to residents and visitors to the state. Real money card games are also permitted, providing the card rooms obtain a license and adhere to state regulations [1].
California is also among a group of states that are actively considering legalizing real money online gambling. Certain key influencers in CA are pushing hard to get a bill through that would see the state become the fourth to legalize online gambling, following in the wake of Nevada, New Jersey and Delaware.
Get to grips with all this below:
Online poker options in CA
California's online gambling laws
How to make your first poker deposit
Recent CA online poker developments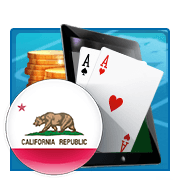 Online Gambling Law in California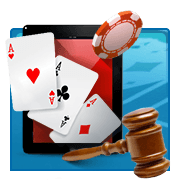 As things stand right now, California is yet to legalize online gambling for real cash. That being said, we can't find any evidence to suggest those who access online casinos from the state might be prosecuted for doing so.
We would always suggest consulting with a legal expert before proceeding, but with California engaged in serious debate as whether to make online real cash gambling fully legal, the state is clearly a long way from having an aggressive stance against those who participate.
We can find no specific reference to online gambling in California law, but it's certainly worth bearing in mind that only licensed establishments in the state are allowed to offer real money gambling. With no licenses being granted to online casinos, it is therefore illegal for the sites in question to offer real money play.
Can Players from California Play Online Poker?
Real money online poker is readily available to California residents, and there are a huge number of sites available for those in the state who want to play. Approved deposit and withdrawal methods will differ from site to site, but CA players should find it relatively easy to get set up and start playing.
Is playing online poker legal in California? Strictly speaking no, as the state is yet to license a single website to offer real money poker online.
Are you likely to be prosecuted for playing online poker from California? The anecdotal evidence would strongly suggest not, though as ever we would advise you consult with a legal professional to clarify the situation and gain a more detailed understanding.
Recent Developments
There are currently two bills in progress that seek to legalize online poker in California [2].
The most recent, AB 167, was introduced by Assemblyman Reggie Jones-Sawyer. It outlines a million license fee for providers and a four-year license term for companies that are approved to operate real money online poker in California. Each approved site would be allowed to have poker for real cash available on two separate websites.
AB 167 does not include a "bad actor" clause, which would have ruled out licenses for any establishment that has previously been found foul of acting against the law.
Such is the hope for the bill being passed that PokerStars have already agreed partnerships with several big card rooms and the Morongo Band of Mission Indians [3]. They are now in place to serve as the real money online poker provider for a number of huge operations.
There remains some strong opposition to a real money online poker bill in California, however, with the fight set to continue in 2017 .
The Facts
As things stand, California has several options when it comes to regulated real money gambling, as follows:
Pari-mutuel betting at racetracks
Card games at license card rooms
Charitable betting
Playing the California state lottery
Legalized online gambling is very much up for discussion and could well follow in the very near future for the state of California.
The History of Gambling in California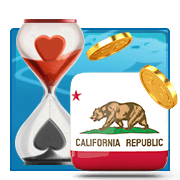 Gambling in California exploded around the time of the Gold Rush [3]. San Francisco became a huge gambling hot spot and punters flocked to the west coast to gamble at both licensed and unlicensed premises in the golden state.
A crackdown followed, but real cash gambling returned with a vengeance following the great depression in California. Licenses were handed out and once again crowds flocked to CA to indulge in whatever form of real money gambling they could come upon.
The tide then turned once again and where we are now is somewhere in the political middle in California. Regulated legal gambling for real cash is available to CA residents, but there are no commercial casinos other than those on tribal land.
Regulated Gambling Options in California
Regulated legal gambling in California amounts to pari-mutuel betting on horses and dogs, playing the state lottery or visiting one of the many Tribal-owned casinos in the state to play for real cash.
The Future of Regulated Online Gambling in California
We should expect California to continue the discussion on legalizing online gambling in 2017 and beyond. If a bill gets passed to legalize real money online poker, CA could well expand the conversation to other areas.
The Bottom Line
California is not a bad place to be if you're in the market for real cash gambling. There are already good regulated options available and the current political climate suggests more will be added in due course.
When it comes to online gambling, there is yet to be a law passed that makes it fully legal in the state. That being said, there is little or no evidence to suggest a CA resident partaking in real money online gambling will be prosecuted.
Always consult a legal professional for qualified advice.
References
[1] California state law for card rooms
[2] Is AB 167 the bill to bring online poker to California?
[3] PokerStars strengthen online poker partnerships for future California market
[4] History of gambling in California
More Related Guides