Delaware Poker Laws In 2017
Delaware is a great place to be if you're a fan of real money gambling, with a host of regulated, legal options to choose from and a very liberal legislative stance towards the industry generally.
The first state is one of three in the U.S. to have taken the Federal Government's lead and passed their own online gambling bill. It is now fully legal to access licensed real cash online gambling casinos from Delaware.
Charitable betting, pari-mutuel betting and racetrack betting are also available to DE residents. The state has three licensed casinos, according to World Casino Directory [1], offering a grand total of 7,820 slot machines and 154 tables, of which 73 are exclusively for poker.
Delaware also has a state lottery, and would be classed among the most progressive of states when it comes to real money gambling laws generally.
Read this page for all the details on:
Delaware's state-backed online poker room
Why play at an international poker site?
DE's Internet poker regulations
Where to get the biggest poker bonuses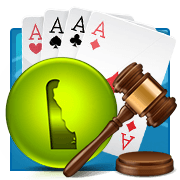 Online Gambling Law in Delaware
In 2012 Delaware became the first state in America to legalize online gambling [2]. The Delaware Gaming Competiveness Act of 2012 was narrowly victorious as a bill, inviting the state's casino operators to offer online gambling alongside their land-based operations.
Stipulations in the bill outlined the games these online sites could offer, and also that they would have to use geo-tracking software to deny access to players in states where online gambling remains illegal.
In 2013, fourteen companies applied for online gaming licenses in Delaware [3], hoping to get in on the action from the outset. Not all were successful, but DE residents now have a good selection of legal online casinos to play at.
Can Players from Delaware Play Online Poker?
Yes they can, and they do so with the completely blessing of the authorities. Real money online poker is fully legal in Delaware, providing you play at a licensed site and remain within state borders.
As per pokerwebsites.com [4], online poker options include, "No Limit Texas Hold'em, Fixed Limit Texas Hold'Em, Pot Limit Omaha and Pot Limit Omaha High/Low."
Recent Developments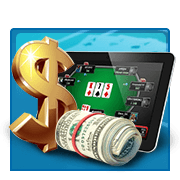 Big news in the online poker community in Delaware is the fact that an interstate agreement has been signed to allow players from Nevada and Delaware to share the same real cash virtual poker tables.
Described by USA Today [5] as, "the country's first gambling pact that will allow people in both states to play online poker against each other," the news has been greeted with great enthusiasm by players in both Delaware and Nevada.
The arrangement is strictly for poker as things stand, but it may develop into other areas. It could also be the conversation starter for future pacts between Delaware and other states – perhaps even a law that makes interstate gaming legal between any states that allow real money online casinos.
Delaware legislators are also giving serious consideration to allowing for more land-based casinos in the state, and thus increasing the competition factor.
The Facts
Delaware residents can now access real cash online gambling at licensed sites. This is on top of their access to land-based casinos, pari-mutuel betting, charitable betting and DE's state-run lottery.
When it comes to real cash poker in particular, the state now has some very good options both online and land-based.
The History of Gambling in Delaware
Up until recent developments, Delaware was a long way short of a notable real money gambling state. The first state does have a long horseracing tradition, which stretches back to the 18th century, and exists to this day, through its three famous venues.
Delaware Park Racetrack dates back to 1937, and is now a racino with casino games and slots on offer. Harrington Raceway and Casino came along in 1967 and added table games to its location as recently as 2010. Dover Downs was opened in 1969 and is arguably the most famous of the three.
It was the decision to legalize real cash online gambling that truly put Delaware on the gambling map, however. That came in 2012 and instantly depicted DE as a forward-thinking, gambling-friendly destination.
Regulated Gambling Options in Delaware
Here are the regulated gambling options for Delaware residents.
Pari-mutuel betting
Racetrack betting
Charitable betting
State lottery
Online gambling at licensed websites
The Future of Regulated Online Gambling in Delaware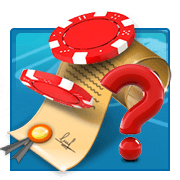 The future of real money online gambling in DE could not be brighter. With licenses available to qualified outlets, we should expect more providers to enter the space in the coming months and years.
This could be expedited if DE grants permission for the building of new land-based casinos in the state. Owners of the new sites would be very keen to gain online licenses to take full advantage of their investment.
The Bottom Line
If you're a fan of real money gambling, Delaware is arguably in the top three states in America to be living. You've got plenty of legal options, online and land-based, and the legal climate is such that further growth appears inevitable.
Real cash gambling law is certainly not as straightforward in most of America's other states.
References
[1]World Casino Directory: Delaware
[2]USA Today: Delaware Legalizes Online Gambling
[3]Poker News: 14 Companies Apply for Gaming Licenses
[4]Pokerwebsites.com: Delaware guide
[5]USA Today: Poker Pact Signed
More Related Guides