Idaho Online Poker Laws In 2017
Idaho, a rugged expanse up in America's northwest, is the 14th largest state in the union and far from the worst to reside in should you happen to be a fan of real money gambling.
There are no commercial casinos in Idaho, but there are pari-mutuel betting venues and tribal casinos on Native American land to visit, according to World Casino Directory [1]. These venues offer a combined 4,121 gaming machines, but playing poker for real cash remains illegal in Idaho, even on tribal land.
Idaho has a state lottery and charitable betting is allowed, providing it meets the specifications. You can bet on simulcast races and historical horse races in Idaho, with recent legislation also allowing for historical horse racing machines. These have been criticized as being too similar to slots machines, which the Gem State deems illegal.
Get versed on legal essentials like:
What betting is legal in Idaho?
Where to play poker online
Recent legislation updates in ID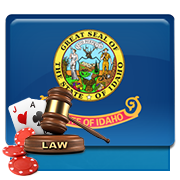 Online Gambling Law in Idaho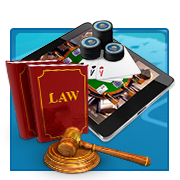 We can find no specific reference to online gambling in Idahoan law, but the following definition of gambling, taken from state legislation [2], would seem to cover the practice of playing at a real money online casino.
"Gambling means risking any money, credit, deposit or other thing of value for gain contingent in whole or in part upon lot, chance, the operation of a gambling device or the happening or outcome of an event, including a sporting event, the operation of casino gambling including, but not limited to, blackjack, craps, roulette, poker, bacarrat [baccarat] or keno…"
The statute goes on to clarify that, "bona fide contests of skill," are exempt from this definition, providing real cash rewards are only paid out to, "entrants or the owners of entrants."
"Gambling is a misdemeanor," reads another statute [3], though we can find no evidence whatsoever of an Idahoan being prosecuted for playing at a real money online gambling website.
This would suggest the chance of a penalty is very slim, but we would always advise you consult with a qualified legal professional before proceeding.
Can Players from Idaho Play Online Poker?
Yes, ID residents and visitors to the state will find online poker sites readily available for their real money play. There are plenty of real cash poker websites that will accept Idaho players, and it's easy to come up them with a quick search online. Once registered, ID poker enthusiasts should have no trouble depositing and withdrawing funds.
Recent Developments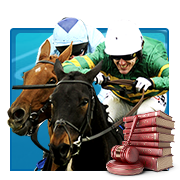 Historical horse racing was made legal in Idaho in 2013, and can now be enjoyed at three venues in the state – Sandy Downs, Les Bois Park and Post Falls. The new industry is said to have generated ,000 in tax funds and provided for over 100 new jobs, according to the Rexburg Standard [4].
Those in the live horse racing business are behind the development fully, as it is helping to fund their operation and providing a much-needed boost for the horse racing industry.
There is now a bill in the works that seeks to outlaw historical horse racing machines, however, deeming them to be too close to slot machines.
"These machines are not horse racing. They are not simulcast racing, which is legal in Idaho," said Yvonne Sandmire, as per KBTV.com [5]. "So, like it or not, people were duped by the industry."
The Facts
It is currently illegal to gamble for real money in Idaho, outside of pari-mutuel betting, charitable betting and the games you can access at the state's tribal casinos.
The History of Gambling in Idaho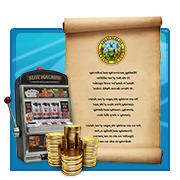 Idaho's Garden City is said to have been founded by, "gambling interests," after the state cracked down on real money action in Boise [6].
The story goes that Idaho's banning of slot machines in 1949 led to, "foot-wide towns," forming all over the state, working around the law by incorporating, to allow themselves to license the machines and reap the profits.
They were soon dealt with, and since then Idaho has maintained a firm stance against slots and real cash gambling generally.
Regulated Gambling Options in Idaho
To recap, the following are regulated, legal real money gambling options in Idaho
State lottery
Pari-mutuel betting
Charitable betting
Tribal casinos on Native American soil
The Future of Regulated Online Gambling in Idaho
Online gambling has been legalized in three U.S. states so far, being Nevada, New Jersey and Delaware. All three were prompted by the reversal of the 1961 Federal Wire Act, and the Federal instruction that U.S. states should feel free to pursue legal real cash online gambling.
Idahoans have yet to see a bill introduced that would seek to have their state join Nevada, New Jersey and Delaware. That's not to say it won't happen, although nobody close to developments would have the Gem state among the group of states who might form the second wave.
It could yet be that the lure of tax dollars pushes Idaho in the legal online gambling direction, however. Should the first three states to legalize show strong results, in terms of boosting tax revenue in their respective areas, ID could see the temptation as too good to resist.
The Bottom Line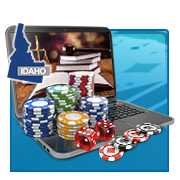 Idaho is relatively conservative when it comes to real cash gambling, but by no means the strictest of the 50 states (take a look at Hawaii's laws if you think Idahoan gamblers have it rough).
Change has arrived recently with historical horse racing made legal, and we might argue that it demonstrates an openness to a new path moving forward in Idaho.
Despite the law standing against real money gambling generally, online gambling is still thriving in Idaho and we can find little to suggest that you might be prosecuted for indulging from the state. As ever, you should consult with a qualified lawyer before proceeding.
References
[1]World Casino Directory: Idaho
[2]Idaho Statutes: Gambling
[3]Idaho Statues: Gambling Prohibited
[4]Bois Park Website: HHR Responsible for Record Purses
[5]KBTV: Instant Racing Repeal Heads to Senate
More Related Guides