Illinois Online Poker Guide For 2017
Illinois is a happy place to be if you're a fan of real money gambling. The land of Lincoln has a liberal approach to gambling law, and there are plenty of real cash options for residents and visitors to the state.
Illinois has 10 commercial casinos in operation, according to the World Casino Directory [1], with a staggering total of 11,231 slot machines to play and 252 live tables – 48 of which cater specifically to poker. The maximum bet in Illinois is set at $100,000, with the minimum at a cent.
You can partake in real money pari-mutuel betting, where the money pooled from bets is used to pay out winnings, and there is real cash action to be found at Illinois racetracks. Charitable betting is legal in Illinois, and the state also runs a lottery.
The only thing missing from Illinois' land-based legal gambling offering right now are tribal casinos. The reason for that, as per NBC Chicago [2], is that Illinois long since expelled Native American tribes and now owns the land they would have built them on.
Read this special Illinois page and find out:
Can I play online poker legally in Illinois?
What's the best poker payment method?
What are the top IL Internet poker sites?
How to play online poker in USD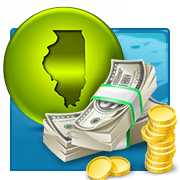 Online Gambling Law in Illinois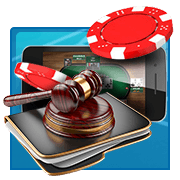 In 2012, the Federal Government updated its controversial 2006 Wire Act and invited the 50 states to make their own call in relation to real money online gambling. New Jersey, Nevada and Delaware have already pushed ahead and made online gambling legal.
Illinois is regularly talked about as a state that may soon join them, but no bill has passed yet to make that a reality. Until that happens, and based on the fact that online gambling is not listed in the permitted forms of gambling in the state [3], we must conclude that online gambling is illegal in Illinois.
That being said, we can find no evidence of an IL resident being charged or prosecuted for playing at a real cash online casino. We also know that many residents of the state access online gambling on a regular basis, without any penalty.
We would always recommend you consult with a legal professional before making a decision as to whether it's safe to move forward.
Can Players from Illinois Play Online Poker?
Illinois card sharks are spoiled for choice when it comes to real money choices for online poker. There are many sites out there that will accept players from the Prairie State, and they're easy enough to find with a quick Internet search or look to a reviews site listing IL options for poker.
Once signed up, Illinois poker players should have little trouble finding an acceptable bank method for the site in question. From there, you're up and running at a virtual poker table in no time.
Recent Developments
Two casino expansion bills are currently make their way through the Illinois legal system [4], with one proposing a huge "mega casino" in Chicago and the other asking for five new real cash casinos.
The mega casino in Chicago would have to share its wealth across the state of Illinois. Also included in these bills is a request for racetracks to be permitted to offer slots machines, as they seek additional income to boost their business.
"It's been estimated that the state could receive billion a year in new revenue from casino expansion," wrote Phil Kadner of the Chicago Tribune, pointing towards the fact Illinois is desperate for money and could well see the casino industry as a great financial solution.
In terms of online gambling, a bill was originally submitted in 2013 that called for legalization of real money online gambling, but that element was soon removed. As things stand, Illinois appears determined to deal with land-based expansion of casinos before addressing the online real cash market.
The Facts
Illinois has 10 regulated casinos right now and is very likely to be adding to those in the coming years. The state is amongst the most accommodating in America when it comes to land-based real money gambling, and its openness to debating online gambling would suggest it's only a matter of time before we see that legalized also.
The History of Gambling in Illinois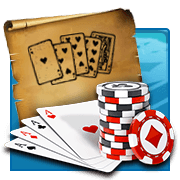 Like many states in America, Illinois' association with gambling was there from the very beginning [5]. Early settlers indulged in gambling and lotteries were used to raise local funds.
The real cash gambling scene exploded in IL during prohibition, as criminal gangs took over and ran gambling rackets in cities like Chicago. The next big boom for Illinois came with the rampant success of its racetracks in the early 1900s. Horseracing became a huge deal and remains so to this day.
In 1990, Illinois passed its Riverboat Gambling Act [5], which changed everything for the state in terms of real cash gambling. Cash flowed in, as tourists and residents alike rushed to play real money games aboard boats on the river. Riverboat gambling continues to raise millions in tax revenue for the state.
As things stand today, commercial land-based casinos and riverboat casinos are legal with a license in Illinois. The state is currently considering expansion bills.
Regulated Gambling Options in Illinois
Here are the legal, regulated gambling options in Illinois.
Pari-mutuel betting
Charitable betting
State lottery
Casinos
Racetrack betting
The Future of Regulated Online Gambling in Illinois
IL legislators are focused on land-based casino expansion for now, but it's inevitable the real money online gambling debate will be raised again in the very near future. It's impossible to say how soon IL might legalize online gambling, but most experts will tell you it's a question of when, and not if.
The Bottom Line
In comparison to many U.S. states, Illinois takes a liberal stance on real money gambling and is open to exploring new avenues – including online gambling.
We've yet to find evidence of an IL resident being prosecuted for online gambling, but we would always recommend you consult with an experienced lawyer on matters such as these.
References
[1]World Casino Directory: Illinois
[2]No Indians, More Gambling Revenue for Illinois
[3]Gambling Law US: Illinois Complied Statuses
[4]This is the Year to Expand Casino Gambling
[5]A Brief History of Illinois Gambling
[6]Establishment of Illinois Riverboat Gambling
More Related Guides