Indiana Online Poker & Gambling Laws 2017
Indiana is great place to be if you're a lover of real money gambling. The state has very liberal gambling laws in comparison to much of America, and as a result there are plenty of choices when it comes to where you can go and win (or lose) your money.
Pari-mutuel betting is legal and, thankfully for horseracing fans, Indiana is among the states in the U.S. that allow betting at its two racetracks. The Hoosier state is also good for a state lottery [1], with the profits used to boost charitable causes and support the state's infrastructure.
Real cash casinos are also on the menu in Indiana, in the form of 10 riverboat casinos, one land-based option and two racinos, both of which are allowed to stock slot machines thanks to a recent bill being passed to that effect.
This total of 13 casino facilities combines to offer up over 19,000 real money slot machines and 659 tables games, of which 105 are specifically for poker [2]. That's quite the selection for Indiana residents to get stuck into.
Read on for more details on:
The lowdown on Indian's poker laws
Where and how to gamble in IN
Why play online poker for real money?
Find the best IN internet poker rooms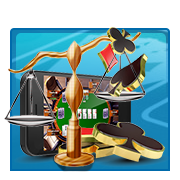 Online Gambling Law in Indiana
Indiana state law makes a very clear point of clarifying that real cash gambling via the Internet is not permitted. "The illegal gambling statute specifically provides that gambling over the Internet is illegal," outlines information at the official government website [3].
Whilst that does appear to be a cast-iron stance against real money online gambling, it's worth noting that there is no record we can find of an Indiana resident being charged, or prosecuted, for accessing an online casino.
We would always recommend you consult with an expert in the legal profession being making a decision on this theme however.
Can Players from Indiana Play Online Poker?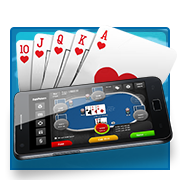 Yes. Online poker in all its glory is widely available to residents of, and visitors to, the great state of Indiana.
It's easy to find real money poker sites that will accept IN players, and you should have no trouble at all finding an acceptable banking method that fits your needs. One you're registered, with dollars in your online poker account, you're good to start playing in the virtual poker rooms.
Recent Developments
One bill currently in process in Indiana seeks to bring live dealers to the state's two racinos [4]. There was strong opposition from some of the riverboat casinos to this, with fears that having live dealer tables at racetracks would draw punters away from their establishments. A compromise saw the bill amended so live dealers will not be added to racinos for at least five years.
Another bill in the works revolves around riverboat casinos being allowed to bring their operations onto dry land [5]. This one has been voted through and will now go to the state senate for consideration.
The Facts
Indiana has a refreshingly liberal take on real money gambling and appears open to expanding its offering in the state.
The History of Gambling in Indiana
Indiana enjoyed something of a real cash gambling boom in the middle of the 21st century, but the illegal casinos and gambling dens that flourished were soon shut down as the authorities cleaned up. What followed was a period in the gambling wilderness for IN.
But in 1993 and Indiana's real money gambling industry was given fresh life by the riverboat gambling act. Legal casinos came onto the water, the first in 1995, and in 2004 the French Lick casino was given permission to legally operate as a land-based casino.
A law to introduce Indiana's state lottery was passed in 1989, and there are also laws in place that allow slots machines, charitable gambling and pari-mutuel betting in Indiana.
Regulated Gambling Options in Indiana
To recap, here are your regulated real cash gambling options in Indiana:
Pari-mutuel betting
Racetrack betting
Riverboat casinos
Land-based casino
State lottery
Charitable betting
The Future of Regulated Online Gambling in Indiana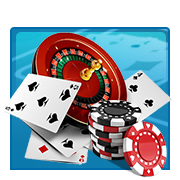 Indiana is pushing to legalize online bets for horseracing, but there is no movement as yet when it comes to legalizing online real money gambling.
Nevada, New Jersey and Delaware are currently the only states in the U.S. to have passed bills that legalize online gambling. Their moves followed a change in stance by the Federal Government in 2012, that encouraged states to make their own decision when it comes to online gambling.
The Bottom Line
Indiana is a fine place to be if you're a fan of land-based or riverboat real money gambling. You have two horseracing tracks to go to, 11 casinos and there's the opportunity to bet on charitable events and play the real cash state lottery.
Things are trickier when it comes to real money online gambling. State legislature classed Internet gambling as illegal, and there's no sign yet of Indiana pushing forward with a bill to follow New Jersey, Nevada and Delaware's lead in legalizing online gambling.
Could it happen? Absolutely it could, especially when you consider Indiana's openness to land-based gambling and the fact the state – just like every other - could desperately use extra tax dollars. It might just be that IN will wait to see how successful NJ, NV and DE are in their operations before moving forward.
References
[1]Indiana State Lottery: Official Site
[2]World Casino Directory: Indiana
[3]Indiana Government Website: Illegal Gambling FAQs
[4]Indiana Gambling Bill Amended
[5]Indiana House Passes Land-Based Gambling Bill
More Related Guides