Kansas Poker & Gambling Law Guide 2017
The state of Kansas is situated right in the heart of America, so it's only fitting its stance on real money gambling straddles the middle ground between the most conservative and liberal states on the issue.
Kansas' gambling operation is most famous for its Native American tribal casinos, of which there are currently five in operation. These are built on tribal land and operate under compacts agreed with the government. There are also three state-owned casinos in the sunflower state.
Other real cash gambling options in Kansas include pari-mutuel betting, charitable betting and a state lottery.
Get all the information you need here, including:
Legal gambling options in Kansas
How to play online poker from KS
The best KS-friendly poker sites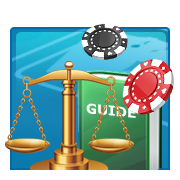 Online Gambling Law in Kansas
Back in 2013, a bill was submitted in Kansas that sought to impose penalties on online gambling [1] and take a clear stance against real money casino play online. Fortunately for KS residents and visitors to the state, the bill was voted down and no change was made to state legislature.
We've scoured existing Kansan law [2], and can find no direct mention of Internet or online real money gambling. That being said, online gambling is not included in the forms of real cash gambling that are specifically permitted, so we must therefore assume it would be deemed a misdemeanor.
The caveat here is that we find no record of anybody from the wheat state being charged or prosecuted for partaking in online gambling. We would always advise you consult with a legal expert on these matters before making a decision however.
Can Players from Kansas Play Online Poker?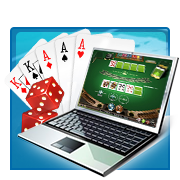 Yes they can. Real cash online poker is easily accessible for folks in Kansas and there are plenty of sites that will accept registrations from the state.
It shouldn't be too hard to find a site that works to your banking needs, and we would strongly recommend you seek out a reputable review site to guide your decision on which real money poker website you spend your money at.
Recent Developments
One of the hottest debates in Kansas real money gambling is whether or not the state's racetracks should be allowed to offer slots machines [3].
No bill has been formally submitted, but the fear for existing land-based casinos is that turning racetracks into "racinos" would take away from their earning potential. One casino owner, Kansas Entertainment, recently cited the potential of slot machines at racetracks as a reason for holding fire on a major expansion project.
The Facts
Kansas has a good selection of casinos to play at, with five real cash venues on tribal land and three owned by the state. Real money gambling options are plentiful, with horse and dog racing also on the agenda. Overall, you'd have to say Kansas is a pretty good place to stop at if you're a fan of land-based real cash gambling.
The History of Gambling in Kansas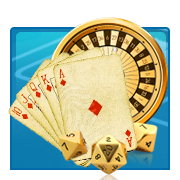 We can chart the history of real money gambling in Kansas back to frontier times. Dodge City was very much on the map for pioneers and cowboy types back in the mid-to-late 1800s, and there's no doubt large amounts of money was passing hands in Kansas saloons, as gambling stood for a very popular form of entertainment.
A quiet period followed as laws tightened in the early and mid 1900s, before Kansas voted in 1986 to allow real money pari-mutuel betting at racetracks [4]. In 1995 compacts were agreed to allow legal tribal casinos in Kansas, with the first opening a year later in 1996.
State-owned casinos are now also a part of the real cash gambling landscape in Kansas, with expansion plans being debated all the time, as the state seeks to make good on tax revenue to be made in the industry.
Regulated Gambling Options in Kansas
To recap, here are the regulated gambling options currently available to people in Kansas:
Pari-mutuel betting
Tribal casinos
State-owned casinos
State lottery
Charitable betting
The Future of Regulated Online Gambling in Kansas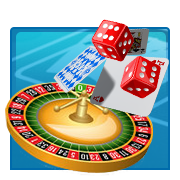 New Jersey, Nevada and Delaware are thus far the only three states in America to legalize online gambling. As things stand, Kansas would not be considered among the most likely candidates to form a second wave.
Will KS ever make the move? It's very hard to say, though as more and more states pass bills to legalize real money online gambling, it's going to become easier and easier for others to join the party – especially as they see the tax revenues generated.
The problem for Kansas right now is that some influential groups appear to be strongly opposed to the notion of online gambling. Those groups may need to be won over by the successes of legal online gambling in NJ, NE and DE, before the state is given a chance of passing a bill.
The Bottom Line
Kansas is a pretty good place to be if you're a fan of real money land-based gambling, with plenty of options available and a good tradition of delivering first-class entertainment.
The theme in the state right now is very much one of expansion, with additional land-based casinos on the agenda and a high likelihood we'll see more real cash venues open their doors in the next few years.
There are opponents to expansion, naturally, but the benefits to the state's economy of adding more gambling facilities may ultimately win over the doubters.
As for online gambling in Kansas, there's no timeframe for a bill to propose legalization. That being said, many people in the state continue to access online casinos, though we'd always advise you talk to a skilled lawyer in this area before proceeding yourself.
References
[1]Bill to Ban Online Gambling in Kansas Fails
[2]Kansas Gambling Laws
[3]Kansas Casino Cites Legislation in Delaying Hotel Project
[4]History of gaming in Kansas
More Related Guides