Maine Poker Legislation In 2017
Maine was slow to get started when it comes to real money land-based gambling, but the state now boasts two commercial casinos for punters aged 21 and over.
Oxford Casino is the property of Churchill Downs Inc., casino operators and owners of the iconic racetrack of the same name in Kentucky. The facility opened in the summer of 2012, after legislation was passed in 2010 to usher in Maine's inaugural real cash commercial casino.
The other casino option in Maine is the Hollywood Casino Hotel and Raceway, which opened in 2005, and was licensed to add live table games to its slot machines in 2012. The Hollywood was classed a racino before the addition of table games, and still has a harness racing track as part of its offering.
According to the World Casino Directory [1], Maine's two land-based real money facilities combine to offer nearly 2,000 slot machines, 43 table games and four live poker tables.
Pari-mutuel betting on horse races is legal in Maine, though commercial dog racing is illegal. Maine has a state lottery to stake your real cash on, along with legislation that allows for charitable gambling.
In this section you will learn:
Maine's legal position on Internet poker
The best legal poker sites for Maine players
The benefits of betting real money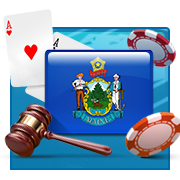 Online Gambling Law in Maine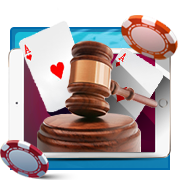 ME state law fails to address the topic of Internet gambling directly, but it does outline clearly what constitutes gambling, along with setting out the only examples of real money gambling that would be considered legal in the state.
As per Maine law [2], gambling is defined as, "staking or risking something of value on the outcome of a contest of chance or a future contingent event (like a dog race), with the intent to receive something of value in the event of a certain outcome."
Seeing as online or Internet gambling is not included in the authorized versions of gambling in state law, we must assume that Maine classes the activity of playing at real cash online casinos as being illegal.
That being said, we can find no record or report of a Mainer being charged or prosecuted for accessing a real money online casino. We would always recommend you seek the counsel of a qualified legal expert to clarify such matters however.
Can Players from Maine Play Online Poker?
Yes they can. Poker lovers in Maine should have no trouble finding a real money site that will accept their registration, and it's possible to be set up and playing in a matter of minutes.
With such a huge number of poker sites to choose from, we would always advise you consult a credible reviews site before making your choice of where to play. Keeping your personal details safe online is a huge concern these days, and you want to make sure the real cash poker site you choose is secure and trustworthy.
Recent Developments
The debate over further casino expansion rages on in Maine [3]. The state currently has two licensed land-based casinos, but a group of high-level legislators are working hard to try and increase that number in the coming years.
A report by White Sands Gaming concluded Maine could sustain at least two more commercial casinos, to take its number to four. Whether we'll soon see a bill to this effect remains to be seen, but reports suggest the conversation is heating up and it may well come to a head sooner rather than later.
Also in the news is a move by the Maliseet tribe to try and bring a Native American casino to Houlton, Maine [4]. A bill is currently in progress and we should know before about this in the coming months.
The Facts
Maine is somewhere in the middle when it comes to America's stance on real cash land-based gambling. The state has licensed two commercial casinos, and has given out licenses for both slot machines and live tables.
Further expansion could be on the horizon, but there is no sign yet of Maine following New Jersey, Nevada or Delaware, in their move to legalize online real cash gambling.
The History of Gambling in Maine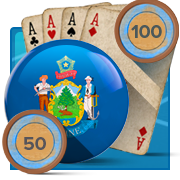 Maine's gambling history lacks the sensational tales of cowboy shootouts and organized crime you'll hear in relation to many of America's states.
Pari-mutuel betting on horse racing has been going on at Scarborough Downs since the 1950s, and continues to be popular to this day. A state lottery arrived in the 1970s and then, in 2010, Maine gave out two licenses for land-based casinos.
The debates over expansion rages on, be it for more commercial real money casinos or a Native American casino, and will likely mean change is coming in the very near future.
Regulated Gambling Options in Maine
As highlighted, here are the regulated gambling options in Maine:
Pari-mutuel betting on horse races
Charitable gambling
Land-based commercial casinos
State lottery
The Future of Regulated Online Gambling in Maine
Maine is a tricky one to pin down when it comes to real cash online gambling law. The state has proved open to land-based gambling expansion, and it could well be that legal online gambling is seen as a natural next step if more casinos are approved.
As with many states, there's an element of Maine watching what unfolds in New Jersey, Nevada and Delaware first, before making a move on whether to go for legalized online gambling or not.
The Bottom Line
Maine sustains two commercial casinos and more facilities could be coming soon. If that happens, watch closely for the Pine Tree State to investigate the potential benefits of legalizing online gambling. For now, online gambling would be strictly classed as illegal, but that isn't stopping folks in ME getting their fix.
As ever, please talk to a qualified legal expert before playing for real money online.
References
[1]World Casino Directory: Maine
[2]FindLaw: Maine State Gambling Laws
[3]Intentionally Unreasonable: Gambling With Maine's Future
[4]Maliseet Tribe Pushes for Casino
More Related Guides