Michigan Poker & Gambling Law 2017
Michigan is an extremely welcoming place if you happen to be a lover of real money gambling. The Great Lake State offers a broad and diverse selection of land-based options, with the real cash gambling laws in Michigan among the more lenient you'll find in America.
There are three commercial real money casinos licensed in MI, all of them situated in Detroit. They are the MGM Grand Detroit, MotorCity Detroit and Greektown Casino. You will also find a big selection of tribal casinos in Michigan, which are built on Native American land and licensed through compact agreements with the government.
Charitable gambling (such as bingo and raffles, where profits go to good causes) is legal in Michigan, as is pari-mutuel betting on horse racing. The state has three licensed horse racing tracks, being the Hazel Park Raceway, Northville Downs and Sports Creek Raceway. You can also play the state lottery for real money in MI.
Overall this makes Michigan one of the more amenable states to real cash gambling in the United States – especially when you consider some of America's states have no land-based casinos whatsoever.
Read the important information below and discover:
The gambling laws of MI State
Where to head for legal online poker
Top sites for players living in Michigan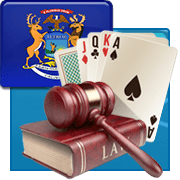 Online Gambling Law in Michigan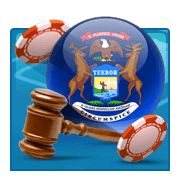 As per the Michigan Gaming Control Board, "all forms of gaming are illegal in Michigan except those specifically permitted under Michigan law."
On the same page there is a quote attributed to US Attorney General Janet Reno, in 1998, that states it is a, "Federal crime to use the Internet to conduct betting operations."
MI law does not specifically permit online real money gambling, so we can therefore conclude the state deems it illegal. Referencing Reno's quote further enforces the point that Michigan currently stands against any form of online real cash gambling
That being said, there are no examples we can find of an individual being charged or prosecuted for the practice of online gambling. Does that mean you should go ahead and play? That is not for us to say, but would always strongly advise you seek the counsel of an experienced legal expert on such matters.
Can Players from Michigan Play Online Poker?
Yes they can. Poker enthusiasts based in Michigan should find it very easy to find online real money sites that accept their registration. From there it's just a case of finding a site with your preferred banking methods and you'll be good to get playing for real cash.
Don't just jump on and play at the first site you find though. The Internet can be the wild west when it comes to your personal and banking security, so be sure to reference a respected reviews resource before making your pick. The key things to look for are real money poker sites that have the latest security software installed and offer great customer service.
Recent Developments
The most topical debate in Michigan real money gambling right now is whether race tracks should be allowed to offer "off-track Internet betting" to support their offering.
A bill may be drafted as soon as this year to push for it, with Michigan racetrack owners pushing hard for an additional revenue stream to help them survive and thrive in a competitive marketplace. If such a bill was to be passed it may have implications for a potential real cash online gambling bill in the future.
The Facts
Michigan is no Nevada, but it has a decent selection of land-based gambling options and is a state that appears open to further gambling expansion in the future. For now, the Great Lake State is apposed to legalizing online real cash gambling, but there's always the chance that may change in time.
The History of Gambling in Michigan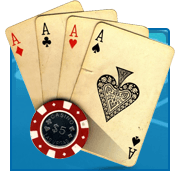 The modern history of real money gambling in Michigan began in 1933, when pari-mutuel betting on horse races was legalized. A legal state lottery came along in 1972, with the next big revolution arriving with the era of the Native American real cash casinos in MI.
The presence of these tribal casinos bought pressure for Michigan to allow commercial casinos, and the Michigan Gaming Control & Revenue Act of 1996 duly allowed for the building of three such casinos in Detroit.
What comes next for Michigan's gambling industry will be fascinating to follow. Consideration is being given to Internet betting on horse racing and, sooner rather than later, the conversion over real cash online gambling will heat up and could prompt a new bill in the house.
Regulated Gambling Options in Michigan
These are the existing regulated gambling options in the state of Michigan:
Pari-mutuel betting on horse races
Charitable betting
State lottery
Tribal casinos
Commercial casinos
The Future of Regulated Online Gambling in Michigan
OnlinePoker.com predicts 2017-18 as the likely timeframe Michigan might join Delaware, Nevada and New Jersey in legalizing real money online gambling.
Thus far, those are the only three U.S. states to have passed bills to that effect, after all 50 were prompted by the Federal Government to make their own call when it comes to Internet gambling laws. Could Michigan be among the next group of states to join the party? It's impossible to say, but you would certainly put them in the category of those with a decent chance of making it happen.
The Bottom Line
Michigan is a fine place to be for lovers of land-based real money gambling and further expansion is likely, but the state has yet to pass a bill that makes real money online gambling legal.
References
[1]Michigan Gaming Control Board: Illegal Gambling
[2]Crain's Detroit Business: Off-Track Internet Betting for Horse Racing
[3]Michigan Gaming Control Board: Michigan Gambling History
More Related Guides