Minnesota Gambling & Poker Law 2017
Minnesota's stance on real money gambling is somewhere in the middle ground when you compare their laws with the rest of America. The North Star State has some good land-based real cash gambling options, but has stopped short thus far of legalizing commercial casinos or online gambling.
As thing stand, MN residents and visitors to the state are allowed to take part in charitable gambling, providing it's licensed. This can include activities such as bingo, pull-tab and raffles. There's also a licensed state lottery, with profits dedicated to the state's general fund and the environment
Pari-mutuel betting on horse races is another good real money gambling option in Minnesota. The state has two racetracks to serve punters, namely Canterbury Park and Running Aces Harness Park. Both offer table card games in their establishment, including Texas Hold'em poker.
There are no commercial casinos in Minnesota, but there are a good number of Native American casinos built on tribal land. These combine to offer more than 20,000 real cash slots machines and take the total number of live poker tables in the state to 60.
On this page you can get your head around essentials like:
Discover Minnesota-friendly online poker sites
Detailed explanation of MN's Internet poker laws
The easiest ways to deposit in USD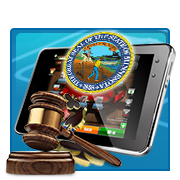 Online Gambling Law in Minnesota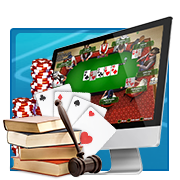 There's no direct mention we can find of online or Internet real money gambling in Minnesota law, but that doesn't mean the Gopher State is fully behind the idea of those on their turf spending money at real cash casinos.
As with most states, Minnesota is careful to lay out the legal gambling options in its legislation. Seeing as these don't include Internet real money gambling, we must assume the act of betting money at an online casino is deemed illegal.
When it comes to these matters we would always strongly suggest you speak to a legal expert for further clarity. We would add, however, that we have yet to uncover an example of somebody in Minnesota being charged or prosecuted as a direct result of their playing at a real cash online casino.
Can Players from Minnesota Play Online Poker?
Yes they can. Online real money poker is easily accessed from the state of Minnesota, and there are a good number of sites that will accept players from MN. The important part is making sure you pick the right site to play at, and there's where some solid research comes in.
Our advice is to reference credible review sites and be sure to check message boards when online poker players leave their feedback. When it comes to real cash online poker, you first need to be certain you're playing in a secure environment. Once that's assured you should be looking at game functionality, bonuses and the type of player pool you'll be mixing with.
Recent Developments
A big debate in MN right now is whether the state lottery should continue to offer online games to the public. As per the Star Tribune, the senate voted against this practice and is also against the notion of the lottery offering online games such as, "blackjack, craps, keno, dice games, roulette and poker."
This vote would appear to have major implications for the possibility of MN legalizing online gambling as a whole in the next few years. Based on the senate's stance, you'd have to imagine a heavy majority would dismiss a bill proposing the legalization of online real cash gambling.
The Facts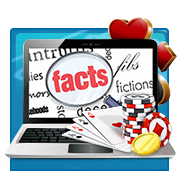 Minnesota has plenty to keep fans of real money gambling entertained, with a big selection of tribal casinos, two horse racing tracks and an openness to charitable gambling. There's no sign yet of a commercial casino, however, and the political climate appears to suggest legal online gambling is still some way off.
The History of Gambling in Minnesota
A modern timeline of gambling history in Minnesota would start with the legalization of bingo, back in 1945. Raffles, paddlewheels and tip boards joined the party in 1975, with pull-tabs legalized in 1981.
In 1983, and after many attempts, real cash pari-mutuel betting on horse racing was finally approved by the state. Canterbury Downs opened in 1985 and has been thriving as a racetrack venue for 30 years since (now under the name Canterbury Park). Card games were added at the venue in 2000. Running Aces Park became MN's second racetrack when it opened in 2008.
Tribal casinos were approved in 1988, and a year later seven compacts were agreed between Native American tribes and the state. Around the same time, in 1990, the Minnesota state lottery was launched.
Regulated Gambling Options in Minnesota
These are the regulated real cash gambling options in MN
Charitable betting
State lottery
Tribal casinos
Pari-mutuel betting on horse races
Card clubs at horse racing tracks
The Future of Regulated Online Gambling in Minnesota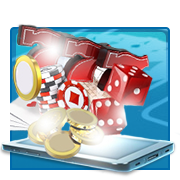 Only three U.S. states have made the move to legalized online real money gambling thus far – being New Jersey, Nevada and Delaware. It seems unlikely Minnesota will form part of the second wave, based on the senate's opposition to online games offered by the state lottery, but there's every chance MN influencers are watching what happens in NJ, NV and DE to see if there are big benefits to be had.
The Bottom Line
Minnesota is far from conservative when it comes to real money gambling laws, but you wouldn't put the state in the liberal category either. MN is yet to allow commercial casinos and appears to be some way off having a serious conversation about legalizing online real cash gambling.
References
[1]Minnesota Dept. of Public Safety: Gambling Enforcement
[2]World Casinos Directory: Minnesota
[3]Minnesota Senate Votes Again to End Online Lottery Games
More Related Guides