Missouri Online Gambling & Poker Law 2017
Missouri is not your average U.S. state when it comes to real money gambling laws. There are 13 real cash casinos, and that number is important because that's the exact limit put on casino licenses the state is prepared to award right now. Those 13 gambling venues are all classed as riverboat casinos, despite the fact they can be docked and stationary.
The largest of these casinos is the Ameristar in Kansas City, Missouri. Open 24 hours a day, the Ameristar boasts, "over 2,200 slot and video poker machines, 66 tables, 15 poker tables," and ranks itself as one of the biggest casinos in America. If we take all 13 of Missouri's casinos combined there are nearly 20,000 slots machines and well over 400 tables to play at in the state.
Aside from the lucky 13 casinos in the Show Me State, Missouri also has a real cash state lottery you can play. Charitable betting is also legal in Missouri, which includes licensed activities such as bingo, sweepstakes and raffles. Fans of horse racing will be disappointed to learn there's no pari-mutuel betting at the track however.
This page shows you:
How to gamble legally in Missouri
Find lawful online poker sites
Discover MO's gambling history
Learn how to complete quick poker transactions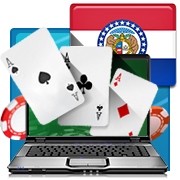 Online Gambling Law in Missouri
There is no direct reference to Internet or online gambling we can find in Missouri law. That being said, we are told that only those activities specified as legal gambling should be permitted and everything else is illegal by default. This would lead us to the natural conclusion that Missouri deems online gambling illegal.
If you're still unclear on the legality of online real money gambling in MO, we'd strongly advice you consult a legal expert on the matter. We would add that there's no record we can find of a Missourian being charged or prosecuted for the crime of playing at a real cash online casino.
Can Players from Missouri Play Online Poker?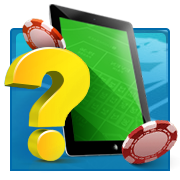 If you're a lover of online poker and you're in Missouri, you're in luck. You should have no trouble accessing a real cash poker site and registering for an account. In fact, the choice is so wide you are going to need help selecting the right site.
We would advise you take your decision seriously and don't go diving into the first good-looking poker website you land on. It's important to be careful online, especially at a site where you're going to be handing over your personal and banking details, so be sure to do your research before choosing your poker destination.
Recent Developments
Things have been fairly quiet on the gambling politics front in Missouri recently, with the last major bill for discussion dealing with allowing wealthy gamblers to bet on credit. Bill SB741 has been passed by the legislature but is yet to be fully approved. The bill calls for real money casinos to give out ,000 and more in credit to select punters who fulfill a certain criteria.
The Facts
Missouri's commitment to 13 real cash casinos show the state is open to the benefits of gambling in the state. Whether MO will ever consider expanding this number, or adding the likes of pari-mutuel racetrack betting or legalizing online gambling to its offering remains to be seen.
The History of Gambling in Mississippi
There were riverboat casinos in Missouri way back in the 1800s and, after a long absence, they were returned to the state in 1992 by a 63
referendum majority. One stipulation was that no real money gambler would be allowed to lose more than at a riverboat casino.
In 1997 MO decided to let casinos stay open 24-7 if they wanted to, and in 2008 the notion of the limit was finally crushed after a heavily funded political campaign by those with vested interests in the real cash casino business in Missouri. Riverboat casinos are now allowed to be docked and stationary.
Regulated Gambling Options in Missouri
The following gambling options are currently regulated in MO:
State lottery
Charitable betting (raffles, bingo, sweepstakes)
Riverboat casinos
The Future of Regulated Online Gambling in Missouri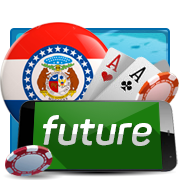 Nevada, New Jersey and Delaware are thus far the only U.S. states to make real money online gambling legal. They did so after the Federal Government backtracked on their Wire Act, which had outlawed online gambling in the U.S., and encouraged all 50 states to proceed with their own agenda for Internet real cash gambling.
More states will surely follow, but there's not much evidence to suggest Missouri will be part of the chasing pack behind NJ, NV and DE. For now the state is focused on regulating its casinos, but that doesn't mean the online gambling conversation won't be a hot topic in the months and years to come.
It's impossible to say when Missouri might legalize online real cash gambling, but it is likely state officials are watching closely what happens elsewhere to help make a decision on whether the added tax income would be worth going after.
The Bottom Line
Missouri is by no means a full-on liberal state for gambling laws, but it's not one of the most conservative in the U.S. either. There are 13 casinos to play at and some of those are among the most impressive in America. Could further expansion follow? You wouldn't rule it out, especially if those 13 venues return good numbers and continue to bolster state funds with their tax contribution.
References
[1]Ameristar Casino: Gaming Options
[2]World Casino Directory: Missouri
[3]Timeline of Casino Gambling, Missouri
More Related Guides