Nebraska Poker & Gambling 2017
The state of Nebraska has strong links to real money gambling, and as you'll read further down is one of America's most storied states when it comes to criminal activity in this area. Today's Nebraska is a far cry from the out-of-control Omaha real cash gambling days you've might have read about however.
The Cornhusker State allows legal pari-mutuel betting on horse racing, and has added simulcast betting to its real money offering in recent years. Simulcast betting provides folks away from the track the chance to bet on real-time horse races. Nebraska has five licensed horse racing venues
Nebraska also offers a real cash state lottery. There are no legal commercial casinos in the state, unfortunately, but fans of real money slot machines can find their fix in a Native American tribal casino. The biggest in Nebraska is the Ohiya Casino Resort, which also puts on bingo games and is a sprawling entertainment facility that has just about everything on site for your comfort and amusement.
Charitable gambling with a license is legal, but live table games with money in the equation – either as entry fee or in a prize pot - won't be found in NE. As per state guidelines, "Illegal types of gambling include activities where participants pay to play for the chance of winning something of value in games such as blackjack, dice, roulette or poker."
Gambling law in Nebraska is focused very tightly on the difference between games of skill and chance. Anything the law deems to be in the "chance" category is automatically deemed illegal. Skill games like poker and darts, however, come under a different category.
Get educated right here about this and more:
What gambling is legal in Nebraska?
Why play real money online poker?
Plus sides of playing Internet poker for real cash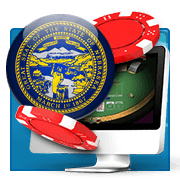 Online Gambling Law in Nebraska
We have yet to find specific reference to real cash Internet gambling in Nebraska law, but based on the state's firm stance on "chance" vs. "skill" games we can only conclude that playing at online casinos falls in the illegal category.
It's worth noting that there are no reports we have uncovered of an individual in Nebraska being charged or prosecuted of playing at a real cash online casino. That should not serve as your justification to go right ahead, however, and we would always advise you consult with a qualified legal professional on matters such as this.
Can Players from Nebraska Play Online Poker?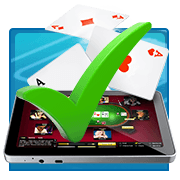 Absolutely they can. Online real cash poker is readily available to fans of the game in Nebraska, with a good number of sites open to registrations from the Cornhusker State.
Our advice would be not to rush into making a decision on the site you choose. Picking a real money poker site is a big decision, and one that can prove very costly if you happen upon a fraudulent site, or one without the latest in security software to protect your details.
You should reference a credible review site for guidance, as well as taking the time to read message boards. Once you narrow down your search, look carefully at the bonuses on offer and the selection of casino games and tournaments you get to choose from.
Recent Developments
The big news in Nebraska gambling is an ongoing campaign for live table poker to be legalized in the state. There's a bill in process and the big debate surrounds whether a game like Texas Hold'em might be classified as a game of skill rather than chance. This debate will be familiar to all those who follow real cash gambling closely.
The Facts
Nebraska has some decent options for fans for real money gambling, but its hard line on skill vs. chance games means you can't play live casino table games in the state. There's also no commercial casino to hang out at.
The History of Gambling in Nebraska
Omaha's gambling history dates back to the mid-1800s, when real cash gambling was rife and unrest was widespread. The alcohol and gambling flowed strong, and trouble was never long coming in Nebraska's biggest town
Things continued on that theme through the early part of the 1900s, before Nebraska cleaned up and made its way towards the regulated gambling state it is today.
Regulated Gambling Options in Nebraska
The following fall under the category of regulated gambling options in Nebraska today.
Pari-mutuel betting on horse races
Simulcast betting on horse races
Charitable betting
State lottery
Tribal casinos with slots machines
The Future of Regulated Online Gambling in Nebraska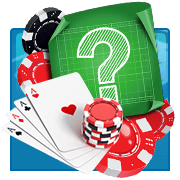 Thus far, just a trio of U.S. states have passed bills to legalize online real money gambling – namely Nevada, New Jersey and Delaware. Could Nebraska be soon to join them? You'd have to say it's unlikely, based on the state's current position with regard to skill vs. chance games, but that's not to say it won't happen eventually.
Nebraska has already embraced some serious change in recent years, by bringing in Tribal casinos and opening up horse racing to simulcast betting. Don't be surprised if more moves are made in the years to come, gradually softening attitudes to casino gambling generally.
One big hope for Nebraskan gambling fans would be to see New Jersey, Nevada and Delaware show serious profits from their real cash online gambling operations. Should that happen, NE politicians might be more obliged to investigate the possibility for their state.
The Bottom Line
Nebraska has come a long, long way from the gambling den it was back in the 1800s. Things are tightly regulated these days, though there are still plenty of good real cash gambling options for residents and visitors to the state. Both can only hope further expansion is coming, along with more openness to games of chance.
References
[1]Ohiya Casino Resort: Official Website
[2]Nebraska State Gambling FAQs
[3]Cardplayer.com: Nebraska Live Poker Bill Gets Mixed Signals from State's Attorney General
More Related Guides