Nevada Poker Law FAQ 2017
Nevada is undeniably the greatest place in the world for fans of real money gambling. Not only does the state boast an unrivalled gambling paradise in Las Vegas, but there are provisions for real cash betting on horse races and – best of all – the thrill of online poker is completely legal.
The Silver State of Nevada attracts real cash punters in their millions every year. There are 132 casinos across the state, with the bulk located in the world famous gambling destination of Las Vegas. In total, Nevada's casinos have an incredible 115,005 slot machines to play at, along why just shy of 5,000 live table games.
The casinos in Las Vegas have been thriving since the 1930s, with real money gambling the primary reason tourists flock to the city. Huge casino hotels, like the Bellagio and the Mirage, put on all the real cash gambling you could possibly want and supplement the experience with fine dining and some of the best entertainment acts in the world.
Las Vegas is the richest casino destination on the planet. Billions are made every year by the licensed establishments on the famous Vegas strip.
On this page you can read all about:
Nevada's gambling-friendly online poker laws
What Internet poker sites can NV players join?
Why play online poker for USD?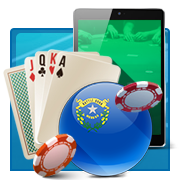 Online Gambling Law in Nevada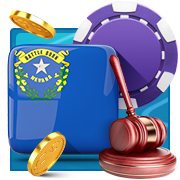 In 2013, the state of Nevada passed a bill to legalize real money online gambling. – limiting the offering to online poker for starters. That made Nevada the first state in America to make Internet gambling of any kind legal, and also the first to move towards interstate online gambling
Nevada was prompted to move in this direction by the backtracking of the Federal Government, who softened their stance on the Wire Act and encouraged the 50 states of America to choose their own path on real money online gambling.
As things stand, there are two licensed operators for online gaming in Nevada, being Real Gaming and the World Series of Poker (WSOP). Initially the sites were only allowed to serve their online action to those in Nevada at the time of playing, but there is now an interstate agreement in place with Delaware. That means folks in Nevada can play real cash online poker against folks in Delaware, which is pretty cool.
Can Players from Nevada Play Online Poker
Nevada is a great spot to play online poker from. It's completely legal to play online real money poker at the two sites mentioned, and you'll also find a number of other poker sites that will accept your registration. If you play outside of the two licensed sites, however, you are in breach of the law of course.
Making a choice between Nevada's two licensed online poker sites can be tough. We'd advise you look closely at the respective game options and functionality at both, along with examining the deposit methods available. It might be a case of trying both for a short while to see which you like best.
One of the strongest reasons for avoiding an unlicensed site is your online security. When playing real cash games online, you need to be absolutely sure your banking and personal details are completely safe at all times.
Recent Developments
There was good news for Nevada's online real money gamblers recently, when a bill that sought to ban further interstate Internet gambling arrangements was shot down. For now, Nevada's online poker partnership with Delaware is the only real cash compact of this kind, but more are expected to be negotiated as further states make the leap to legalize on poker.
The Facts
Las Vegas is a gambling Mecca that is famous throughout the world for its stunning casinos and 24-hour entertainment. The city owes it all to Nevada's gambling laws, which have licensed every casino in Vegas. The fact Nevada was the first state in America to legalize real money online gambling should come as no surprise.
The History of Gambling in Nevada
Nevada's gambling history dates back to the good old Gold Rush days, when prospectors would gamble for real cash and everybody lived hard and fast.
An inevitable crackdown came in the early 1900s, with all gambling banned in 1909, but by the 1930s Nevada was back on the real money gambling wagon, big time. The first casino license in Las Vegas was granted in 1931, and from there an explosion would follow.
The next big happening in the world of Nevada real cash gambling was the decision, in 2013, to legalize online real money poker.
Regulated Gambling Options in Nevada
The following would be classed as legal, regulated gambling option in Nevada:
Charitable gambling
Pari-mutuel betting on horse races
Sports betting
Simulcast, off-track betting on horse races
Commercial casinos
Native American casinos on Tribal land
Online real money poker
The Future of Regulated Online Gambling in Nevada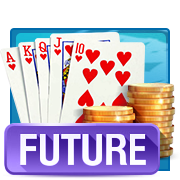 There remains some opposition to online poker in Nevada, but such is the power and influence of the big casino operators that it will be very hard for lawmakers to reverse their decision now.
If anything, we might expect Nevada to expand its real cash online gambling laws in the years to come – with other casino games added to the mix. As other states make the move to legalize online gambling, expect to see bills pushed for further compacts to be formed.
The Bottom Line
Nevada is heaven on earth for lovers of real money gambling, both land-based and online. You've got everything you need already and there's always the chance more will be offered in time.
References
[1]Casino Directory: Las Vegas
[2]Nevada Legalizes Online Gambling
[3]Nevada State Gaming Control Board
[4]Bill Seeking To Limit Nevada Online Gaming Dies in Committee
[5]Nevada Resorts: History of Gambling in Las Vegas
More Related Guides