New Jersey Poker Guide For 2017
New Jersey is one of America's best places to be if you're a fan of real money gambling. Based on its wealth of regulated, legal options - both land-based and online - there's a strong argument the Garden State is second only to Nevada when it comes to real cash games and the type of bets you can throw down.
While Las Vegas in the real cash gambling capital of Nevada, Atlantic City is the undisputed hotspot for folks in New Jersey and a huge draw for gamblers all over the east coast – and all over the world for that matter.
All 11 of the commercial real cash casinos in New Jersey can be found in Atlantic City. They include The Borgota, Harrah's Atlantic City, the Trump Taj Mahal and the Tropicana Casino and Resort. You'll find thousands of real money slot machines, hundreds of live table games and a good amount of poker action to keep you entertained between the 11 venues. You can also place bets on national and international sports events at the casinos.
Real money pari-mutuel betting on horse racing is another legal possibility in New Jersey. There are three racetracks in the state, being Monmouth Park, Meadowlands and Freehold. NJ punters can also stake real cash on simulcast races held elsewhere, which are shown live on TV screens at the racetracks.
Also legal in New Jersey are charitable betting and playing the real money state lottery. When it comes to online gambling, the Garden State is one of only three states in the U.S. to have made it legal.
Get the essentials from this page by reading about:
Discover all the legal gambling options in NJ
Find state run and offshore online poker rooms
Frequently updated NJ poker legislation news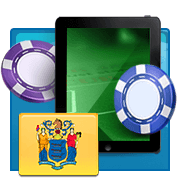 Online Gambling Law in New Jersey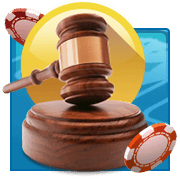 New Jersey followed the lead of Nevada when the state legalized online gambling in 2013. The move came after the Federal Government backtracked on its Wire Act and encouraged all 50 states to pursue their own agenda when it came to online real cash gambling.
Unlike Nevada, which has only legalized online poker, New Jersey's bill encompassed online casino games generally. Six establishments have been granted licenses to operate real money online gambling – you'll find them listed here – and each has several sites in operation to serve residents and visitors to NJ.
It's important to note that only those sites listed are permitted to provide real money online gambling in New Jersey. All other providers doing so would be in breach of the law, as would players who choose to access non-licensed real cash sites from within the state.
Can Players from New Jersey Play Online Poker?
It's a huge yes to this one. Not only can poker fans access online poker from the state of New Jersey, but they can do so with the blessing of the authorities and without any risk whatsoever of criminal repercussions.
That's providing players stick to the licensed sites of course, and we would strongly advise you do your research before landing on the NJ poker site you want to play at. Each has different strengths, so be sure to take a thorough read of credible review sites and message boards during your decision process.
Recent Developments
Poker fans will be excited to learn that the hugely popular real cash website PokerStars may be granted a license in New Jersey at some point this year. Reports suggest the company behind PokerStars, Amaya, are pushing hard for their license and their CEO David Baazov is confident they're getting close to achieving one.
The Facts
New Jersey is a great place to be for real money gambling. You can combine the live casino and horse racing experience with playing real cash games online. Those in the Garden State can gamble 24 hours a day.
The History of Gambling in New Jersey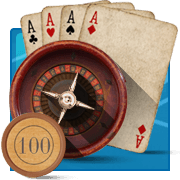 Those familiar with the TV show Boardwalk Empire will know only too well the storied history of New Jersey's gambling past. Real money gambling was outlawed until the 1930s, but plenty still managed to go on.
The modern day story of New Jersey gambling really began in the 1970s, with the decision to allow real cash casinos in Atlantic City. That led to the creation of a recognized gambling hotspot and New Jersey has since added sports betting and online gambling to its offering of legal pastimes.
Regulated Gambling Options in New Jersey
The following are regulated gambling options in New Jersey.
Pari-mutuel betting on horse races
Simulcast betting on horse races
State lottery
Sports betting
Commercial casinos
Online gambling
Charitable gambling
The Future of Regulated Online Gambling in New Jersey
Online real cash gambling is legal in New Jersey and already very popular. The big question now is whether the state with grant licenses to more and more providers and be able to engage in compact agreements with other states across the U.S.
Compact agreements would allow players in two or more states to compete against each other at the online casino tables. One already exists between Delaware and Nevada, and the hope for real money online casinos is that eventually the entire U.S. will be a network they can tap into.
For now, only New Jersey, Nevada and Delaware have made the step to legalize online gambling. It's likely more states will follow soon and that should open up the market further.
The Bottom Line
New Jersey, and in particular Atlantic City, is a gambler's paradise. The state's gambling laws allows for playing live land-based games and online. You can't get better than that.
References
[1]NY Times: NK Now Allows Gambling via Internet
[2]NJ Gaming: Licensed Online Gambling Sites
[3]Amaya CEO Confirms That PokerStars Will Launch in New Jersey
More Related Guides