New Mexico
As U.S. states go, New Mexico is a pretty good place to land if you're partial to some real cash gambling action. The Land of Enchantment has a wide selection of legal land-based gambling options, including a big number of Native American and pueblo casinos built on tribal land.
New Mexico's many tribal casinos are licensed as compact agreements with the state, and there are plenty to choose from. There are currently 26 tribal real money facilities across the state, which combine to offer over 15,000 slot machines, 220 table games and 38 poker tables – as per World Casino Directory,
That number includes a handful of racinos, which are racetracks that have licenses to offer their punters slot machines on premises. Pari-mutuel real cash betting on horse races at the track is legal, as is simulcast betting on races – providing the simulcast betting takes place at a licensed racetrack. Simulcast betting is where you place money on live, televised horse races taking place elsewhere.
New Mexico also boasts a real cash state lottery, which pays out huge prizes every week and pumps millions of dollars back into the state's education system. Charitable gambling, such as raffles and bingo, is allowed in NM providing all the necessary requirements are met.
Information available on this page includes:
New Mexico's view on legal online poker
NM's gambling law books explained
The bonus of playing Internet poker for real money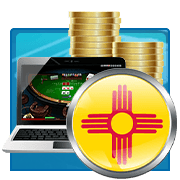 Online Gambling Law in New Mexico
Real cash online gambling is expressly outlawed by New Mexico. As per NM's Unlawful Internet Gambling Enforcement Act, "The State of New Mexico, and the New Mexico Gaming Control Board do not regulate, license, control or in ANY way sanction, endorse or approve any Internet or on-line gambling, betting activity, wagering or any aspect thereof. Any statement, reference or opinion to the contrary is wrong."
We would add here that we have found no evidence of somebody from New Mexico being charged or prosecuted for the specific act of accessing a real money online casino. That's not to say you should go right ahead. We would always advise you seek the counsel of a qualified lawyer when it comes to matters of online real cash gambling and legality.
Can Players from New Mexico Play Online Poker?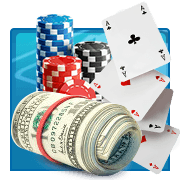 Yes they can, and they do. New Mexicans should have no trouble at all finding a real money online poker site that accepts their registration and allows them to get playing.
Not all online poker sites are to be trusted of course. Best practice here is always to consult a credible review site and do your research, before choosing a site to play at. When it comes to real cash poker online you're going to want a secure, trustworthy site that offers the best selection of games, the best playing experience and some great bonuses.
Recent Developments
In March 2017 , the New Mexico senate said yes to a new bill that could keep tribal casinos going for 22 more years - and potentially expand the number in the state. The bill still needs to get past the house of representatives, but if it makes it all the way could see tribal casinos be allowed to open 24 hours a day, seven days a week and offer a higher line of credit to real cash gamblers. NM may also see as many as five new Native American casinos open.
The Facts
New Mexico's tribal casinos turn a tidy profit and make good money for the state. Judging by recent political developments (see the aforementioned bill) NM seems intent on building further tax revenue by extending compacts and potentially licensing more casinos.
The History of Gambling in New Mexico
The story of New Mexico's modern gambling history started nearly 70 years ago with the legalization of real cash pari-mutuel betting on horse racing. La Mesa Park opened in 1946, with several more tracks over the years as racing became a very popular attraction for the people of the state.
New Mexico's state lottery was approved in the mid-1990s, and that's around the same time the first compacts were agreed to usher in NM's revolution of real money Native American casinos. The number of these tribal casinos is now at 26, with the possibility of more to follow.
Regulated Gambling Options in New Mexico
The following would be considered legal, regulated real money gambling options in New Mexico:
Pari-mutuel betting on horse races
Simulcast betting on horse races
Charitable betting
Native American casinos
State lottery
Slot machines gambling at licensed racetracks
The Future of Regulated Online Gambling in New Mexico
Nevada, Delaware and New Jersey are the only three U.S. states that have already made the move to legalize online real money gambling. Whether New Mexico will eventually join them is a hard question to answer, as much will depend on the success of those three states in generating tax revenue.
It's worth noting, however, that NM's firm stance against Internet real money gambling does suggest it could be some years away from making a move in that direction. The state appears focused on developing its land-based casino industry right now, and there doesn't appear to be a big push for legal online gambling.
The Bottom Line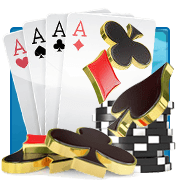 New Mexico is a fine place to be for lovers of real cash gambling. You can bet on horse races, play the state lottery and visit one of the many Native American casinos in the state. For now, online gambling is against the law, but if NM's real money gambling history has taught as anything, it's that things can change very quickly there.
References
[1]New Mexico Gaming Control Board: Gambling Review
[2]World Casino Directory: New Mexico
[3]New Mexico Gaming Control Board: Internet Gambling/Wagering
[4]Senate OKs Indian Gaming Compact
[5]Santefe.com: History of Legalized Gambling in New Mexico
More Related Guides