New York
The state of New York has much to offer when it comes to real money gambling, and there are exciting expansion plans afoot thanks to the passing of the Upstate New York Gaming Economic Development Act in 2013.
As things stand, the Empire State has five Native American casinos to offer, built on tribal land. There are also real cash racinos, where you can bet on horse races and enjoy slot machine gaming. These facilities combine to deliver the good people of New York State over 35,000 slot machines, 958 table games and 60 live poker tables to play at, as per World Casino Directory.
Horse racing tracks in NY State, of which there are 11, also provide for real money remote betting on races and can legally offer simulcast betting on races happening elsewhere (shown via TV screens). The simulcast races have to be taking place, "within New York's borders."
But there's more to come. Casino expansion will bring four real money commercial resorts to NY State in the coming years – namely Yellow Brick Road Casino in Chittenango, Rivers Casino and Resort at Mohawk Harbor, Lago Resort and Casino in Seneca County and Montreign Resort Casino in Sullivan County.
Also available to NY State gamblers is a real money state lottery, along with permission to take part in charitable gaming, which includes the likes of bingo and raffles.
Topics on this page include the following:
Where you can play online poker in NY legally
How to spot a good NY Internet poker room
Quick ways to withdraw your online poker funds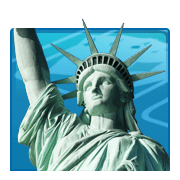 Online Gambling Law in New York
Online gambling is a hot topic in the Empire State right now. As the law currently stands, all forms of real money online gambling are illegal bar placing bets on horse races taking place in the state.
Unlike New Jersey, Delaware and Nevada, New York is yet to pass a bill that would legalize online gambling (or least some forms of it). There have already been failed attempts to get a bill passed in NY State and another is under way in 2017 , designed specifically to legalize online poker.
While online real cash gambling is currently outside of the law in New York, we can find no evidence of an individual being charged or prosecuted for the act of accessing a real money online site. That shouldn't be taken as our encouragement to get online and play, however, and we would strongly advise those in NY seek the counsel of an experienced legal professional on the matter.
Can Players from New York Play Online Poker?
Yes, players in New York State can and do play online poker for real money. There are many sites that will accept player registrations from NY State, and you should find it relatively easy to get set up, make a deposit and start playing.
Those in NY are urged not to just jump in at the first online poker site they find however. It's important to thoroughly research the sites available and reference a respected reviews site before making a choice on where to lay down your real cash.
Recent Developments
Following the casino expansion bill of 2013, the big real cash gambling story in New York right now is a bill that seeks to legalize online poker.
The bill was introduced in May 2017 by Republic Senator John Bonacic, and has online poker being sold politically as a strong way to raise tax revenue for New York State. The bill outlines a plan to license a maximum of 10 online poker providers, with a 15
tax placed on all operations in the state.
The Facts
New York already has some good real cash gambling options, and with four commercial casinos on the way and legal online gambling a possibility, the Empire State is looking like a good place to be right now. No doubt mindful of the revenues being generated by neighboring New Jersey from gambling, NY State is about to get a bit more of the action.
The History of Gambling in New York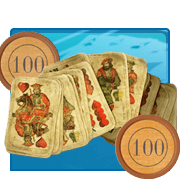 Real cash gambling can be traced back to the 1600s in New York City, with early settlers and visiting business types happily engaging in games that paid out real money in winnings. That theme continued for centuries, before a heavy crackdown in the mid-1900s.
The modern day history of New York gambling has taken in the approval of Native American tribal casinos and the launch of a state lottery. Most recently we've seen four commercial casino licenses granted, along with serious debate over the possibility of legal online real cash poker.
Regulated Gambling Options in New York
The following are currently classed as legal, regulated gambling options in NY State:
Pari-mutuel betting on horse races
Charitable gambling
State lottery
Native American tribal casinos
Commercial casinos (yet to open)
The Future of Regulated Online Gambling in New York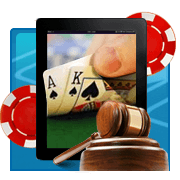 With another online real money poker bill introduced, New York continues to be at the forefront of the online gambling debate in America. Will it follow Nevada, New Jersey and Delaware in legalizing online gambling? It's impossible to say, though the development of four commercial casinos could play into the argument.
Should NY's political influencers see increased tax revenue from gambling and a greater incentive to try out online poker, they may be tempted to follow the lead of New Jersey and take a punt on it. If not in 2017 , then surely within the next two to three years.
The Bottom Line
New York is a good state to be in if you're a lover of real money gambling. It doesn't quite have the offering of neighboring New Jersey yet, but expansion is coming and things are clearly moving in the right direction.
References
[1]NY State: Governor Signs Upstate NY Gaming Economic Development Act
[2]World Casino Directory: New York State
[3]NY State Gaming Commission: Horse Racing
[4]New York Online Poker Bill Introduced
[5]New York City: The History of Gambling in Gotham
More Related Guides