Ohio Poker Legislation In 2017
All things considered, Ohio is one of the most favorable U.S. states when it comes to real money gambling laws. There are plenty of land-based options for those in the Buckeye State to enjoy and recent expansion should serve as an encouraging sign that further real cash options are to follow.
Ohio currently has four real money commercial casinos in operation. These are Hollywood Casino Columbus, Hollywood Casino Toledo, Horseshoe Casino Cincinnati and Horseshoe Casino Cleveland. All four were opened between May 2012 and March 2013.
It's legal in Ohio to place real cash pari-mutuel bets on horse races. The Mother of Presidents State offers seven commercial tracks, four of which put on harness racing, while the other three are focused on thoroughbred racing. Punters can bet at the track, or at Ohio's one off-track betting facility, which shows simulcast footage of horse races from all over America. Simulcast betting can also be accessed at the seven tracks.
These racetrack facilities are licensed to offer video real money video gambling machines, making them "racinos". That takes the number of gambling venues in Ohio to 11, with a combined offering of over 17,000 slot machines, 300+ table games and 117 live poker tables – as per World Casino Directory.
In addition to these options, Ohio has a real cash state lottery. You can buy tickets in all the usual places, along with via video lottery machines, which you'll find at racetracks and in the commercial casinos. Charitable real money gambling is another offering from the Buckeye State, to include such activities as bingo, and raffles.
Another great thing about Ohio is the state's stance on "games of skill". Those participating in activities deemed games of skill are permitted by law to place real cash bets.
You've come to the right place for information on:
What forms of gambling are legal in OH?
Where can I play poker online from Ohio?
How long do Internet poker transactions take?
Updates on OH online poker laws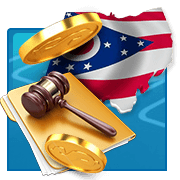 Online Gambling Law in Ohio
While there is no direct mention of Internet gambling we can find in Ohio legislation, the act of playing at real money online casinos is not included in the list of permitted gambling activities. Thus, we must assume Internet real cash gambling, for now, is deemed illegal by the state.
Are you likely to be charged or prosecuted in Ohio for playing at an online casino? That's not for us to say, but we can find no record of such a case in the Buckeye State. We would advise those in Ohio to speak to a qualified legal professional if further clarity is required however.
Can Players from Ohio Play Online Poker?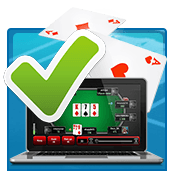 Those in the Heart of it All State should have no problem accessing a real cash online poker website and getting down to business at the virtual tables. There are a good number of poker sites that will accept poker players from Ohio and allow them to play for real money.
One piece of advice would be to research poker sites thoroughly before picking the one you play at. Some are better, and safer, than others. The best practice for those in Ohio looking to play online poker is to reference credible review sites and be sure to play at a site that is certified by official bodies such as eCOGRA.
Recent Developments
Ohio witnessed a big crackdown on illegal video gambling machines in spring 2017 . A raid was carried out that hit 30 establishments in Ohio. All are suspected of carrying illegal real cash video gambling machines – which are illegal in the state, other than those carried at commercial casinos or at licensed racetracks.
The Facts
Ohio's recent casino expansion has made the state a fine place to be for lovers of real money land-based gambling. There is no shortage of options and more could be to come, should the casinos achieve success and serve up strong tax revenue for the state.
The History of Gambling in Ohio
A recent history of real money gambling in Ohio would start with the introduction of a state lottery in 1974. In 2002, Ohio allowed those in the state to play national lottery games. Video lottery machines arrived in 2012.
The biggest recent development would be the granting, in 2012, of licenses to four real cash commercial casinos in the state.
Regulated Gambling Options in Ohio
The following would be classed as regulated gambling options in Ohio.
Pari-mutuel betting on horse races
Charitable betting
State lottery
Commercial casinos
The Future of Regulated Online Gambling in Ohio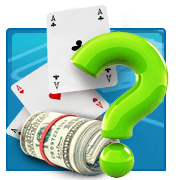 There are no moves afoot for Ohio to join the Internet gambling revolution and follow the three states that have already legalized it – being New Jersey, Nevada and Delaware. That being said, Ohio is in gambling expansion mode right now and there's no telling what will develop over the coming months and years.
Should the four commercial casinos achieve success it might be that pressure grows to legalize online real cash gambling in the Buckeye State. The fact that Ohio already offers video lottery machines does seem to indicate a willingness to embrace technology in the gambling space.
The Bottom Line
Ohio is one the best places in the U.S. for fans of real money gambling. The options are plentiful and there's a real mood of optimism following the licensing of four commercial casinos in the state.
For now, online real cash gambling remains illegal, but the presence of off-track betting and video lottery machines might be taken by some as a move in that direction. Those in Ohio will watch excitedly as the discussion develops, knowing that there will almost certainly be pressure from some quarters to at least introduce a bill.
References
[1]Ohio Gaming Law: Horse Racing
[2]World Casino Directory: Ohio
[3]Suspected Gambling Operations Raided in Parma, Fairfield Park
More Related Guides