Oklahoma Poker Laws 2017
Oklahoma is one the most welcoming states in America when it comes to its wide selection of regulated, fully legal real cash gambling options. There are tribal casinos everywhere, as befits a state with such a strong Native American presence, and you'll also find pari-mutuel betting on horse racing.
There are now well over 100 tribal casinos operating in Oklahoma. These Native American facilities, licensed through compacts with the state, offer real money gambling options such as video slot machines, and table games like roulette and poker. According to World Casino Directory, OK's real cash casinos combine to offer in excess of 62,000 slot machines, 573 table games and 224 live tables games.
The Sooner State also boasts four racetracks, being Blue Ribbon Downs, Fair Meadows, Remington Park and Will Rogers Downs. You can place real money pari-mutuel bets on horses live at the track. Off-track betting is also legal, which means punters can put real money on races at licensed venues away from the tracks.
Two other forms of regulated real money gambling in Oklahoma are charitable betting, which includes the likes of bingo and raffles, and participation in the state lottery. OK's state lottery has already contributed over million to help fund education in the state.
Below you can read all about:
Real money betting choices in Oklahoma
How to play legal Internet poker in OK
Popular online poker sites for OK citizens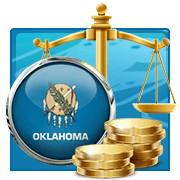 Online Gambling Law in Oklahoma
Oklahoma law specifies that all real money gambling activities outside of those specifically permitted, shall be deemed illegal. This would include the act of playing at a real cash online casino, and we must therefore conclude that online gambling is currently classed as illegal in the state.
It's worth pointing out that we can find no example of somebody in OK being charged or arrested for playing at an online real cash casino, but that doesn't change the fact that it's classed as an illegal activity. We would stress here that legal experts are best consulted for a qualified opinion on the online gambling situation in Oklahoma.
Can Players from Oklahoma Play Online Poker?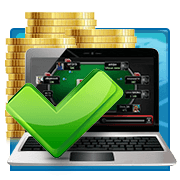 Poker players in Oklahoma have historically had no problems accessing real money online poker websites. There are numerous sites that will accept registrations from the Sooner State, and Oklahomans should find it relatively easy to get playing at the virtual tables.
OK poker players should be sure to make an educated choice on the real cash website they play at. Not all sites are to be trusted for their online security, and then there's the big differential you'll find in game experience, bonus offering and poker game variety between different sites.
The best advice we can give is to reference authoritative online poker review sites, and take recommendations from friends who have experienced real money poker websites.
Recent Developments
Recently released figures show Oklahoma's Native American casinos to have made around .8 billion in revenue in the 2013 financial year. Interestingly, however, the money the state made in tax revenue from the casinos dropped.
The Facts
Oklahoma's huge offering of tribal real money casinos are clearly pulling the punters in, with revenue numbers high and lots of new venues opened in the past couple of years alone. On the evidence we're seeing, OK appears to be a great place to gamble, and a great place to own a gambling establishment.
The History of Gambling in Oklahoma
Oklahoma has had a strong association with real cash gambling since way back in the frontier days, when saloons were a great place to find a roulette wheel or a card game going on.
The state's modern gambling history was kick-started in the 1990s, when the first tribal casino compacts were signed and a new era began. Since then Native American real money casinos have sprung up all over the Sooner State, and we should expert still more to follow.
Recent times have also seen the launch of a state lottery and the thriving pastime of pari-mutuel betting on horse races continuing to stay the course. Off-track betting has been added as an option there.
Regulated Gambling Options in Oklahoma
The following would be considered regulated real cash gambling options in OK:
Tribal casinos on Native American land
Charitable betting
Pari-mutuel betting on horse races
State lottery
The Future of Regulated Online Gambling in Oklahoma
There are currently no bills under review in Oklahoma that seek to legalize online real money gambling. That's not to say there won't be a push in the near future, and much may depend on the success of the three U.S. states to have made the move to legalize online gambling already – Nevada, New Jersey and Delaware.
Might OK form part of the next wave to legalize online gambling? It's certainly not out of the question, though there is little evidence right now to suggest influential types in the state are making a big play for that to happen in the near future.
The Bottom Line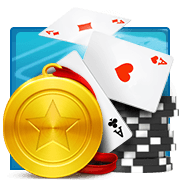 Oklahoma is a great place to be if you're a lover of real cash casinos. The state has over 100 in operation and it would take quite some time – and quite a bankroll – to get through playing at all of those. The state's horse racing tracks are also worth a visit, while the lottery in Oklahoma is going strong and pumping huge sums into education support.
Online real cash gambling remains illegal in OK, though things may change in the coming months and years should other states follow the lead of NJ, NV and DE, and lead a charge towards legal online gambling throughout the U.S..
References
[1]Indian Gaming is a Big Business for Oklahoma
[2]World Casino Directory: Oklahoma
[3]Oklahoma Indian Gaming Revenues Rise While Fees to the State Drop
[4]Gamble in Oklahoma: Welcome
More Related Guides