Oregon Poker – Legal Status In 2017
The state of Oregon has some good options when it comes to real money land-based gambling. There are Native American casinos scattered across the Beaver State, along with a racetrack where bets can be placed on horse races. Add to that a state lottery (which includes a video gaming element) and legal charitable real money betting, and you'll see Oregon's gambling laws are somewhere in America's political middle.
In terms of real cash tribal casinos, Oregon currently has nine facilities in operation – all licensed via compact agreements signed with the state. You'll find all the usual table games on offer, including poker and roulette, along with a big selection of slot machines for your entertainment. Thus far Oregon has resisted moves to allow commercial casinos to be introduced.
Oregon's one licensed racetrack venue (with regular meets) is Portland Meadows, which is home to thoroughbred and quarter horse races. Pari-mutuel real cash betting is legal, as is off-track betting at licensed establishments throughout the state. Simulcast real money betting on horse racing is in the mix too, which allows punters to place wagers on races happening elsewhere.
OR residents and visitors to the state can take part in charitable betting games, such as bingo and raffles, providing there is no real cash prize up for grabs. The state lottery just celebrated its 30th anniversary and continues to offer huge prizes. Millions of dollars have been raised to fund good causes in the state by the lottery, which incorporates video lottery machines in its offering.
On this page you will learn:
Do's and Dont's of online poker in OR
Oregon's legal position on Internet poker
Simple ways to gamble in USD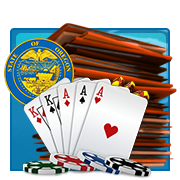 Online Gambling Law in Oregon
Oregon law does address the act of a business or individual accepting payments online in relation to real cash gambling, but there is no direct reference we can find to the act of online gambling itself. That being said, seeing as Internet gambling is not included in the permitted list of gambling activities in the state, we can only conclude it is classed as illegal.
As things stand, only three states in the U.S. have legalized some form of online real cash gambling – being New Jersey, Delaware and Nevada. They did so after prompting from the Federal Government, who backtracked on their Wire Act and encouraged all 50 states to pursue their own agenda when it came to Internet gambling.
Can Players from Oregon Play Online Poker?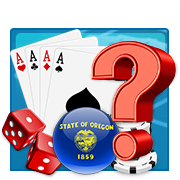 Players from Oregon should have no trouble at all accessing online real cash poker websites. There are a good number of sites that will accept their registration and - in theory at least - you could be playing at the virtual poker tables in a matter of minutes.
We would stress to point out here that picking the right online poker site is vital. There will always be some sites that are set up to defraud you, or steal your details, and you can never be too careful when playing online for real cash. The best course of action is to reference respected review sites and get as much feedback as possible from trusted sources before landing on the site you choose to play at.
Recent Developments
Video lottery machines are a hot topic in Oregon politics right now. Around 2,500 machines are reportedly, "the main source of revenue for the lottery," and there's a bill in process right now that calls for detailed research into the economic climate in which each machine is currently placed.
The idea behind the bill is to help solve an age-old problem with state lotteries – the accusation that they end up being a drain on the poor.
The Facts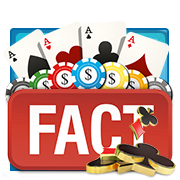 Oregon is far from the worst U.S. state to find yourself in if you're seeking out the thrills of real money gambling. There are Native American casinos, you have a racetrack and off-track betting, and the lottery is available in various guises.
The History of Gambling in Oregon
Oregon's modern gambling history began with the opening of Portland Meadows in 1946. Pari-mutuel betting on horse races continues to this day at the track, with the addition of off-track betting arriving with new legislation in 1997.
It was in the late 1980s that the nine Native American tribes of Oregon were given permission to pursue compacts for tribal casinos. Soon enough all nine agreed compacts and OR now boasts nine fully functional tribal casinos. Oregon's state lottery was born in 1984, and in the early 1990s the lottery commission made a big push towards using real money video gambling terminals. Real money video poker and line machines are now widespread.
Regulated Gambling Options in Oregon
The following would be classed as regulated real cash gambling options in Oregon.
Pari-mutuel betting on horse races
Off-track betting and simulcast betting on horse races
Charitable betting
State lottery (to include video poker and line games)
Tribal casinos on Native American land
The Future of Regulated Online Gambling in Oregon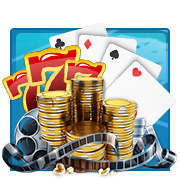 There's no evidence to suggest Oregon is aggressively pursuing the legalization of online real money gambling right now. However, one might argue that the state's openness to video poker and line machines would surely suggest lawmakers might be amenable to the notion.
The most likely conclusion to draw is that Oregon, like many other states, is waiting to see how things turn out in New Jersey, Delaware and Nevada, before making a move on online real cash gambling. Should those states enjoy huge cash and bring in spectacular tax revenue, OR could well be tempted to join the party.
The Bottom Line
Oregon has some excellent options when it comes to real cash gambling, but it's unclear what's next for the state. Could we see further expansion? You wouldn't rule it out, especially if the existing gambling ventures continue to generate huge funds for the state.
References
[1]Oregon State Police: Gaming Division FAQ
[2]Oregonlaws.com: Internet Gambling
[3]Oregon Lottery: Bill Would Map Video Gambling Machines Against Neighborhood Wealth
More Related Guides