Pennsylvania Poker & Gambling Laws 2017
Pennsylvania is a good place to be if you're partial to some real cash gambling action. The Keystone State has licensed commercial casinos in operation, along with racetracks that double up as racinos and offer table games and slot machines. There's a state lottery and real money charitable gambling is a regulated legal offering.
Pennsylvania currently has 12 real cash casino or racino venues, with a 13th under construction. These combine to deliver those in the state a staggering 32,108 slot machines, 1,180 table games and 201 live poker tables, as per World Casino Directory. There are no Native American tribal casinos in PA.
Pari-mutuel bets can be placed on horse races at the state's three tracks, and also by visiting one of PA's licensed Off-Track Betting facilities. In addition, you can place wagers online, by using a licensed horse book website. This is a great selection of real money betting options, with PA seemingly open to embracing different avenues in this area.
Pennsylvania's state lottery has generated over .7 billion for a variety of good causes since its inception in 1971. There are a variety of real cash games offered on a weekly basis and, as you would expect, huge prizes to be won for the lucky few who pick the right numbers or get hold of a lucky scratch card.
As for charitable gambling in PA, activities such as raffles and bingo are permitted, providing they are coordinated by a registered charity. Slot machines and video poker cannot be offered as charitable forms of gaming.
This page shows you details on all this:
PA State's stands on legal online poker
International poker sites open to PA players
Most recent PA Internet poker law news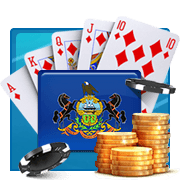 Online Gambling Law in Pennsylvania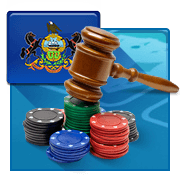 As things stand, online real cash gambling remains illegal in the Quaker State, but a bill is in process that hopes to change that (more on that bill later). For now, however, accessing and playing at a real money online casino is not covered in the permitted forms of gambling in PA, and thus stands as a criminal offence.
We can find no evidence of an individual being charged or prosecuted for the act of playing at a real cash casino, but that should not be read as encouragement to go right ahead. Those considering online gambling in PA would be best served consulting with a qualified legal professional to get the best advice possible.
Can Players from Pennsylvania Play Online Poker?
Poker enthusiasts in Pennsylvania should have no problem accessing an online casino and getting down to business at the virtual tables. Providing the site in question meets your banking criteria, you could be playing real money poker in a matter of minutes.
Don't just register with the first site you come upon however. We would strongly recommend those in PA do their research before choosing a real money poker website – factoring in site security, bonuses on offer and the range of poker games and tournaments available. Referencing credible poker website review sites is a good place to start.
Recent Developments
The HUGE news in Pennsylvania right now is a bill that seeks to legalize online real cash gambling in the state. The bill is being debated and a decision looms large in 2017 , with the backers convinced online gambling would be a great way to bring more money into PA and help bolster state funds.
The Facts
Pennsylvania is one of America's more progressive states when it comes to real money gambling laws. Commercial casinos are legal, off-track betting is on the menu and a bill is being debated that could even mean legal online gambling in the state. All in all, it's a good place to be for gambling fans and there's a chance it's about to get even better.
The History of Gambling in Pennsylvania
A modern history of Pennsylvanian gambling would begin with the opening of Meadows Racetrack back in 1963, as the state's first pari-mutuel betting venue (off-track betting was approved in 1988). The PA state lottery followed in 1971, with the next big development being the licensing of commercial casinos in 2006.
Regulated Gambling Options in Pennsylvania
The following would be considered regulated gambling options in Pennsylvania:
Pari-mutuel betting on horse races
Off-track betting on horse races
Charitable gambling
Commercial casinos (table games, slot machines)
State lottery
The Future of Regulated Online Gambling in Pennsylvania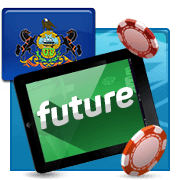 With a bill up for debate, Pennsylvania is pushing as hard as any state in America to join the three that have already legalized real money online gambling (Nevada, New Jersey and Delaware). There is unsurprisingly opposition to online gambling, but those backing the bill are hoping to win over voters with the promise of much-needed funds pouring into the PA economy.
Will PA have legalized online gambling within the next couple of years? It's impossible to know, but there's at least hope and enough momentum to suggest the fight will continue even if this bill is knocked back.
The Bottom Line
Pennsylvania has some great things going for it when it comes to real money gambling. There are 12 excellent venues for table games, slot machines and pari-mutuel betting, and another is being built now. It feels like the time is right for expansion and the big question is whether online gambling might be part of a new era of real cash gambling in the state.
References
[1]World Casino Directory: Pennsylvania
[2]PA State Lottery: About
[3]Pennsylvania Charitable Gaming Laws
[4]Is Pennsylvania Ready to Play the Odds with Online Gambling
More Related Guides