South Dakota Online Poker Laws 2017
South Dakota is one of the more open U.S. states when it comes to real money gambling laws. You'll find plenty of casinos in the Mount Rushmore state, along with opportunities to access pari-mutuel betting, video gaming machines and a big hub of gambling action in the infamous city of Deadwood, South Dakota.
South Dakota's plentiful casinos are a mix of commercial and Native American tribal establishments. According to World Casino Directory, they combine to entertain those in the state with 4,493 real money slot machines, 121 table games and 27 tables dealing up poker. The legal gambling age is 21 for casinos in South Dakota.
In terms of pari-mutuel betting, SD has two active tracks where you place wagers on horses – one in Fort Pierre and the other called Northeast Area Racing in Aberdeen. Simulcast real cash betting on horse and dog betting is also available, at the Triple Crown Casino in North Sioux City and Time Out Lounge in Rapid City. You can take part in pari-mutuel and simulcast betting from the age of 18 in the Mount Rushmore State.
There is a real money state lottery in South Dakota, and it incorporates video lottery machines across the state in its offering. You can also take part in charitable gambling, such as bingo and real money lottery games, on the condition that all monies made are donated to the cause advertised.
Here's what you can discover on this page:
How legal is online poker in South Dakota?
Top poker sites accepting players from SD
Rapid real money Internet poker deposits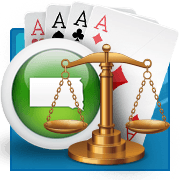 Online Gambling Law in South Dakota
Real cash online gambling is currently illegal in South Dakota, as per state laws, which state specifically that, "no person engaged in a gambling business may use the Internet or an interactive computer service to bet or wager."
As things stand, only three states in the U.S. have passed bills to legalize online real money gambling. Those are Delaware, New Jersey and Nevada, with several others debating bills and more states expected to follow.
Can Players from South Dakota Play Online Poker?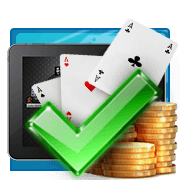 Poker lovers in South Dakota should have no problem accessing real money online poker. There are plenty of poker websites that will accept registrations from the state and it's very possible to get yourself at a virtual table, playing for real cash, in a matter of minutes.
We would strongly recommend you research your choice of poker site carefully however. Best practice for SD poker players is to visit a recognized real cash online poker portal and find reviews and feedback for the best and safest sites out there.
Recent Developments
In January 2017 some new real money casino games were added to the approved list in Deadwood. Roulette, keno and craps were passed and are now being played in South Dakota. The law change also applied to all of SD's tribal casinos.
The Facts
South Dakota is a good spot to be if you're a fan of real money gambling. There are casinos on offer and two racetracks to visit. Online gambling remains illegal however.
The History of Gambling in South Dakota
Few cities have such a storied gambling past as Deadwood, South Dakota. It was there Will Bill Hickok was famously shot dead playing a hand of real cash poker, and the city gave birth to a TV show of the same. Back in the Wild West frontier days, Deadwood was a hive and crime and gambling activity, with shootings being commonplace.
Deadwood's second coming arrived with the legalization of gambling in 1989, which was designed to reinvigorate the local economy and pump tax dollars into South Dakota's budget. By that time SD's real money state lottery had already been running two years, after being approved by legislators.
We've also seen nine tribal casinos introduced to SD, along with laws passed to allow for simulcast betting.
Regulated Gambling Options in South Dakota
The following would class as regulate gambling options in South Dakota:
Commercial casinos
Native American casinos on tribal land
Pari-mutuel betting at the track
Simulcast betting on horse and dog racing
Charitable betting
State lottery
The Future of Regulated Online Gambling in South Dakota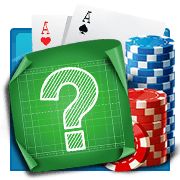 There are no moves afoot to regulate online real cash gambling in South Dakota right now. That's not to say it won't happen, just that we can find no trace of a bill in motion that seeks to legalize online gambling.
Could South Dakota eventually move in that direction? Should online real cash gambling prove a huge success in New Jersey, Nevada and Delaware, you'd have to think the state's influencers would be at least tempted to have the conversation. To that end, it might be a case of wait and see for SD, while other states jump in.
The Bottom Line
There are far worse places to be than South Dakota if it's real cash gambling you're after. The state has opened up to casinos, both commercial and tribal, and appears open to working with the big gambling companies to keep things ticking over smoothly. Should the money keep rolling in, don't be surprised to see SD go after further expansion in the gambling space.
References
[1]World Casino Directory: South Carolina
[2]South Dakota Legislature: Codified Laws
[3]NY Times: Gambling Returns to Town of Legend
More Related Guides