Utah Poker Site Guide 2017
When it comes to Utah's real money gambling laws, there's really only one that matters – the law that says ALL forms of gambling are illegal within state borders. That means no casinos, no pari-mutuel betting on horse or dog racing, no sports betting, no state lottery and no online real cash gambling for those looking for some action.
That being said, and as reported by the Deseret News, gambling activities continue to take place in the Beehive State. Some simply flaunt the law, while others try to find imaginative ways to work around them, and the huge variety of online casinos available means there is a straightforward way to place bets and gamble for real cash if you want to.
Utah classes "games of chance" as illegal and that includes playing the lottery, hence why that is not an option in the state. Some argue that poker is not a game of chance, but a game of skill, and there are reports of poker games happening all over the state. There are also accounts of Utah poker players sitting at virtual tables online in big numbers, and doing so without being charged or prosecuted – from we can gather at least.
Despite attempts being made to legalize real money pari-mutuel betting on horse racing over the years, Utah remains without a track you can bet at. Horse racing itself continues to take place, but for those in the Beehive State the added thrill of watching a big wager come in isn't on the menu.
In this section you'll pick up tips on:
Gambling legislation in Utah
UT's view on Internet poker
Leading UT-friendly online poker rooms
Advantages of playing poker for real cash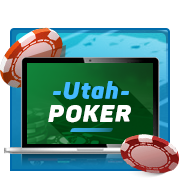 Online Gambling Law in Utah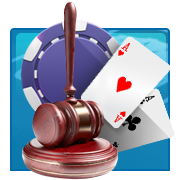 Utah could not be clearer on its legislative stance towards online real cash gambling. As per state law, "a person is guilty of gambling if the person participates in gambling, including Internet or online gambling." The offence of gambling is listed as a class B misdemeanor in Utah.
We can find no evidence of somebody from Utah being charged or prosecuted for the act of accessing a real cash online casino, but we would stress this should not read as encouragement to go forth and test the system. In situations like this it's always best to consult a qualified legal professional if you have questions that need answering.
Can Players from Utah Play Online Poker?
Poker players in Utah should have no problem accessing an online poker site. There are many sites that will accept players from the state, and it's possible to get yourself set up and playing at a real money virtual table in a matter of minutes.
The real cash poker site you choose is an important decision however. We would recommend consulting a credible online poker portal for reviews and advice, and to help you land at the site with most to offer. Your online security is vital, as is your benefitting from the best selection of poker games and the most generous bonuses on offer.
Recent Developments
In 2012, Utah put through an "anti-online gambling bill", which means the state can (and probably will) opt out of any Federal law passed that seeks to legalize online real cash gambling across America.
The Facts
Utah is arguably the least accommodating state in America when it comes to real money gambling laws. Staunchly conservative legislation outlaws any form of gambling, and has left those wanting to participate seeking illegal action at land-based venues or heading to play online.
The History of Gambling in Utah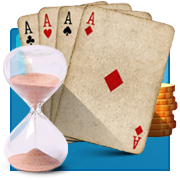 Utah has never been a friendly state for real cash gambling types. Though pari-mutuel betting on horse races took place for a while in the 1920s, it was quickly outlawed and attempts to bring it back in the 1990s were shot down by the vote.
Regulated Gambling Options in Utah
There are currently no regulated gambling options in Utah.
The future of Regulated Online Gambling in Utah
It's hard to see a time in the near future when Utah might follow the lead of Nevada, New Jersey and Delaware, and legalize online real money gambling. You'd have to image a bill allowing for land-based casinos would have to come first, and even that seems a long, long way off based on the current political climate.
The Bottom Line
Utah is a pretty baron place to be if you're a fan of real cash gambling. Change is always possible, but I wouldn't hold your breath if you're waiting on Utah ushering in an era of casino gambling in the next few years. As for online gambling, the notion of legalization is far-fetched at this point in time.
References
[1]Utahns Find Ways to Gamble Despite Its Being Illegal in the State
[2]Utah State Lotteries Laws
[3]Utah State Law: Gambling
[4]Utah Gov Signs Anti-Online Gambling Bill
More Related Guides