Black Friday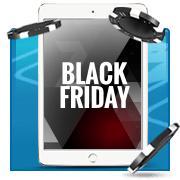 If UIGEA was the nuclear first strike on online poker, then Black Friday was the fallout.
Black Friday, or April 14, 2011, was the unexpected day of attack launched by the DOJ and FBI on poker sites operating in the US.
In one afternoon, indictments were opened against three of the biggest poker rooms in the world: PokerStars, Full Tilt and Absolute Poker/UB. On one fell swoop, thousands of poker players were taken offline and millions of dollars seized.
The raids brought with them arrests, revelations about embezzled funds, and ultimately, the state-by-state regulation of online gaming in the USA. However, it's unlikely that America will ever see something as shocking or unexpected as Black Friday again.
Before Black Friday
When President Bush signed UIGEA (the Unlawful Internet Gambling Enforcement Act) in 2006 into the lawbooks, it led to the effective criminalization of US payments made to online poker rooms.
Many major players decided to leave the US altogether, including PartyGaming (who would later settle a multi-million dollar fine with the government) and 888. However, PokerStars and Full Tilt, both of whom considered the law not to apply to poker, carried on taking US bets.
Black Friday Raids
On April 14, 2011, the DOJ made indictments against the operators of the three major sites still operating to US players, PokerStars, Full Tilt and Cereus (Absolute/UB) on charges of, "bank fraud, illegal gambling offenses and laundering billions in illegal gambling proceeds..." [1]
The federal case, United States v. Scheinberg, alleged that the group violated UIGEA and demanded a forfeit of assets worth $3 billion. However, the indictments arguably had a helping hand from an Australian Intabill head, Daniel Tzvetkoff, who was facing a 75-year jail sentence in 2010 for illegally processing $1 billion in poker payments. Tzvetkoff ultimately reached a deal with the US authorities and his help led to the DOJ going after the big three sites. [2]
With PokerStars head Isaiah Scheinberg indicted and the site sued, it remained to be seen how the room would carry on. The raids also exposed the extent to which Full Tilt was effectively in financial ruin. The indictments also sought convictions for John Campos, the executive of a small Utah bank, SunTrust, after it was alleged that he had processed millions of dollars worth of illegal poker payments. [3]
Aftermath of Black Friday

With the Cereus network ceasing operations after Black Friday, Absolute and Ultimate Bet players were left out of pocket too. As of 2023 , US players are yet to receive their funds from the defunct sites. It also emerged that Full Tilt owed millions to its players, leading to additional charges. Full Tilt were accused of operating a 'Ponzi scheme', paying out players with funds deposited by other players. [4]
Meanwhile, Brent Beckley, the head of Absolute, and Chad Elie, a third-party payment processor, were jailed for 14 months and five months respectively. [5]
Meanwhile, Ray Bitar, the larger-than-life Full Tilt boss who was among those indicted on Black Friday, eventually returned to the US in 2013 to face charges, and reached a deal with the authorities after pleading guilty. [6]
As well as time served, Bitar was ordered to give up around million worth of assets, including homes and cash.
PokerStars Mop Up The Mess
Despite the undeniably messy way in which the authorities handled the shutdown of US-facing sites, it was left for PokerStars to pay back their players.
Eventually, the site was allowed to pay back its US customers, while a year after Black Friday it consolidated its position globally by buying its fierce rival, Full Tilt. PokerStars reached a settlement worth $731 million which covered Full Tilt's, and its own, liabilities to all online poker customers. [7]
A few months later, Full Tilt was reopened for players outside America.
DOJ Change Their Tune on Online Gambling
The DOJ would pull another ace from its sleeve in late 2011, however, after repositioning itself on the actual legality of online gaming in the USA. In December of 2011, the DOJ stated that the federal Wire Act, an outdated piece of legislation governing bets made across state lines, only applied to sports betting. [8]
Although some had stated that the Wire Act applied to all Internet gambling, including poker, it was not a view shared by all. Indeed, the Black Friday indictments didn't mention any specific violations of the Wire Act.
In addition, the new stance suggested that UIGEA should only apply to states where online gambling was already illegal.
Not only did it mean good news for state lotteries keen to sell tickets on the Internet, it paved the way for individual states to introduce their own legislation if they wanted to.
Nevada Legalizes First Online Poker Sites
Nevada was already considering legislation of its own to regulate Internet poker within state borders when Black Friday. However, they became the first US state to have a legal poker room when Assembly Bill 258 was passed. [9]
Delaware and New Jersey would later pass their own laws legalizing online gaming in their own states, and inter-state compacts, where player pools are shared across state borders, have increased the likelihood that other states may adopt similar laws in coming years.
Life After Black Friday
The Black Friday raids exposed an industry that was wildly out of control and in desperate need of proper regulation. PokerStars/Full Tilt's parent group, Rational, was itself taken over by Amaya in a staggering $4.9 billion deal in 2014. [10]
Seeking to avoid the mess of Black Friday, PokerStars' new owners have launched a gradual withdrawal of legal 'gray' areas around the world, including Canada and some East European and Asian countries. While ultimately, US online poker players were the biggest losers of Black Friday, it undoubtedly has led to a more cautious global framework for Internet poker in the long term.
Black Friday in 60 Seconds

On April 14, 2011, the Manhattan US Attorney, Preet Bharara, indicted 11 prominent individuals on charges of money-laundering and breaches of UIGEA.
With basic Hold'em, especially in cash games, it's good to stick to betting amounts. This makes both your decision-making easier and your opponents' ability to gauge your play harder.
Major US-facing sites, PokerStars and Full Tilt, as well as Absolute Poker/UB, were shut down and domain names seized. Funds were also seized before it was discovered that Full Tilt had a shortfall totalling many millions.
After several arrests, PokerStars reached a million settlement with the authorities in which they would purchase Full Tilt and repay all their US customers.
References
[1] http://www.justice.gov/usao/nys/pressreleases/April11/scheinbergetalindictmentpr.pdf
[2] http://www.couriermail.com.au/news/queensland/gambling-snitch-daniel-tzvetkoff-likely-to-avoid-jail/story-fnihsrf2-1226933793429
[3] http://www.sltrib.com/sltrib/news/51636750-78/bank-johnson-gambling-indictment.html.csp
[4] http://www.wsj.com/articles/SB10001424053111904106704576582741398633386
[5] http://www.telegraph.co.uk/finance/newsbysector/retailandconsumer/leisure/9592766/Businessman-Chad-Elie-jailed-over-illegal-bets.html
[6] http://www.wsj.com/articles/SB10001424127887324050304578410983313986810
[7] http://www.fbi.gov/newyork/press-releases/2012/manhattan-u.s.-attorney-announces-731-million-settlement-of-money-laundering-and-forfeiture-complaint-with-pokerstars-and-full-tilt-poker
[8] http://www.forbes.com/sites/nathanvardi/2011/12/23/department-of-justice-flip-flops-on-internet-gambling/
[9] https://nelis.leg.state.nv.us/77th2013/App#/77th2013/Bill/Text/AB258
[10] http://www.forbes.com/sites/nathanvardi/2014/06/12/amaya-gaming-in-deal-to-buy-pokerstars-for-4-9-billion/
More Related Guides
Top