Stud Poker Online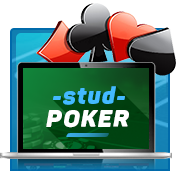 When it comes to the fast-growing game in online poker, Stud is arguably up there with fast-fold cash games.
While the 'Stud revolution' as predicted every year since the early 2000s boom hasn't quite materialized, you can still find a range of top Stud online poker cash games and tournaments in 2023.
If you want to find great real money betting sites for poker online, Stud providers are a good indicator as they will usually spread a wide range of other variants too.
Enjoy Stud online poker games in 2023:
Our
Best

Online Poker Sites for 2023
History of Stud
While Stud has its origins in the American Civil War, particularly in its 5-card variation, the game has been popular around the world.
Canada and Scandinavia have their own unique variants of Stud, and a "stripped-deck" version of the game was played in the UK for decades in the 20th century before the advent of legit poker clubs.
Stud was included in the WSOP in 1971 and has been a mainstay of the series ever since. Billy Boyd took down the first four Stud events at the WSOP (1971, 1972, 1973 and 1974) but the popularity of 7-card Stud continued to rise and you'll struggle to find the 5-card variant in any major poker festival these days.
Stud forms the 'S' component of a HORSE game, and a Hi-Lo version of the game, Stud Hi-Lo Eight-or-Better, forms the 'E' of that game. If you're playing these forms of poker online, Stud basics can be good to learn.
However, at most decent sites for online poker, Stud is available in the 7-card format and is a popular cash game alternative at most stakes.
How to Play Stud Poker Online
In both 5-card Stud and 7-card Stud, players start with a down-card (hidden from view) each and and up-card (face up in view of the other players). 5-card Stud players get one down card and one up card to start, while 7-card Stud players get two down cards and an up card.
In both variations, players pay an ante before play, and the player showing the lowest up card 'brings in' the action and starts the betting. Suits are used to rank matching cards, in the order (from lowest to highest) Clubs, Diamonds, Hearts and Spades.
Betting is normally Limit and after a round of betting, another up card is dealt to each player once a 'burn' card has been discarded. The action starts with the player showing the best hand at that moment. Further rounds of betting follow until the final card is dealt face down.
After a final round of betting, the remaining players showdown with the highest 5-card hand winning the pot.
Finding Good Stud Poker Online
Not every poker room offers Stud in 2023, and when they do it's normally in the 7-card variety. However, some good homework or a scan of our top guide will reveal the best websites offering a range of Stud action at all stakes.
But finding a web room with a few games is just the start; to get the most out of your online poker, Stud cash games need to be regularly full around the clock.
Of course, you still have to consider the poker sites' records on fast cash-outs, accepted deposit methods, and if their security can protect you. That's why we factor in all these areas when we compile our ratings.
Discover Top Stud Sites at OnlinePoker.com
If you're looking for some soft online poker, Stud games can provide lots of Hold'em players trying out the game out of curiosity.
And while you will find some solid play on the net, in general the lower-limit players haven't got a clue. Take advantage and sign up to a leading room offering Stud online poker.
At OnlinePoker.com we review and compare plenty of Internet betting sites offering Stud. Online poker nuts after 5-card or 7-card Stud just need to browse our leading reviews to find themselves a great place to play.
Stud in 60 Seconds
Stud is a betting card game played with either 5 or 7 cards per player. However, at most sites offering poker online, Stud with 7 cards is most common.
Players pay an ante and are dealt down-cards (one in 5-Stud, two in 7-Stud) plus one up-card. The lowest up card starts the betting. After a round of betting, another up card is dealt to each player and the player with the best possible hand begins the next round of bets.
Betting continues until a final down-card is dealt to each player. The winner of the pot is the player with the best 5-card hand possible.
In terms of ranking hands, Stud online poker hands run the same as in Texas Hold'em: one pair, two pair, three of a kind, straight, flush, full house, straight flush, Royal Flush.
Top Tip: Know Your Starting Hands (7-card Stud)
As with any variant of poker online, Stud players should have a basic grasp of the starting hands before playing.
Good starting hands are high trips (rolled-up hands) like aces to tens, followed by three 9s down to three 2s. A high pair like A-A, K-K or Q-Q is beneficial, especially if they are split (one down-card and one up-card), while low pairs are fine if you have a high kicker.
Good starting hands in 7-Stud:
(A-A) A
(K-K) K
(Q-Q) Q
(J-J) A
(9-9) 9
(8-8) 8
(7-7) 7
(K-Q) J suited
(A-K) Q suited
(A-K) A
(A-Q) A
(K-Q) K
(K-J) K
Top Tip: Always Look To Improve Your Hand
You should always be looking to improve your starting hand when playing 7-card Stud. While starting with (A-K) 10 of hearts, for example, is good, it's not much help if the other hearts are out in other players' hands.
If only one other heart is showing in this situation, your hand has some value and you can keep betting. Value is the key word here. You need to be constantly improving throughout the course of a hand.
And make sure you know when to bluff your hands. If you have missed your flush draw but are showing enough up-cards of the same suit, you can continue to represent a flush and scare off your opponents. Find out more in our Stud poker strategy guide
More Related Guides