Prepaid Credit Card Online Poker
Prepaid credit cards have been popular in general online retails for years. Now, in 2023, real-money players are using the method for online poker banking. If you have a prepaid credit card, online poker accounts are easy to load up, the method is secure, and personal details can be kept private.
At OnlinePoker.com, we have the best online sites accepting prepaid credit card payments across the world. In no time you'll be up and running using a prepaid card for top Texas Hold'em games on the web. Check out online sites accepting prepaid credit card payments:
Safe and secure real-money deposit method
Accepted widely at Internet poker rooms in 2023
Earn a great welcome bonus when you use your card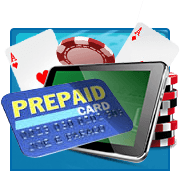 What's on


this page?

Hover to drop down
Our
Best

Online Poker Sites for 2023
What Are Prepaid Credit Cards?
If you play real-money poker, but don't have access to classic credit cards or even a bank account, prepaid credit cards are a great alternative.
Essentially, a prepaid card can be loaded with funds from a variety of methods by you or someone else and then used to play real-cash poker online.
MasterCard and VISA are the two biggest operators of prepaid cards, so apply for one online and use your card details at the poker site Cashier to load your account.
Making Deposits and Withdrawals

Before you use your card, make sure you find good sites accepting prepaid credit card deposits. Prepaid cards aren't accepted everywhere online, so do your homework first, or check our top reviews guide to find a good deal
Depositing is easy using a prepaid credit card. Online poker rooms require you to enter the long number on the front and the CV2 code on the back, just as you would do when using a conventional credit card.
MasterCard operate Gift and Prepaid cards which are accepted at larger poker websites. However, note that in addition, you may have your deposit processed via MasterCard SecureCode. This requires you to enter a special PIN number or password and is just an extra level of security when playing online. It's good to know that using a MasterCard prepaid credit card, poker online just got a little safer.
Advantages of Prepaid Credit Card Online Poker
As well as the security you'd expect from great credit card companies, a prepaid credit card is a good option if you want to have one card loaded with cash from a variety of sources.
"Prepaid cards bring you an extra level of security and they're one of the most widely accepted online poker payment methods.
For sensible online poker banking, prepaid cards can be good if you want to keep tabs on how much you're betting.
And in the US, where solid, reliable online poker deposit methods are few and far between, a prepaid card is often accepted at poker rooms. Just load up your card with funds from another credit card, debit card or bank transfer, and use the one card for poker.
American players can get a top prepaid card at dozens of outlets, including the Borgata, Walmart, Radio Shack, Greendot, CVS and Mio!
For US players, prepaid cards are also sometimes allowed for withdrawals where a more conventional bank card may not be. You can then use your card at an ATM to withdraw winnings.
Find Top Prepaid Credit Card Poker Online Rooms

Looking for top online sites accepting prepaid credit card banking? You're in luck; at OnlinePoker.com we have ratings on a range of gaming websites that let you play cash games and tournaments with your prepaid credit card.
Poker online for real money has never been so accessible, so take advantage now and use your card to win big. If you sign up with one of our exclusive web links today you can start playing at the best sites around and earn yourself an amazing gaming bonus in 2023.
More Related Guides