Omaha Poker Online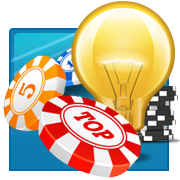 If you're used to Texas Hold'em, it can be a huge jump to Omaha. Online poker sites, however, will cater for all skill levels and budgets, so even if you're new to the game you can still find a cash game that suits you.
At OnlinePoker.com, we have reviews of the best real-money sites for Internet poker. Omaha players can even enjoy the same great welcome bonuses when they sign up.
Enjoy the best poker online Omaha players can find:
Our
Best

Online Poker Sites for 2023
Online Poker: Omaha Basics
Omaha is a community cards game which sees players dealt four hole cards (instead of Texas Hold'em's two). They then share five community cards on the board with other players. However, players MUST use two of their hole cards to form a five-card hand.
There are four betting rounds in total. A pre-flop round of bets is followed by a 'flop' of three community cards, another round of betting, a single 'turn' card, another betting round, and finally a 'river' card and one more round of bets before showdown.
Playing Omaha Online
While most good poker sites will offer PLO tournaments, most Omaha online poker is played in the form of cash games.
Pot Limit Omaha poker online for cash games is fast, furious and you can often play at a huge range of stakes.
The difference with classic No Limit Texas Hold'em is the Pot Limit element. That means bets are curbed on each round of betting, and players can only bet as much as there is in the pot at that time.
While Omaha Hi is common (i.e. the best five-card hand wins the whole pot), cash games are also played in the Pot Limit Omaha Hi-Lo format.
In this variant, half the pot is awarded to the best, or highest, hand, with half the pot going to the lowest qualifying hand. To qualify, a low hand MUST include five different cards equal or lower to an 8 (e.g. 2-4-5-7-8).
What to Look For In Top Online Omaha Poker Rooms
If you're looking for the most popular form of online poker, Omaha probably isn't it. But while it's true that Texas Hold'em still trumps PLO when it comes to popularity, there are still plenty of places to play on the web.
We compile our ratings based on a number of criteria, but games availability is certainly one of them. All our chosen gaming websites have PLO cash games around the clock, with tables open at a range of stakes.
So, whether you're a newbie testing the waters with some .02/.04 Pot Limit Hi-Lo, or a seasoned players looking for Omaha Hi, we have the pick of the top online poker Omaha websites for you.
Find the Best Online Omaha Poker Rooms
At OnlinePoker.com, we test and compare a whole host of real-money sites offering poker online. Omaha tables are in abundance too, so there's no more hunting around for a game; with our Omaha online poker picks, you'll be sitting down and crushing the cash games in no time.
And if you click on one of the selected gambling rooms from our guide today, you can earn a fantastic welcome bonus when you sign up.
Omaha in 60 Seconds
Omaha is a card game played with four hole cards per player who then share a board of five community cards.
Betting rounds are the same as Texas Hold'em (pre-flop, flop, turn, river, etc) but at showdown, any remaining players MUST use two of their cards plus any three community cards.
Most Omaha is played Pot Limit, meaning that the bets are capped on every round. The maximum raise is the total of all bets on the table plus any bet needed to complete the pot.
As well as PLO, a lot of cash game action online is played in Omaha Hi-Lo, meaning that half the pot is taken by the highest hand and half the lowest qualifying hand (a hand of five cards from ace to 8 and not including any pairs).
Top Tip: It's Not Texas Hold'em
Perhaps the biggest mistake No Limit Hold'em players make when moving to Pot Limit Omaha is forgetting it's a different game and overplaying their hands.
The biggest culprit is a hand like A-A-7-5 or something containing a pair of aces. However, pocket aces are vulnerable because they rarely improve on the flop.
It's important to have four hands within your four cards that connect in some way, for example J-10-9-8. Of course, a hand like A-A-K-K is still an excellent hand to have but Hold'em players can pay the price if they "play 'em like it's Hold'em".
Top Tip: Learn Pot Limit Bets
The big difference between No Limit Hold'em and PLO is, as the title suggests, the Pot Limit betting. And although it takes a little getting used to, it's worth mastering the betting structure before you play.
In a hand of Pot Limit Omaha poker online, the maximum bet you can make is capped to whatever amount is in the pot when you make your wager. This bet comprises all the money in the pot, PLUS all the bets currently on the table PLUS your call that's needed to make up the pot before raising.
More Related Guides