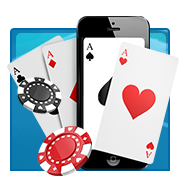 iPhone Online Poker
When it comes to the latest top trends in online poker, iPhone smartphones are arguably at the forefront.
Mobile betting has exploded in recent years; it's convenient, easy to access, and the latest Apple phones can handle the software needed to play.
At OnlinePoker.com, our team has its finger on the pulse of the latest tech and its finger poised on the latest touch-screen devices. For great mobile poker, iPhone sites could be for you.
Access real money iPhone poker online in 2023:
Win money on the world's most popular smartphones
Install apps or play without download via a browser
Play Texas Hold'em on your iPhone anywhere, any time
Poker

on Your iPhone

Playing poker on the move has never been easier with these top rated iPhone poker apps
What's on


this page?

Hover to drop down
Our
Best

Online Poker Sites for 2023
The iPhone
Poker Online

Revolution

Apple's dominance in the mobile industry shows no sign of slowing down. The US company reported quarterly profits in early 2023 of $18 billion and sold some 74.5 million iPhones in the last three months of 2014, surprising all analyst predictions

That means soon you're going to see the number of poker players gambling on iPhones soaring in 2023, and more and more native online poker iPhone apps will surely appear in legal jurisdictions in the App Store
Getting Started
Betting and poker apps are still few and far between in the App Store, but some do exist.
Start off checking the App Store to see if there's a native download real money gaming app. While some apps ARE in the App Store, Apple are notoriously slow in allowing apps to appear there.
However, your best bet is to visit the poker room's homepage via your iPhone and download the app direct from there, if available. And if no app exists, enjoy poker without downloading by simply logging in to an instant-play site on your mobile phone.
Considerations For iPhone Poker Online
While playing Hold'em on your smartphone should be as easy as switching it on and loading up Safari or tapping an app shortcut, you may still have issues. Apple devices still have issues with some Flash or Java-powered poker online. iPhone sites' homepages are good to check before you play; it will clearly display what devices the client works on.
"Your best bet is to visit the poker room's homepage via your iPhone and download the app direct from there.
Also make sure you have the latest version of Safari downloaded so you can play the non-download iPhone online poker software easily. Alternatively, have a variety of browsers on your phone as back-up.
Security And Data
Staying and playing safe are two important considerations too. Make sure you aren't storing any passwords when playing poker online. iPhone devices are ripe for thieves; the last thing you want is your account getting hacked.
And bear in mind your mobile package. If you're not near a strong Wi-Fi area you'll have to play with your nearest 3G or 4G network. With that option you'll soon be logging plenty of gaming data usage, so make sure your package deal allows for it.
Differences With Desktop Online Poker
When you load up a mobile poker iPhone table for the first time, you'll notice a big difference from traditional desktop websites.
The biggest change is in the size of the play area. There's precious little room for a chatbox, and multi-tabling is impossible on your small iPhone screen. Meanwhile, betting and Fold/Bet/Sit Out buttons are accessed via simple touch buttons during a hand of online poker.
iPhone casual players can then enjoy one table of action, so iPhone poker online offers the most convenient way of playing a quick card game.
Find the Best iPhone Online Poker in 2023
If you want to play top Texas Hold'em in the palm of your hand, it's time to get into the next revolution of poker online. iPhone sites are slick, easy to use, and have the same great games you'll find on a desktop client.
And if you sign up with one of our leading iPhone online poker rooms today, you can benefit from a top welcome bonus.
At OnlinePoker.com, our expert reviews provide the only guide to iPhone poker online you'll ever need. Get off Candy Crush Saga and get into mobile poker; iPhone smartphones were designed for it.
Why Play On iPhone?
As we have already mentioned, when it comes to Internet mobile poker, iPhone apps are at the forefront of the game.
Apple devices are hugely popular, user-friendly, and pack a powerful punch in the hardware department. The newest iPhone 6 has up to 128GB of storage, a HD display and a battery that allows 11 hours on Wi-Fi and 12 hours on 4G LTE.
And if you're not sure about where to play iPhone poker online, the App Store stocks plenty of play-money options for download so you can try before you buy.
If mobile poker is available in your region, get involved now and start winning real money via your online poker iPhone.
Top