Take a Look at the Top Rated Online Poker Site Reviews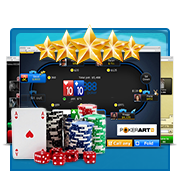 There are countless different sites, some based in the US and some based elsewhere in the world, where you can play poker on the web. But that doesn't mean that every site out there is worthof your custom, which is why we recommend checking out our independent and anonymously conducted reviews.
You never real know what you are going to get when you just stumble upon online poker sites. It's important to make sure that the ones you choose to play at have top quality security and caprovide you with what you're looking for.
Our reviews take all of the following criteria into account:
Range of games offered and casino software used by the site
The safety and security that the sites offer to their customers
How easy it is to make deposits and withdrawals
Size, and ease of unlocking, welcome bonuses
There's no shortage of places to play online poker on the web, with player vs. player action available in internet poker rooms and table poker variations on offer in most online casinos.
"The most important features of a good poker site are a wide game selection, safety, fast transactions and big bonuses.
Fraud/theft of payment information and non-payment are two of the biggest fears most players have when signing up to play online poker. Obviously, this is an important factor in our reviews, but you'll be relieved to know that because of the prohibitive cost of setting up an online gambling site these problems aren't as prevalent as you might imagine.
More Related Guides
Top