History of UIGEA
UIGEA is a bill passed in the United States in 2006 and which came into force in 2009.
An acronym for the 'Unlawful Internet Gambling Enforcement Act of 2006', the law was tacked onto (and became part of) the "Security and Accountability for Every Port Act of 2006", or the SAFE Port Act, a new law aimed at enhancing security at US ports in the wake of 9/11.
Controversial and highly contentious at the time, UIGEA arguably did more to change the landscape for online gambling in America than any other law before or since. [1]
Get all the information you need on the UIGEA, including:
What is the UIGEA?
What does UIGEA make illegal?
Are offshore online poker rooms still legal?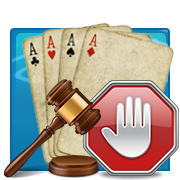 What's on


this page?

Hover to drop down
Unregulated Online Poker in the USA
Pre-UIGEA, online poker in America was a world of aggressive start-ups licensed in dubious jurisdictions taking money from players who may not have known the full history of the companies they were betting with. In reality, however, most sites operating in the US were governed by legitimate overseas licensing jurisdictions like Curacao, Gibraltar and Malta, far from the prying eyes of the Department of Justice.
With no strict set of clear-cut laws in place governing the legality of online poker in the US - at least on a federal level - many gaming sites continued to take bets from US players, and credit card providers were happy to process payments.
Perhaps the biggest indicator of online poker's popularity in unregulated America was the numbers of online qualifiers from the US winning seats to the World Series of Poker.
When Chris Moneymaker qualified for the 2003 WSOP there were 839 runners; a year later, when qualifier Greg Raymer took down the first prize, this had jumped to 2,576 runners and Raymer's prize had doubled from the previous year (from .5 million to million).
The peak came in 2006, the year UIGEA was introduced, as Jamie Gold took down a record million first prize and fought off the challenge of 8,772 other runners at that year's WSOP Main Event. [2]
Introduction of UIGEA
UIGEA wasn't the first time Congress had made attempts to stem the growing passion for Internet gambling in the US, however.
In 1999, attempts were made to force through the Internet Gambling Prohibition Act. [3]
Ultimately, the move failed, with lawmakers unable to agree on a blanket ban of gambling itself across the American Internet. And in fact, several high-profile arrests, like that of BetOnSports chief executive, David Carruthers, over real-money online gambling in the US were a warning sign of things to come. [4]
But in 2006, a group of Republican senators, in particular Jon Kyl and Bill Frist, managed to tack on the new UIGEA bill as the anti-terrorism SAFE Port Act [5] moved through Congress.
Voting Congress members had little choice but to vote for UIGEA, with its strong anti-terrorism and anti-money laundering aims. After several delays, UIGEA came into force in January 2009, just as Barack Obama was being sworn in.
Few expected the legislation to stick, but it was the first time a bill effectively prohibiting real-money gambling on the net had been passed in the United States
What Were the Major Prohibitions of UIGEA?
UIGEA didn't actually make the playing of online poker illegal, but rather the processing of credit card, e-wallet, and other payments made to gambling websites
It suddenly became illegal for credit card firms and banks to process players' deposits and withdrawals made to offshore gaming sites. Effectively, it tried to take the bankrolls out of gambling. [6]
According to UIGEA's exact wording, the law "prohibits gambling businesses from knowingly accepting payments in connection with the participation of another person in a bet or wager that involves the use of the Internet and that is unlawful under any federal or state law." [7]
Aftermath of UIGEA
By using third party processors and alternative methods to receive and deliver gaming funds, many US-facing betting sites believed they were not violating the terms of UIGEA, and continued to operate.
In fact, enforcement of the Act was extremely difficult. After UIGEA was passed in September 2006, several major poker sites decided to leave the US market altogether, including 888 and PartyGaming, who'd both enjoyed a major share of online poker market in America.
The latter in particular was the #1 poker provider in the US pre-UIGEA through its PartyPoker site, but they decided to leave in October of the same year and would later reach a $300 million settlement with the US government as part of a "non-prosecution agreement".
Several months after UIGEA was passed, offending payment processors who had decided to continue operating the US were rounded up.
Two founders of leading e-wallet firm, NETELLER, were detained and charged in early 2007 on counts of money-laundering. [8]
Reactions to UIGEA
Meanwhile, the World Trade Organization (WTO) labelled UIGEA "illegal" and backed up a complaint by Antigua & Barbuda (a major centre for offshore gaming) that the US was in violation of its treaty for not allowing full market access to Antigua-based firms. [9]
At the same time, iMEGA, the Interactive Media Entertainment & Gaming Association, fought - and lost - a case against the government to declare UIGEA unconstitutional.
Several pioneering Congressmen attempted to overhaul UIGEA, notably Barney Frank, who introduced the Internet Gambling Regulation, Consumer Protection and Enforcement Act in 2009. [10]
A liberal Democrat, Frank wanted to see a proper framework of gaming regulation across the whole of the United States. Ultimately, however, Frank's Bill failed.
Post-UIGEA Landscape In the US
Despite major poker sites like 888 and PartyPoker departing the US market, other market players decided to stay.
Full Tilt and PokerStars carried on taking US bets on the assumption that what they were doing was legal and didn't apply to poker. As a result, they quickly built themselves up as not only the biggest sites in America but the two biggest online rooms worldwide.
For almost four years, UIGEA sat on the statute books while the Department Of Justice tried to work out the "legality" of online poker.
Ultimately, the DOJ chose to prosecute those rooms allowing money transfers (essentially those setting themselves up as payment processors in violation of UIGEA).
On April 15th, 2011, or 'Black Friday', the DOJ raided the offices of several major companies, including Full Tilt and PokerStars. Domains and funds were seized, and US online poker players were ultimately frozen out.
What Did We Learn From UIGEA?
Unregulated gambling in the USA was always going to be on a short leash, and UIGEA showed the US government would put up with unregulated Internet gambling for only so long.
Secondly, regardless of World Trade Organization protests, international companies were not immune from the actions of over-zealous politicians in Congress.
And thirdly, despite the effect it had on US players, UIGEA arguably led to more proper regulation for igaming in the United States. The Black Friday raids and the subsequent revelations about Full Tilt's financial misdeeds may not have come to light as soon as they did were it not for UIGEA. And the green shoots of legal online gaming in America may have actually taken much later to appear.
On top of that, we may never have heard about the huge cheating scandals that took place at sites like Absolute Poker/Ultimate Bet. [11]
The Future of US Online Gambling
With a change in stance by the DOJ on Internet poker and gaming operations a few months after Black Friday, the way was paved for regulated online poker in whichever states wanted it. [12]
Indeed, Nevada was already considering moves to regulate online gaming before the DOJ announced its new position on the outdated Wire Act which was originally interpreted as banning all forms of gaming across state lines. With the DOJ's assertion that the Wire Act only applied to sportsbetting, the way was opened for legalized online poker and casino games. [13]
Despite several states "going legal" since the DOJ's position including Nevada, New Jersey and Delaware (with several more 'tipped' to follow in 2023), many of the smaller, unregulated poker sites continue to operate to American customers across the country.
Sources:
UIGEA in 60 Seconds
The Unlawful Internet Gambling Enforcement Act of 2006 was passed in Congress and signed by George W. Bush as a tacked-in piece of legislation to the anti-terrorism SAFE Port Act
While not banning online gambling outright, UIGEA did make illegal the processing of payments to and from US players to offshore Internet poker rooms.
UIGEA was opposed by some politicians and world trade bodies, and online poker rooms who didn't agree with the law's legality continued to take US customers
Matters came to a head in 2011 when the DOJ opened indictments against three major poker rooms who had defied UIGEA. On 'Black Friday' in 2011, the websites of PokerStars, Full Tilt and Absolute/UB were taken down and players' funds seized.
More Related Guides