One of the original, and best, online poker rooms of the early 2000s boom, Full Tilt came, saw and conquered, before being promptly shut down by the DoJ in the US in 2011.
Since then, the Full Tilt site has been sold (to its biggest rival) and relaunched. The nosebleed games may have quietened down a little, and the traffic is certainly quieter, but the same great software remains.
We don't know what the future holds for Full Tilt, and whether it will ever reach the giddy heights of pre-Black Friday. However, the OnlinePoker.com experts couldn't wait to get their teeth into an all-time Internet great.
Enjoy real-money Full Tilt action in 2019:
Solid software and great graphics
The home of Rush Poker cash games
Excellent tournaments and regular series like FTOPS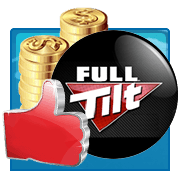 Site History & Reputation
Launched in 2004 by private firm, Tiltware, and a roster of larger-than-life founders like Ray Bitar, Chris Ferguson, and Howard Lederer, Full Tilt established, along with big rivals, PokerStars, a reputation for solid software, great games, and loads of big-name pros hitting up the nosebleed cash games.
How things change. Full Tilt defied the UIGEA in 2006 and continued to accept US bets when other operators left the country. As a result, many Full Tilt-sponsored pros made their names on television and across big live events.
"One of the original and the best online poker rooms, Full Tilt was shut down by the DoJ in the US in 2011 but has re-launched.
Team Full Tilt boasted the likes of Ferguson and Lederer, as well as Phil Ivey, John Juanda, Erik Seidel, Andy Bloch and Erick Lindgren.
However, it all came crashing down after the DoJ 'Black Friday' raids of 2011 put paid to Tilt's online operations and a $300 million black hole was discovered in the company's accounts.
Bitar was indicted on charges of money-laundering, PokerStars bought the firm and repaid players, until 2014 when both sites were acquired by Amaya.
2019
- Present Day Reputation
Full Tilt's dark days are over thanks to the merger between FTP and PokerStars. All accounts have been reinstated and FTP has been fully "resurrected." Although Full Tilt is backed by PokerStars, it is an independent entity.
All of the wonderful features that made FTP one of the best sites in the world are still in place. Players can return to the table with full confidence and security, knowing that Full Tilt is completely licensed and approved by licensing boards in the Isle of Man.
Gone are the clouds and the coming year looks to be a stellar one for both FTP and the players who have come to love some of the most unique poker online today.
Software
The good news for the re-launched Full Tilt site is that the great, trusted software is present and correct.
Choose your avatar before playing, use a HUD to assess your opponents, and reload easily with the 'Single Click Deposit' button on the game-screen. Just set up a deposit option in the Cashier and select the 'Set up new Single Click Account' option. You can then reload your chips in seconds with the simple click of a mouse.
Meanwhile, the lobby, a mess of tournament schedules before, can be filtered and customized for easy use. These 'Lobby Widgets' are a favorite of the OnlinePoker.com team.
Security is top-notch too, with additional login PINs or security keys on request when you log-in to your account.
Traffic
There's no doubt traffic at the Full Tilt room has dropped dramatically since the site's withdrawal from the US market and subsequent takeover by PokerStars.
Where once it was a good second behind PokerStars (and a huge second place ahead of its nearest rival in third) Full Tilt now sits behind iPoker and 888 in terms of regular cash game players. A 24-hour peak of 2,500 is way below the tens of thousands that used to populate the room.
Having said that, on a weekday evening we found 15,000 players enjoying over 4,300 tables of action. As the Full Tilt site is the partner room of PokerStars, players have the option of transferring cash from their 'Stars account.
With the website unlikely to be re-entering the US market anytime soon, don't expect that to increase that much.
Available Games
Full Tilt has lost none of its appeal when it comes to solid game action. Micro-stakes and lower limit players are well-served, with SNGs starting at just $1 and tournaments starting at $0.10.
Available games for real-money Full Tilt play include Texas Hold'em, 5 and 7-card Stud, Razz, HORSE, and Rush Poker cash games. If you haven't tried the original 'fast-fold' format, these are great cash games which move you to a new table when your hand ends.
For Rush Poker junkies, the site's Adrenaline Rush Poker ups the ante a notch by running 4-handed cash games with a buy-in limit of 5-10 big blinds. In Adrenaline Rush Poker you can ONLY raise or fold.
Tournaments
Tourney and SNG players can enjoy tons of great gaming on the Full Tilt site.
Whether it's Double or Triple Chance gambling tournaments, weekly re-entries, private home games, or Shootouts, there's something for everyone.
Real-money Full Tilt Hold'em players have the chance to crush their own version of Twisters and Spin & Gos with 'Jackpot Sit & Go' tourneys.
These three-man tourneys are assigned a random jackpot up to 2,000x the buy-in. So, if you're playing a $50 Jackpot SNG you could be sharing a huge $100,000 prizepool come the end of the game.
Continuing the unique tournaments, Flipout Tournaments (exclusive to Full Tilt) consist of two rounds. First, all players go all-in on every hand, with the winner progressing to the next round. All real-money Full Tilt players reaching Round 2 will continue playing a standard poker betting structure.
While the weekly guarantees are fun, the pick of the OnlinePoker.com boys and girls is the Cashout Poker Tournaments.
Cashouts allow players to cash out of any tournament, taking with them a portion of the prizepool based on their stack size BEFORE the tourney has finished.
Bonuses & Promotions
Welcome Bonus:
The Full Tilt site offers a welcome bonus worth 100% up to $600. Full Tilt Points are earned by playing cash games and tournaments, with a bonus cleared at the rate of $1 for every 25 Full Tilt Points you accrue. There's a 60-day deadline from date of deposit to clear the bonus.
Tournament Series:
There are more real-money Full Tilt room tournaments than we can possible describe here, but the big draw for festival fans is the regular FTOPS and mini-FTOPS (Full Tilt Online Poker Series).
The latest incarnation of FTOPS, FTOPS XXVIII, which takes place in 2015, features $4 million of guaranteed tourney prizes spread over 35 online events. The highlight is the Main Event, which this year carries a buy-in of $1,000.
For smaller wallets, the Mini-FTOPS features the same schedule of events as its big brother but with buy-ins a 10th the amount.
Loyalty Programs:
Real-money Full Tilt players who earn plenty of FTP (Full Tilt Points) can take advantage of the Edge program.
Edge is a six-tiered rewards scheme that kicks off at the Bronze level and can be maintained by earning 1 FTP per day over 30 days.
Real-money Full Tilt points are earned by raking in cash games and paying tournament and SNG fees. The points can be exchanged for tournament tickets or goodies form the Full Tilt Store.
Final Thoughts
"Full Tilt has gone to the top and they have plummeted into the valley as well over the past 10 years. But, the reality is that once you are a giant you can rise again to new and bigger heights. "
With the solid backing of PokerStars and a reputation for outstanding poker behind them it won't be long before FTP will continue to make their ascent up the mountain and regain their position as a major leader.
Full Tilt regularly acquires the highest marks by independent reviewers for best software, customer service, game variety, soft competition, fair play, excellent deposit and withdrawal options and player bonuses and promotions.
They have a history of having a winning edge and players will also enjoy ascending up six levels of The Edge.
Top