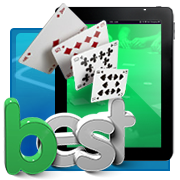 Best iPad Poker Online
In 2023, iPad online poker is the perfect way to make the most out of betting on a tablet. The latest Apple tablets pack a real punch and, with faster Wi-Fi connections, stronger processors and better graphics, iPad poker online has never been easier.
At OnlinePoker.com we're on a mission to find the best tablet online poker. iPad owners can put their touch-screen devices to use by downloading one of our top-rated apps or playing via browser.
Play iPad online poker for real money in 2023:
The best mobile games on an iPad, iPad Mini or iPad Air
Top native apps or play without download
The same great welcome bonuses as desktop players
Poker

on Your iPad

Turn your iPad into a virtual poker table with these top rated iPad poker apps
What's on


this page?

Hover to drop down
Our
Best

Online Poker Sites for 2023
iPad

Takes Over the World
Apple devices are huge business around the world. The queues continue to snake round the corner at Apple stores across the globe whenever a new device is released, and the company recently reported profits in the last quarter of 2014 of $18 billion.
Interestingly, sales of the firm's iconic tablet, the iPad, dropped. But despite the high prices and cheaper rivals flooding the market, Apple iPads still sell in huge numbers.
That's why finding iPad online poker isn't a chore in 2023. With a native app from the App Store or playing without downloading via your Safari browser, when it comes to easy poker online, iPad sites are a top option.
Getting Started With iPad Poker Apps
The App Store is still catching up with the mobile gambling revolution, but if you can't find a real-money option for download, visit your favorite sites. At sites offering online poker, most will nowadays have iPad options for iOS devices.
Just click on the 'Download' button via your tablet and install the poker iPad app onto your device.
Failing that, you can usually play at good poker gaming websites without downloading. Just choose a username and password, or use your current desktop client details, and log in via your browser.
Security and Verification
With some online poker operators, iPad accounts may need to be verified before you play for real cash. This usually involves emailing the poker room a scan of photo ID like a passport or driver's license.
Be prepared: photograph the documents using your iPad camera before you even sign up for an account. That way, you can get through the procedure and playing Texas Hold'em even quicker.
Taking even the most basic security measures is sensible when betting on the move. Never store passwords in your native or non-download online poker iPad apps and only play at websites that have good reputations with solid security in place. You can rely on the security of the poker sites we recommend on OnlinePoker.com.
Download Top iPad Online Poker Apps Today
At OnlinePoker.com we take great steps in finding the best net sites and apps for playing iPad poker online.
That's why we test and compare many iPad online poker apps for ease of use, graphics, and security.
"iPad users can enjoy the best real money games and thanks to the iPad's bigger screen, mutli-tabling is easier than ever.
There's definitely a revolution coming in online poker. iPad users can enjoy the best real money games right now by following our top links. And with a bigger screen, for players multi-tabling poker online iPad devices are perfect for crushing games and earning a healthy bonus.
Why Play iPad Poker Online?
The latest iPad Air 2 offers a great option for mobile players enjoying real money online poker. iPad users can enjoy world-leading hardware, including the latest iOS8 system, a large 9.7" screen and a display boasting 3.1 million pixels.
Simply, your iPad online poker tables never looked so crisp. Better still, the new iPads are lightweight, making portable poker a breeze.
As with most new Apple devices (and this is great for poker), iPad tablets have a battery life of 10 hours. That means there's no danger of your Apple iPad shutting down just as you're about to crush another fish at the cash tables.
The new iPads also feature super-fast Wi-Fi connections, with speeds up to 866 Mbps. That's a huge increase over previous models, so you never have to worry about lag when playing poker online.
iPad Air tablets are ideal for gambling on the net; check our reviews now and start your mobile poker career the right way.
Top