Fast-Fold Poker Strategy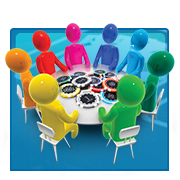 It's the game that revolutionized how online grinders made their money and now "fast-fold" poker strategy is one of the hottest topics in the industry.
Before you race through our top tips and start grinding at the best fast-fold poker sites, it's important to outline the fundamentals of the format. Although the games consist mainly of Texas Hold'em or Pot Limit Omaha options, the high-octane structure makes this online poker variant a much different proposition to anything that you may have played before.
Working out how to maximize your profits by playing as many hands as possible has become an obsession for the game's finest minds and here we outline some of the main strategies fast-fold poker players use to make thousands of bucks every year.
Our
Best

Online Poker Sites for 2023
How Fast-Fold Poker Works
When you play fast-fold poker you're thrust into a pool of players from 20 to 1,500. Once you've been seated at your first cash table you'll be given the option to call, raise or fold as you would in any other game.
However, the main difference between fast-fold and every other format is that once you fold (or win a hand), you're immediately taken to a new table and the process is repeated. In fact, if this wasn't quick enough, you can also press the "fast fold" button and you'll be taken to a new table even faster.
This constant stream of action means you can see around 1,200-1,300 hands per hour (roughly three times as many hands as you'd see it a regular speed table) if you're multi-tabling. For cash game grinders and bonus hunters this rate of play is great because you can effectively triple your win rate if you're able to maintain a solid fast-fold strategy.
Fast-Fold Poker in Action
To give you an insight into the best fast-fold strategy, check out the optimal line for playing a marginal hand in the small blind:
Example 1: Avoid Marginal Spots
You are sitting in the small blind with 8-6 suited and have a tight big blind behind you. At a normal table this would be a good opportunity to steal the blinds when the action folds to you. However, in Rush Poker this is a waste of time; especially if you have keen stealers sitting in late positions.
The key to success in Rush Poker is volume and the more marginal spots you can avoid the better it is for your bankroll.
Indeed, the reason for folding a marginal hand in the small blind and passing up on a potential pot to steal is that during the time it takes for people to fold you could have seen five hands at different tables. At least one of these hands would have been stronger than 8-6 suited or offered better stealing potential. That tells us that when it comes to stealing with marginal hands the best fast-fold strategy is to do it early or not at all. Another issue that arises from trying to steal in fast-fold games is that you run the risk of inflating the pot unnecessarily.
If you raise from the cut-off and are not planning to re-steal with a marginal hand, it doesn't really make any sense to sit on your 8-6 suited until the action gets to you.
With hands such as suited connectors, weak aces and small pairs (in early position) you should be prepared to fold a lot more than you would in a standard cash game. The reason for this is that you can find better spots and, therefore, make more money if you fold quickly and move on.
Know Your Fast-Fold Ranges
A further consequence of fast-fold poker's format is that a fish's hand range is more defined than it normally is. Using the above logic that you should be playing strong hands or folding in order to improve your hourly win rate, fish will generally only raise hands containing broadway cards or pairs.
Because of this, you can over-call with a lot of weaker hands when you're in late position because you'll have a huge edge post-flop.
Essentially, because weak players will become used to hitting the "fast fold" button pre-flop, it means that when they uncheck it they will have a strong, well-defined hand which you can then exploit post-flop.
Rushing Towards More Money
In essence, fast-fold poker strategy is based on one premise: see as many hands as you can. Instead of waiting for marginal spots to make a value bet or late position steal, it's much better to fold until you find a strong hand that's worth raising with.
Doing this will allow you to see more hands per hour, make stronger hands when you go to the flop and, subsequently, make more money in the long run. Although it may seem somewhat basic, the best way to beat fast-fold poker is through a solid ABC strategy that favors volume over creativity.
It's All About Volume
Since Full Tilt launched the first fast-fold poker variant, virtually everyone else has got in on the act with their own versions. You'll find some of the best rooms reviewed here at OnlinePoker.com.
Wherever you play, as long as you remember to race through as many hands as possible and take a confident approach to raising, then winning at fast-fold poker shouldn't take you long.
Everyone Has Fast-Fold Poker Variants
The first fast-fold game, Rush Poker, was originally developed by Full Tilt, but every major online poker site now offers its own fast-fold poker variant.
Although the name may be different, the format will always be the same which means our strategy tips will be just as useful on one site as they are on another.
Good fast-fold sites to explore are as follows. All these top rooms carry fast-fold cash games at a range of stakes to suit all wallets:
Full Tilt: Rush Poker
PokerStars: Zoom Poker
iPoker network: Speed Poker
888poker: Snap Poker
More Related Guides