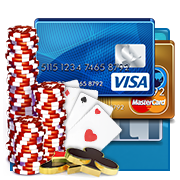 Credit Card Online Poker
If you're looking for top online poker deposit methods in 2023, credit cards are hard to beat. For players wanting to use a credit card, online poker for real money is simple: the security is unrivalled, while fees and minimum deposit limits are fairly low.
It's important to keep on top of your bills, credit limit and your card provider's interest rates, but credit cards are the easiest way to load up your poker account. Elsewhere we've broken down the various benefits of different card providers at OnlinePoker.com, but here we'll look at the basics of using credit cards at gambling sites.
Find online sites accepting credit card deposits:
Widely accepted at Internet poker rooms in 2023
Great for legal poker rooms in the USA
Gambling card fees can be low
Play With

Your Credit Card

For instant real money poker see our list of top credit card poker sites
What's on


this page?

Hover to drop down
Our
Best

Online Poker Sites for 2023
Using a Credit Card

Your first port of call for credit card poker online is to apply for a card. Your bank can offer a credit card or you can apply at dozens of other providers like supermarkets, online banks or insurance companies.
Do some shopping around, just as you would do when looking for a good poker room. Deals can vary dramatically and if you're stuck with a card charging 20 percent+ a year in interest, those poker winnings can soon vanish.
Find Top Credit Card Poker Online
Once you've secured a VISA, MasterCard or Diners Club card, have a look at our top gaming room reviews and see who's best for credit card poker online.
At OnlinePoker.com we test poker rooms to see which ones are the best online sites accepting credit card payments.
With luck, you'll live in a jurisdiction that allows legal poker on the web. If so, your credit card provider or bank will be a lot less jittery in allowing payments for gambling.
Making Deposits and Withdrawals

Playing at online sites accepting credit card deposits is simple: just visit the Cashier, click on the specific card provider, and enter the long number into the box. You'll also need your CV2 code from the back of the card.
On first deposits, some rooms (in line with gambling commission rules) will require Age Verification. This usually involves emailing scans of photo ID like a passport or driver's license to the poker room.
As long as you can prove you are of legal age in the country to play in, you should be fine.
Cash-outs are just as easy: click on the Cashier tab again and select the credit card from the drop-down list.
Processing and Fees
If you're using a credit card, online poker is easy, quick and accessible. Generally speaking, credit card payments incur no fees, and funds can be accessed instantly.
"Some Internet rooms use 'Net Deposits Only', so money can only be withdrawn using the same online deposit method.
Remember that if you are making a deposit with a currency different to the card currency, you will usually be charged an exchange rate PLUS a fee.
For real cash withdrawals, money can take several days to appear back in players' accounts. It's also worth mentioning, however, that some Internet rooms operate a 'Net Deposits' policy. This means that money you send via one of the accepted online poker deposit methods can only be withdrawn using the same method.
So, if you want to deposit AND withdraw using a VISA or MasterCard, check that both options are available before you make a payment.
Credit Card Problems in the USA

Although safe and reliable, it doesn't mean that credit card payment processing online always goes smoothly.
If you live in a US state that hasn't regulated poker on the net you may find that your credit card provider won't process your deposit. You may also have to pay a substantial fee every time you load your account.
However, there have been problems reported by players even in the newly-regulated poker states like New Jersey and Nevada. Still jittery about UIGEA and the after-effects of the DoJ Black Friday raids, some card providers are playing it safe and declining real-money transactions made to poker rooms online.
PIn fact, in 2023 , to combat the problem New Jersey is introducing a special credit card code which will be used specifically for Internet poker.
Even though online sites accepting credit card payments have been legal in New Jersey since 2013, approval rates of credit cards ran at 73 percent for VISA and only 44 percent for MasterCard.
We Find Top Credit Card Online Poker Rooms
For real money players using a credit card, poker online should be painless. You can fill your account with funds quickly and safely while relying on world-leading encryption on every payment.
Better, when using these top online poker deposit methods you can benefit from a great welcome bonus when you sign up.
As long as you are disciplined and regularly pay off the balance of your credit card, online poker for real money has never been so easy.
More Related Guides