Biggest & Best Online Poker Freerolls
Real money online freerolls are a great way to make some cash the cheap way in 2023. Poker freeroll tournies let you play Texas Hold'em or any other card game in scheduled tournaments without risking a dime. And the better the site, the better the prizepools on offer.
At OnlinePoker.com we have reviews of the top websites offering poker online; freerolls on these sites will have generous cash prizes and may even have added extras like gadgets or player points. There are lots of advantages to finding top gambling sites with online poker freerolls:
Win free cash at daily and weekly freerolls
Brush up on your poker skills without risking cash
Build up your real money bankroll the cheap way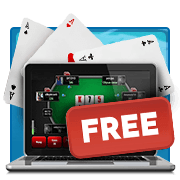 What's on


this page?

Hover to drop down
Our
Best

Online Poker Sites for 2023
What Are
Online Poker Freerolls

?
Poker freerolls are laid on by sites to give you a taste of online Hold'em or Omaha, or help you get used to their software. They also attract players who may not have tried real-money gaming before.
You'll find a good range of freeroll poker at all top sites. Some rooms run freerolls daily or weekly and the prizepools can range from player points to a guaranteed $1,000 in cash.
If you're just getting started with poker online, freerolls can be a good way of practising the games and trying out some strategy while earning cash. The risk is minimal, they're fun to play, and with the prize money you can buy in to a bigger tournament or cash game.
Are They Really Free to Enter?
While freerolls can come in many flavors (new customers' exclusive tournaments, daily and weekly guaranteed tourneys, or qualifiers to live events), they're not always free, so always check the details.
Some freerolls carry a buy-in in 'player points', that is points earned from playing cash games and tournaments. As you have to play real-money poker online to earn those points the buy-ins aren't strictly free.
"You can win money, prizes and live poker event entries in Freerolls but they aren't always free, so check the details.
Finding Great Poker Freerolls
Every website is desperate for new customers. More to the point, they want real-money players to play and STAY on their sites over the long term. That's why the really good sites will run a range of online poker freerolls. Look at the traffic that a typical daily freeroll gets: if 3 or 4,000 players are turning up to play that can be a sign the site is popular and well-trusted.
Meanwhile, Internet poker rooms that are tied to big live events may run freeroll qualifiers to win a seat in an online final. There's nothing like qualifying for the WSOP or WPT by satellite-ing your way up via the freerolls. Again, check the terms; online qualifiers may require some player points as a "buy-in".
Find the Best Freerolls Online Poker
If you're looking to make cash easily while playing poker online, freerolls are the perfect way to earn some free money.
Check out our expert guide today and scour the reviews for a real-money poker freerolls site that's good for you. All you need to do is mind those crazy fish and take down some easy cash.
Quick Freeroll Tips
While online poker freerolls can be a great way to make some quick gambling cash, you need to tread carefully.
As there's so little at stake, the play can be wild and crazy. Follow these simple tips to maximise your chances of success:
1) Mind the Fish
Because freeroll poker is usually free to enter, the standard of play is normally pretty loose and aggressive. Players will throw their chips around without really thinking, so be smart and sit tight. When playing poker online, freerolls fields will dwindle by half in the first half hour or so. Wait till the idiots have gone, then start playing.
2) Keep a Calendar
It's good practice to keep a diary of all the online poker freerolls available across multiple sites. Some websites even display freeroll diaries so you can always have somewhere to play for free.
3) Building a Bankroll Can Be Done!
If you thought making a fortune at Internet Texas Hold'em freerolls was impossible, think again. Pro Chris Ferguson famously made $10,000 on Full Tilt Poker by winning a freeroll and spinning up his profits from there.
More Related Guides