Poker rooms don't come any bigger than PokerStars. Whether you're in France, Italy or the UK (sorry, US, you miss out for the time being) there's hardly a better place to enjoy your favorite Texas Hold'em card game action on the net.
While it would be easy for the team at OnlinePoker.com to lazily hit '5 out of 5' for everything and move on to the next room, that would be the easy option.
So, are the real-money PokerStars that good, and do the games require a little more scrutiny than we give them credit? Let's take a closer look at our guide's premium poker website.
The world's biggest poker room online
More players and tables than anyone else
Big guaranteed tourneys and jackpot Spin 'n' Go games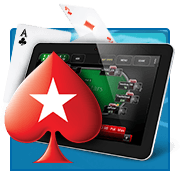 Site History & Reputation
PokerStars first launched in 2001, but it wasn't until 2003 that an unknown 'Stars player qualified for the World Series of Poker via an online satellite.
That player was Chris Moneymaker, and he made history by becoming the first Internet gambling qualifier to take down a WSOP Main Event. That feat was repeated the following year when PokerStars qualifier, Greg Raymer, won the WSOP Main Event.
In 2006, while UIGEA in the US was putting paid to its rivals' American operations, the site introduced the Sunday Million - the world's first weekly Internet million-dollar guaranteed tourney.
In 2011, around the time the DoJ was busy shutting down PokerStars' operations in the US, the site defied everyone by bumping up the guarantee to the Sunday Million to $5 million.
Despite a shutdown once and for all of PokerStars' US site, they reached an agreement with the DoJ to repay US players while also finalizing a deal to take over major rival, Full Tilt.
And while PokerStars bangs on the door of regulated states in America like New Jersey and Nevada, the latest drama to hit the site involved a multi-billion dollar buyout of the site's parent firm, Rational, by Canadian group, Amaya.
And while PokerStars bangs on the door of regulated states in America like New Jersey and Nevada, the latest drama to hit the site involved a multi-billion dollar buyout of the site's parent firm, Rational, by Canadian group, Amaya.
Since the takeover, PokerStars has moved out of legal 'gray' areas worldwide and has begun introducing casino games to the lobby, much to the dismay of some pros who argue the site's 'purity' has gone. On top of that, proposed rake increases (which were later scrapped by the site) drew plenty of anger.
Whatever the future holds in store for PokerStars, there's no doubt that its rise to dominance in the online world has set it on a course that no-one will ever likely disrupt.
2019
- Present Day Reputation
PokerStars has earned the reputation: toughest poker room in town. While that may be true there is also a strong feeling of camaraderie and the poker pros there believe in advancing the game. While many will believe that sharks love to devour minnow, the truth is they also want a challenge and want to win against equally tough competition. The thrill of the chase comes into play.
But more importantly, it isn't all tough play. There are more than enough great opportunities for new players to both win real money, tournaments and move up in their overall poker skills.
Although PokerStars does not have an absolute pure reputation, they have done a great job of learning from their mistakes and growing as a result. In fact they have grown in the past couple of years with the acquisition of Full Tilt.
Hopefully it will not be long before PokerStars becomes available to US players. Until then they continue to improve, grow and dominate the world of online poker.
Software
The download client at PokerStars is a thing of beauty. Real-money PokerStars players can download with a PC or Mac (and the mobile version for iOS or Android is a treat) but we still find the Mac version a little more user-friendly.
"Thanks to the new PokerStars software you can now personalize your lobby so you only see the games you're interested in.
Tables and appearance are easily changed with a bewildering array of custom options. The problem with PokerStars was always that the lobby was SO packed with choice that it could be confusing navigating your way round.
The games lobby at PokerStars was always its worst feature but with the new PokerStars 7 software, you can now filter out games in your own personalized lobby and get quick access to the games you want.
Traffic
When you think of the biggest poker rooms on the net, you think of PokerStars. A quick glance at the 'Online Now' tab at the site's homepage reveals around 200,000 players online at peak times, all plying their trade in cash games and tournaments around the clock (and that's without US players).
Cash game traffic remains good, easily outstripping the competition. A 24-hour peak of around 31,000 cash game players (with a 7-day average of 20,000) was recorded at time of writing; that's about 10x the nearest rival. There's also a fast-fold cash game option, Zoom Poker, with plenty of tables at all stakes.
In terms of players, there's a good mix, with seasoned pros rubbing shoulders with lots of grinders and newbies drawn in by the advertising. That's why you're as likely to get a solid player at the $22 SNGs as you will a complete fish, and the same at the $0.25/$0.50 No Limit Hold'em cash games.
PokerStars now operates segregated sites in Spain, France and Italy, so if you live outside those countries you won't get to take on the Spaniards, French and Italians at the Sit 'n Go tables.
Available Games
Where do you even start with the range of real-money games available at the PokerStars poker site?
If there's a poker variant invented, chances are there's a cash game or tournament covering it at PokerStars.
No Limit Hold'em, Limit Hold'em, or Open-Face Chinese Poker; if you can think of it, they'll spread it.
Real-money PokerStars players can also enjoy the hugely popular Spin & Go tournaments. These 3-man Sit 'n Gos start off with a randomly-assigned jackpot which goes to the winner at the end of the game. Some lucky PokerStars site players bagged a $1 million jackpot recently, so there are definitely prizes to be had.
The 'lottery' element of games like Spin & Go, coupled with the website's move into casino games, has drawn criticism from some quarters. In 2014, PokerStars pro, Victoria Coren, publicly ended her association with the online room in protest at the direction the site was moving in.
However, grumbles about casino games aside, PokerStars' poker site offering remains ahead of the pack.
Tournaments
As well as the usual array of daily and weekly tournaments, it's the weekly 'majors' that are the real draw on the PokerStars poker site.
The Sunday Million, an OnlinePoker.com favorite, carries a buy-in of $215 and is one of the most prestigious weekly majors on the web. The million-dollar guarantee is regularly met, showing just how popular the site is.
As with PokerStars' big weekly tourneys, there is a fully-stocked satellite lobby in place where you can buy in for cash or FPPs (Frequent Player Points).
In March 2015, real-money PokerStars players were treated to a 9th anniversary tournament as the room held a Sunday Million with a guaranteed prizepool of $9 million.
Bonuses & Promotions
With PokerStars now offering many country-specific sites (PokerStars.uk in the United Kingdom, PokerStars.it in Italy, PokerStars.fr in France etc) the range of bonuses on offer can differ too.
There's a basic welcome bonus of £20 for new customers in the UK, on top of a more basic 100% deposit up to £400.
However, Frequent Player Points (FPP) open the door to a range of loyalty programs just for playing real-money PokerStars cash games and tournaments.
The PokerStars VIP Program offers cash rewards, tournament entries and goodies from the VIP Store, as well as invites to VIP Club Live parties. The loyalty program starts at BronzeStar, and moves through the levels ChromeStar, SilverStar, GoldStar and PlatinumStar, and on to the famous Supernova and Supernova Elite statuses.
Thinking of reaching Supernova Elite? You'll 'only' have to clear 1,000,000 VPPs (VIP Player Points) to earn that accolade.
Final Thoughts
"Our team of reviewers are just like the other 15,000 poker players who visit PokerStars on a regular basis; they love it."
One of the most endearing aspects of PokerStars is the flexibility with banking. To have online cashiers ready to handle deposits on the spot, and field concerns is a huge relief to players.
Knowing that PokerStars is safe, secure and fully regulated is a huge plus. Like many online poker sites, they utilize SSL technology, which happens to be the same exact technology used by major banks and governments.
There are so many great reasons why you should check out PokerStars, but it really is one of those things that you have to see to believe.
Top