Hold'em Poker Online
Hold'em online poker is easily the most popular format of the card game you'll find in 2023. Hold'em poker (online and off) is accessible, attracts plenty of fish trying out the game for the first time, and provides poker rooms with the majority of their games.
When it comes to poker, Hold'em is hard to beat. It's exciting, easy to learn (but tricky to master), and comes in a variety of formats and stakes. At OnlinePoker.com we find the very best Hold'em poker gambling to help you enjoy the best Hold'em online poker games in 2023:
Biggest player traffic cash games and tournaments
A range of stakes and prizepools
Improve your bankroll with a welcome bonus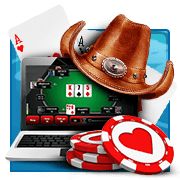 What's on


this page?

Hover to drop down
Our
Best

Online Poker Sites for 2023
A Brief
History of Hold'em

Online Poker

"The Cadillac of Poker" emerged from the old American classics like 5-Card Draw.

That term was coined by Doyle "Texas Dolly" Brunson, one of the original road gamblers who travelled during the 1940s and '50s playing in illegal games across Texas and Nevada.

But it's thought that the first Hold'em games were play in Robstown, Texas, in the early 20th Century.
World Series of Poker Hold'em
Once the Vegas casinos got hold of Hold'em, it was only a matter of time before the world's best pros were fighting it out at the game for the World Series of Poker title.
The WSOP was first held in 1970 when a small group of players bought in for $10,000 over the Texas Hold'em tables. To this day, the WSOP Main Event is still played in the Hold'em format. It's the easiest format to learn, and nowhere else in poker can the fortunes of a player change so fast on the turn of a card.
The biggest multi-million dollar tournaments played in 2023 are usually Hold'em tournaments.
What To Look For In
Great Sites
Texas Hold'em takes minutes to learn, so the saying goes, but it takes a lot longer to find a great betting website offering the game. Good net rooms with online poker Hold'em games should offer a good range of stakes and variations. That means you should find rooms with cash games ranging from $0.01/$0.02 to $100/$200 and everything in between, but also look for Hold'em poker online games that are packed with players.
Tournaments should offer guaranteed prizepools and Sit 'n' Gos should be running regularly enough that you can multi-table two or three at a time.
While Limit and Pot Limit Hold'em online poker are popular variations, the most common format played is No Limit. Most tournaments and Sit 'n' Gos are played No Limit, meaning there is no upper limit on the amount a player can raise with during a hand.
But it's important to look beyond the games themselves when playing poker online. Hold'em players gambling for real money need to find a Hold'em online poker website that has a good range of banking options and delivers proven, fast cashouts.
We Find the Top Online Poker Hold'em Rooms
At OnlinePoker.com we have the latest 2023 list of great Internet rooms to play at.
Our team scours the web to find the very best poker online. Hold'em games take up a huge amount of the action offered by leading sites, so read our reviews and pick a room that's right for you.
With the right online poker Hold'em room you can even earn a great welcome bonus when you sign up.
Texas Hold'em

in 60 Seconds

Hold'em poker online is a community game where each player is dealt two cards face down (hole cards) and five 'community' cards are dealt in between betting rounds on the table.

These community cards are shared by all players. The aim is to get the best poker Hold'em hand formed from any five of the two hole cards and five community cards.

Two blinds (enforced bets), the small and big blind, are posted before the cards are dealt. Action then moves clockwise with a raise in No Limit Hold'em needing to be at least double the previous bet.

After a round of betting, the 'flop' is dealt consisting of three community cards. After another round of betting, a single 'turn' card is added to the board. A single, fifth, 'river' card is dealt after a further round of betting to complete the community cards.

A final round of betting between all remaining players then takes place, with the best hand at showdown taking the pot. Players can split the pot if they all share five community cards as the best hand available.
Top Tip:

Don't Play Every Hand

You're going to go broke if you play every single Texas Hold'em online poker hand. Be patient, wait for good hands when in late position, and bet your strong hands hard.

Good premium hands for beginners include pocket pairs like 9-9, 10-10, J-J, Q-Q, K-K and A-A when in late position, and big hands like A-K, K-Q suited and A-A when in early position (you're first to act).

Also, don't be afraid to fold if you think you're beat playing poker online. Hold'em hands are always just around the corner. Good Hold'em players know when to hold 'em and when to fold 'em.
Top Tip:

Play At the Right Level
Want to know the best advice for playing poker online? Hold'em players should stick to a level they can consistently win at before deciding to move up a level.
It can be tempting at Internet betting sites to move up to the bigger levels with bigger prizes. Don't be tempted until you've got proven profits at the lower stakes and you feel you can regularly beat the players at your level.
And if you do move up a poker Hold'em stakes level, don't be afraid to quit and move back down if the action is too hot.
More Related Guides