BlackBerry Poker Online 2023
BlackBerry used to be the biggest handheld smartphone provider in the world. In 2023, rivals have overtaken them in the tablet and smartphone market. But, if you want to play poker online, BlackBerry cellphones and Playbooks can still be used for tournaments and cash games wherever you are.
Mobile poker rooms that accommodate Blackberry devices are limited, but our OnlinePoker.com experts have compiled ratings on dozens of the best websites that can be accessed via BlackBerry portable devices. We've found Blackberry poker rooms that offer great welcome bonuses and promotions, have a variety of poker games, and are safe and secure. Play at top BlackBerry online poker sites:
Play real money games anywhere, anytime
Slick gameplay and solid real money action
Earn top welcome bonuses on the net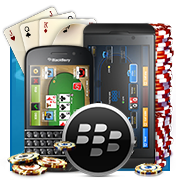 What's on


this page?

Hover to drop down
Our
Best

Online Poker Sites for 2023
History
Once upon a time, BlackBerry phones were the must-haves of executives and businessmen everywhere. They allowed for easy access to emails and documents and were the precursor to the new generations of smartphone.
The company started to decline as they fell behind in developing their next generation of smartphone, and at the same time, slicker rivals arrived on the market, eventually surpassing the Blackberry. But now with new Blackberry phones being developed and the reasonably-priced BlackBerry Playbook tablet arriving, the original smartphone manufacturer is making an amazing comeback.
Playing Online Poker: BlackBerry Apps
First, the good news, which is an average BlackBerry Playbook has 64GB of memory, solid Wi-Fi, a crisp 7" display, and front and rear cameras. Now, the bad news, as of 2023 it's almost impossible to find online poker apps for this device. BlackBerry phones and tablets are best left for the office.
However, it isn't curtains for BlackBerry online poker players. While BlackBerry devices use their own operating system you can still use Adobe Flash. That means you should be able to access most sites that have no-download, real money online poker. BlackBerry owners should ensure they have BlackBerry 10.3.0 or better, and also re-enable Flash when they turn their phones or tablets on. For later BlackBerry portable devices, Flash is disabled by default.
Also, as testament to the new generation of Blackberry phones, there's been an uptick in the number of online poker rooms developing apps that are Blackberry friendly. Thus, if you have a Blackberry, chances are you're going to find an online poker room that works nicely with your mobile device.
What To Bear In Mind
Whichever gaming website at which you choose to play poker online, BlackBerry Texas Hold'em players should be mindful of the smaller play area they must utilize. With the small screens, those who play poker online on their BlackBerry means single tables a lot of the time, as multi-tabling cannot be accommodated. If using your Blackberry, make sure your data usage package is substantial in case you need to play real-money Texas Hold'em all day via 3G or 4G networks. And with Blackberry if you're in a Wi-Fi area, ensure the connection is super-strong.
Also, make sure your chosen gambling website has the correct licensing in place and top security to protect transactions. Mobile poker rooms should have the same encryption in place as their online versions so that players can play safely.
Top BlackBerry Online Poker Rooms
At OnlinePoker.com, we have the best BlackBerry Internet poker rooms for real money. We've compiled a solid list of respected rooms that pass every test. In assessing these poker rooms, we consider poker games, stakes, and buy ins; promotions and bonuses; and customer service.
Remember, if you have a Blackberry, it's best if you try to play using a no download mobile poker room. And for every no download poker room we include in our guide you'll earn a top welcome bonus when you sign up. Start your BlackBerry online poker journey on the right track and crush the cash games at anytime.
Why Play On A BlackBerry?
The latest BlackBerry Playbook is one of the cheapest tablets on the market. So, if you're looking to make that bankroll go further when playing poker online, BlackBerry devices could be for you.
BlackBerry has not been very popular in the mobile world in recent years, but with some top-quality smartphones and tablets, the beleaguered firm is making a comeback. If you want some great no download online poker, BlackBerry devices offer a reliable outlet wherever you are. Mobile poker is the next revolution in Internet Texas Hold'em, and we're sure to see more dedicated online poker BlackBerry apps arriving in the coming years.
When you sign up at one of the websites we feature, you know you're getting a safe, secure, top-rated gaming room. Get the connections you need in order to play online poker on your Blackberry.
More Related Guides