Going Professional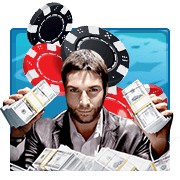 To hang with the world's top poker pros you need to think like one. Phil Ivey, Daniel Negreanu and Chris "moorman1" Moorman are all world-class poker players and, while their playing styles will differ, they will all share a certain number of traits.
Whether it's a lack of fear or a bulging bankroll, every top live and online poker pro will share a similar set of core skills that has allowed them to stay among the game's elite.
Of course, at OnlinePoker.com we can't make you a poker pro overnight but we can point out some of the qualities you'll need if you want to go pro.
Be Fearless
One quality that virtually all poker pros share is a lack of fear. Being able to pull the trigger in a crucial pot, regardless of the dollars it may cost, is something that separates the weak from the strong. At heart, poker players are skilful, but they are gamblers too and they are willing to risk it all if they think they can win.
Be Disciplined
Being fearless doesn't mean you have to be reckless. Although some poker pros may look like they're playing a crazy style, most of them are in full control of what they're doing. It's OK to be fearless and aggressive, but don't lose your discipline. Never bet more than you can afford and never lose sight of solid poker strategy.
Know Your Fundamentals
In order to break the rules you need to master them and that means knowing your fundamentals. Before you can start pulling off complex bluffs and intricate value bets, you need to be comfortable with an ABC style of poker. Much like a jazz musician, you need to have the basics under your command before you start mixing things up and making sweet music.
Have Access to Cash
Every poker pro needs to have a large bankroll. Although you don't need to play in the highest stakes games in order to make a living as a poker player, you do need to be solvent enough to take any opportunity as it arises.
Having money means having the ability to seize value as it presents itself. A poker player without a healthy bankroll will be forced to miss out on potentially profitable spots, so make sure you have enough cash behind you if you want to go pro.
Make Friends
Having a solid network of friends in the poker community is crucial for two reasons: advice and backing.
All professional players need to refine their game and improve and the best way to do this is by talking to other top pros. Daniel Negreanu famously communicates with a host of players in order to pick up new ideas and plug his own leak
On top of this, having a selection of friends is also useful if you want help buying into a tournament. The cost of traveling the professional MTT circuit is extremely high and many pros sell pieces of their action in over to offset their expenses.
Keep Calm
Regardless of whether you're winning or losing, your demeanor should never change. Whether you're playing and something goes your way or you're away from the felt and suffering a tough losing streak, the key to being a professional poker player is staying calm.
As long as you're playing within your bankroll and making the right plays, nothing else should matter. Taking the rough with the smooth is a major part of being a poker pro and something you need to be comfortable with if you want to compete with the game's elite.
Never Get Above Yourself
Above all, when thinking about turning pro, you should think about your attitude.
Remaining humble and understanding that with a turn of a card you can go from hero to zero is crucial. Poker history is littered with stories of players becoming overconfident, only to find themselves struggling to put together a bankroll just a few years later.
Jamie Gold is a prime example of this. Back in 2006, Gold won the WSOP Main Event for million. However, through a combination of overconfidence and playing against players he couldn't beat, Gold is now virtually broke. Although he's still an active player, Gold's activities have been confined to small-stakes tournaments away from the public's gaze.
More Related Guides
Top