Best Mobile Poker For 2023
In 2023, real money players can enjoy Texas Hold'em and Omaha mobile poker online on their smartphones and tablets. The best Internet mobile poker sites are designed specifically for your smaller smartphone touchscreen. That way, you can take down pots at the swipe of a finger.
If you thought traditional online poker on a PC was convenient, nothing beats mobile poker online. Mobile gaming for real cash is still developing, but you can still find some great poker rooms and apps for your phone in 2023. At OnlinePoker.com, we review the very best.
Play poker mobile games in 2023: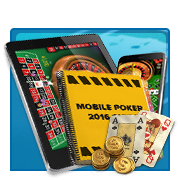 What's on


this page?

Hover to drop down
Our
Best

Online Poker Sites for 2023
How To Play Mobile Online Poker Games
There are two ways to play real money mobile poker; downloading a native app onto your phone, or logging via your web browser at 'instant play' sites.
First, set up an account (or use your existing online account details) and load up the lobby on your phone or tablet. The first thing you'll notice is the tables will display differently on your screen to your PC monitor.
All action is controlled via touch buttons (Fold, Bet, etc) but good rooms are well-designed for the smaller space. You can even access the Cashier and Lobby easily at the touch of a button.
Downloading Mobile Poker Apps
For poker online, mobile options come in two flavors: download and no-download. First, head to the App Store (if you're using an iPhone or iPad) or Google Play Store on an Android phone or tablet. Other, independent app stores like GetJar also stock specialist gambling apps. Check with your mobile online poker room before downloading to see where you need to go.
Some rooms will have native apps for download. Installing is easy. From there, you can access the gaming site via the app shortcut on your portable device.
Android users may have to adjust the settings on their phone or tablet to allow downloads from sources outside the Play Store, so check before you commit.
A final option is to go to the homepage of the room you want to play at. You can often download apps direct from the online poker mobile website.
Your Options
If your favorite sites don't have a real money mobile poker app, you can simply go to the site using your phone and log-in via the browser.
It's worth having several browsers downloaded on your mobile device (at least two of Safari, Google Chrome, Firefox, etc) so that you have options if one doesn't work.
These 'instant play' versions are good, especially if you're on a Windows phone or BlackBerry which may not have native apps for download.
"If your favorite poker rooms don't have a poker mobile option, just go to the site on your phone and log-in via the browser.
Things to Bear In Mind...
Compatibility & Games
As well as having the right model of phone it's important to have an up-to-date operating system.
With Apple phones you generally need iOS 4.3; with Android it's generally 4.0 or better for the best experience. If you're struggling to cope with some sites it's probably time to upgrade your smartphone.
Finally, you will find that not all games are available using mobile poker apps. While Hold'em and Omaha are available to play for real cash, you probably won't find any Triple Draw, 8-Game Mix or Badugi games.
Screen Size and Graphics
For real money players used to big 32" monitors to play poker on, switching to online poker mobile games can be a shock.
You'll generally be stuck playing one table at a time due to the limited screen size, and poor sites may have issues with usability.
Also, be wary of cheaper mobile phones and tablets which have "low spec audio players" built in. These can sometimes cause poker graphics to appear jerky on the screen.
Mobile Poker Blocking
One last note: before you play, enquire with your mobile network operator that gambling websites are permitted.
Some providers will block real money mobile online poker rooms. This is done to prevent those under the legal age accessing gambling content, but even if you're over the legal age or living in a country where Internet poker is regulated and licensed, you may need to manually adjust the settings on your device.
Security is also an issue with mobile poker online. Some gaming websites will send you a special security key every time you log on. This changes every time you come online to protect your account from hackers.
It can be a hassle, but extra security is better than no security at all.
Playing Abroad
Convenience is perhaps the best advantage of poker mobile action. You can play on the move, on the train to work, or at work when the boss isn't looking.
And if you're taking your tablet or phone abroad, you can take your poker with you.
If your mobile network provider allows roaming, and the network you use abroad supports GPRS (General packet radio service) you should be able to enjoy mobile online poker in countries that aren't restricted.
Top Mobile Online Poker Rooms in 2023
When you think about the big advances of online poker, mobile gaming is certainly the biggest to hit the game in recent years.
Mobile online poker is fun, convenient and great websites offer plenty of games to play. Take a look at the leading reviews at OnlinePoker.com for the best guide to top sites in 2023.
Importance of Bigger Screens
The 'convenience v playability' argument is one that will continue to dog mobile gambling as it gains popularity over the coming years.
How do you marry the convenience of playing on your handheld portable device wherever you are with the actual ease of playing?
Multi-tablers, for example, will find it particularly hard to play more than one cash game or tournament at once on such a small screen. Mobile poker online, therefore, is probably best-suited to casual gamblers getting in a few micro-stakes cash hands on the bus to work or a tournament sat watching TV.
Tablets are getting bigger and bigger, of course, and mobile online poker will surely come into its own once the new generation of 9" tablets (and bigger) start to come onto the market.
Mobile Poker 2023 Guide FAQ
More Related Guides