Blacklisted

Poker Rooms 2023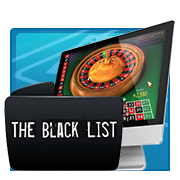 While many good online poker sites exist, there are plenty more that should be avoided like the plague. The rooms that have made it to our list of blacklisted sites have a proven terrible track record in paying customers their winnings or have cheated their customers in some way.
Blacklisted poker sites will also not have the proper licensing in place (an essential component of all reputable rooms) and inadequate security procedures for safeguarding personal data.
There are also countless more gambling websites on the Internet that have folded due to poor mismanagement, unpaid winnings, or straight-up fraud. We list a selection of the most notorious here.
What Makes

a Blacklisted Site?

All the rooms listed here will have been highlighted for a range of black marks, including:
FAILURE TO PAY WINNINGS OR HONOUR CASH-OUT REQUESTS
NOT HAVING ADEQUATE LICENSING AND AUDITING IN PLACE
POOR SECURITY PROTOCOLS TO PROTECT PLAYERS' PERSONAL INFORMATION AND PASSWORDS
INSTANCES OF PLAYER COLLUSION OR CHEATING THAT WERE IGNORED BY THE SITE
POOR, OR NON-EXISTENT, CUSTOMER SUPPORT
It's true that some poker rooms have had chequered pasts, but have come out the other side with their reputation (more or less) saved.
PokerStars, Absolute Poker/UB and Full Tilt were shut down in the US for accepting American payments. After the DoJ closed Full Tilt down, it later emerged that they had not segregated player funds from operating cash. The result: over $300 million was embezzled and US players were left out of pocket.
Although PokerStars ended up buying out Tilt and repaying (some) players, both sites remain frozen out of the regulated US market entirely. For that reason, we are leaving the pair off our list for now.
How To Avoid
Blacklisted Poker Sites
Before you sign up for a poker account, check our list to see who you should avoid. We keep our blacklisted page updated regular, so some sites who have proved themselves may find a way back into our good books.
The best advice is to read our reviews and sign up with only the best, reputable poker rooms on the net. You can then play poker safely and in the knowledge that your cash-outs will be dealt with quickly and the chances of fraud will be non-existent. Take a look at the best of our choice on The Best Real Money Poker Sites 2023
Blacklisted
and
Defunct Sites
in 2023
BLACKLISTED POKER SITE
REASON WHY
WHAT HAPPENED
STATUS

LOCKPOKER
Cashout delays
The former Revolution Gaming site has a long history of poor cashout times and bad customer service. When Lock and Revolution split in 2013, both accused each other of wrongdoing; Lock Poker accusing Revolution of not paying customers, Revolution accusing Lock of owing substantial sums to the network. In late 2014 it was alleged Lock still owed over $3 million to its players. [1]
Lock still operates, but our advice is to steer clear.

ABSOLUTE POKER/ ULTIMATEBET
Black Friday, money-laundering, insider cheating
One of the major players raided by the DoJ in 2011 on Black Friday, Absolute/UB ignored the UIGEA to continue processing poker payments by US players. When they were shut down it emerged they weren't in a position to repay their players. Some US poker players are still waiting for their money. But that's not the worst scandal at Absolute. In 2007, CEO Scott Tom switched on the 'God' mode at the site, spied on opponents' cards, and stole hundreds of thousands. If you're interested, the site's European domain, ubpoker.eu, is up for sale.
Defunct

CARDSPIKE
Poor communication, cashout delays
Another of the guilty parties when it comes to non-payment, Cardspike was always dogged by accusations they were unable to pay real-money players their cash.
Defunct

DOLLARO POKER
Confiscation of winnings from real-money players
The gaming site operates a sportsbook, casino and poker site but has been the subject of big non-payment claims from players.
Still operating

BETCOIN
Low traffic, poor cashouts
An online poker site that accepts deposits using the popular virtual currency, BietcCoin has suffered from terrible traffic. Avoid until the site improves its player pools and Bitcoin can prove to be a viable deposit option.
Still operating; avoid.

WSEX.COM (WORLD SPORTS EXCHANGE)
Non-payment of players
In 2010, the gaming room had its license revoked by the commission in Antigua over hundreds of thousands in unpaid winnings.
Defunct

ODDSPOKER.COM
Missing player funds
Now operating under an Antigua web extension, OddsPoker.ag has been accused of stealing funds from players. The site's network, Gametech/Futurebet, also has rooms like Prosbet, Vegas24 and PokerOne, which we recommend avoiding too.
Still operating

LUCK 3 POKER
Non-payments
Once operating a popular casino and poker site, players were not paid (nor were staff) and the site has shut down.
Defunct

CHICO POKER
Black Friday, non-payments
Previously known as the Action Poker Network, Chico fell foul of Black Friday and found itself unable, or unwilling, to pay out to its players. The Chico Poker Network didn't have a great record with its various skins, with ActionPoker, Paynorake, PokerInCanada and Tigergaming among the sites running up late payment times for their players.
Still operating
Full Tilt and the
Biggest Online Scandal?
Once only second to PokerStars in terms of player numbers worldwide, while also boasting some of the most successful players, Full Tilt Poker ignored the new UIGEA legislation of 2006 to continue offering real-money poker to US customers.
After the US DoJ shut the site down in April 2011 (Black Friday) it emerged the room was over $100 million short in paying its own players back. It emerged that the site, with the full involvement of some pro players, was engaging in a 'Ponzi' scheme by paying out winnings using other players' deposits, and siphoning off cash as loans to pros. Ultimately, the site was found to have defrauded players to the tune of $300 million. [3] While still denied a way back into the US market, rival PokerStars purchased the company and repaid US players itself.
Compare
reputable poker sites

Why
you should use our recommended sites
Independent from Operators
Unbiased reviews • Only safe sites listed • Free from adverts
Get help from pro online poker players
Have a burning poker question not covered by our FAQ's? Ask our knowledgable poker experts.
Free 24/7 conflict resolution service
Having a problem with one of our listed poker sites? Let us know and our team will work on your behalf to fix the issue.
Round-the-clock Customer Service
24/7 customer service by email or live chat.
Great poker experience guaranteed
You'll have a great experience on any of our recommended poker sites or we'll work on your behalf to put things right
More Related Guides