Best HORSE Poker Online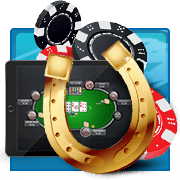 Looking for the next revolution in online poker? HORSE could be it. Why settle for one boring poker variant when five are included, all in one cash game or tournament.
HORSE is played on the net with a 'round of each' of every one of its components: Hold'em, Omaha, Razz, 7-card Stud and Stud Hi-Lo/Eight or Better.
While popular as a cash game among higher-stakes players, there are also several high-profile tournaments available online.
The team at OnlinePoker.com loves a challenge, and we've done our best to bring you ratings on a range of gambling sites offering HORSE online poker.
At OnlinePoker.com, we find the best HORSE Internet gambling:
Our
Best

Online Poker Sites for 2023
History of HORSE
Mixed games have been growing in popularity recently in online poker. HORSE can be played in cash games and tournaments, while big Internet poker series regularly feature a HORSE championship.
The WSOP caught the HORSE bug in 2002 with its first tournament, a $2,000 buy-in event. However, the mixed game format really took off four years later when Chip Reese won the first ever $50,000 HORSE tournament.
The late Reese won a first prize of $2,276,832 by taking down the tourney, and the format was expanded to become the Poker Players Championship which still exists to this day. And expansion of HORSE (the event includes 2-7 Triple Draw and Omaha Hi-Lo, as well as No Limit Hold'em), the Poker Players Championship is considered the ultimate test for pros in the world.
How to Play HORSE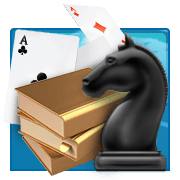 Mastering HORSE Internet games is about learning all five games, not just one. Here's a quick rundown of the disciplines:
Fixed Limit or Limit Hold'em
In big live events, the Texas Hold'em round is played Limit (and No Limit at the final table) but online it's generally Fixed Limit.
Players are dealt two cards face down each (hole cards), and rounds of betting follow in between five 'community' cards dealt on the board. These are shared by all players at the table. At showdown, any remaining players must make the best five-card hand from ANY of their two hole cards and the five community cards.
Fixed Limit Omaha Hi-Lo
Once the button completes a full orbit of the table, the game changes to Omaha (Limit or Pot Limit live but generally Fixed Limit online). Similar to Texas Hold'em, players in Omaha are dealt four hole cards and MUST use any two of their cards, plus three community cards in order to make the best five-card hand.
Razz
The first Stud variant follows in our next betting round. Players are dealt two cards each face down and one face up (up card). Three further up-cards are dealt out and one face down. The aim is to form the best, lowest, five-card poker hand.
Razz is played with antes rather than blinds, and the player with the highest up-card on each deal kicks off the betting.
7-Card Stud
Played the same way as Razz, the aim of 7-card Stud is to form the best, or highest, five-card poker hand from seven cards. As with Razz, two cards are dealt face-down followed by a single up-card.
The player with the lowest up-card 'brings in' the betting and kicks of the action. This is repeated as further up-cards are dealt. A final, seventh, card is dealt face down to each player, and the winning hand is the highest hand possible.
Stud Eight-or-Better / Stud Hi-Lo
The final round of HORSE is Stud Hi-Lo. The usual two down-cards and one up-card are dealt at the start of the hand, and betting rounds alternate with further up-cards and a final down-card.
At showdown, the pot is split between the best, or highest, hand and a low hand containing five cards 8 or lower. If there is no qualifying low hand, the whole pot goes to the high hand. The low hand is ranked from the highest card first and downwards from then on.
Qualifying '8 or Better' hands go as follows:
8-7-6-5-4
8-7-6-5-3
8-6-4-2-A
8-4-3-2-A
7-6-5-4-2
7-5-4-3-2
6-5-4-3-2
6-4-3-2-A
5-4-3-2-A
Discover the Best Online Poker HORSE Sites in 2023
When it comes to fun poker online, HORSE is about as varied and exciting as it gets.
Only the very best gaming websites offer HORSE online poker in 2023 ; and we test and compare the biggest rooms on the net to make sure they have everything covered.
The recommended real-money websites in our guide boast plenty of cash game traffic so you can sit down at any HORSE online poker table you like, 24/7. We also test security and cash-outs to make sure your winnings are safe from hackers and shysters.
For real-money poker, HORSE represents a fun combination of five top poker variants. At OnlinePoker.com, we have only the very best rooms. Sign up today and get yourself a great cash bonus when you make a deposit.
HORSE in 60 Seconds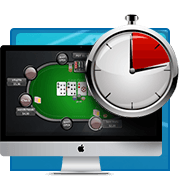 HORSE is a poker game featuring five exciting variants, Hold'em, Omaha, Razz, Stud and Stud 8-or-Better.
There's a round of games before the discipline changes, and you can enjoy cash games and tournaments at a wide range of stakes at the best sites in 2023 .
Limit Hold'em is played with two hole cards and five community cards, with the winner holding the best five-card hand. Omaha is played Hi-Lo (or High/Low Split): players are dealt four hole cards from which they must use two cards along with three from the community cards on the board.
Razz is a 7-card Stud variant where the 'best' hand is the lowest five cards (e.g. A-3-4-5-6). Stud, meanwhile, is a 7-card variant where the 'best' hand is the highest five-card hand. As with Razz, Stud is played with antes and the betting rounds are started by the player holding the best 'up cards' on each round.
The final round is Stud Eight-or-Better. In this variant, the pot can be split between the best high hand and the best qualifying low hand. The low hand must contain five unique cards of 8 or lower (e.g. A-2-4-5-6).
Top Tip: Master Every Variation
Most newbies play real-money Texas Hold'em poker online; HORSE, however, requires you to master several games at once. And the Limit betting structure can be alien to a lot of newcomers.
While you may have Hold'em all sussed out, the Limit betting makes the game a lot different to classic No Limit Texas Hold'em. If you want to crush the games in online poker, HORSE players who've come from Hold'em need to spread their skills. It's no good trying to win as much as you can in the Hold'em round, then shut down completely for the other ones.
Top Tip: Practice Online For Free
The best way to practise HORSE online poker games is to try out play-money tables before committing any real money.
The good gambling sites will run several HORSE free-play tables so you can get used to the various rules and nuances of each discipline.
As Stud takes up three components of HORSE in one guise or another, pay particular attention to 7-Stud, Razz and 8-or-Better free-play games. If you've come to HORSE via Texas Hold'em or Omaha you should already have a handle of those variations.
More Related Guides