Black Chip Poker is one of the most exciting platforms for real cash poker play you'll find online. There's a constant supply of promotions and offers to get excited about, and the site does a fine job of putting on a big variety of tournaments for its registered players.
Being part of the World Poker Network means Black Chip taps into a huge player base and is able to offer satellite qualifiers for events on the World Series of Poker.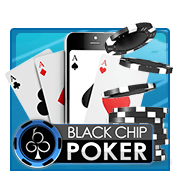 Site History & Reputation
Black Chip Poker has been on a steep upward trajectory for four years since becoming part of the Winning Poker Network in 2012. Licensed and regulated from a base in Costa Rica, the site is widely considered among the most invigorating destinations for real cash tournament play online.
Black Chip puts a big onus on site security and reliability, which is why they employ a security staff 24-7 to monitor transactions and ensure everything runs smoothly. This team works in unison with their excellent customer service staff, on hand every hour of the day and night to keep the punters happy.
2019
- Present Day Reputation
Black Chip Poker enjoys a glowing reputation for its range of tournament play and generous bonuses and promotions at the site. There's a strong rakeback offer at the site and the online poker community loves the fact you can jump around different formats whenever the mood takes you.
It's also important to note Black Chip's reliability and trustworthiness. This is a real money poker site that puts the player first and does everything possible to safeguard you from anything other than a first-class gambling experience.
Black Chip has a huge player base, which means there are plenty of fish to catch and the opportunity to clean up at the virtual tables looms large. You'll also find some high caliber poker players in the mix, so a challenge is easy to come by too.
Software
Black Chip is a download-only poker site, but it's well worth the (minimal) trouble when you consider the quality of the software involved. With Black Chip's software you can enjoy features like preferred seating, auto top up, auto buy-in and on-demand tournaments.
The software is extremely intuitive, downloads in a matter of seconds and will update when a new version is available. It's also complete with all the security features you need to protect your details online and ensure every transaction you make is completely safe. The only downside is that Black Chip's software is not yet compatible with Mac or for mobile download.
Traffic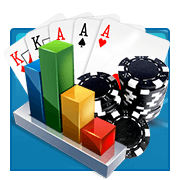 Black Chip is one the busiest online poker sites out there, so expect to come upon a big range of abilities when you're playing. You'll also be playing against poker lovers from all over the world, which makes for a very cool experience and a great way to hone your skills by learning from the approach of others.
Black Chip has a chat feature installed, so you can interact with your fellow players as you play. All you have to do is click on the chat box, enter your text and send it. This is a very popular add-on that you'll enjoy taking advantage of.
Available Games
In terms of the poker games on offer, you'll find Texas Hold'em, Omaha, stud and draw formats at the site. If you're not clear on how any of these work, just check out the "How to Play Poker" area of the Black Chip site for a quick guide on the rules and key details.
Tournaments
Black Chip's tournament selection is truly something to behold. You can play sit & go events, re-buys, multi table tournaments, re-entry tournaments, flip tournaments and more besides. With such a great range of events, you'll never get bored and always have another format to master.
Bonuses & Promotions
Black Chip has earned a big reputation for their bonus and promotion package. They don't do thing by half, and registered players stand to benefit from some great rewards at the site.
New players who sign up can claim a 100% match bonus on their first deposit at the site. This is capped at $1,000, which means if you pay in $1,000 of your own cash you stand to benefit from an impressive $1,000 in free funds from Black Chip in your online poker account.
When you join the site you automatically get a month's entry into Black Chip's weekly $250 freeroll tournament. This opens you up to the possibility of taking home a big pot with no outlay whatsoever.
Registered players should watch out for regular rolling promotions and the chance to enter satellite qualifiers for major poker tournaments. Be sure to check the promotions section of the Black Chip site regularly, or your risk missing out on some seriously juicy bonus offers!
Final Thoughts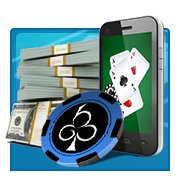 "Black Chip is the ultimate online poker destination for tournament play and it keeps getting better and better."
If you build it, they will come. It's line stolen from the movie Field of Dreams, but it fits perfectly with the success achieved by Black Chip over the last four years. Their poker hub has attracted armies of players from all over the world and continues to grow at a rapid rate.
Though currently only available to PC users, and not yet adapted for mobile on the apps market, Black Chip's online poker site has still managed to prove itself as a genuine force in the online poker world. In due time mobile functionality will be added, as will Mac play, and their big player base will swell further.
The rapid rise of the site tells us that Black Chip knows what players wants and will do everything possible to keep them happy. Those are two greats traits for a real cash poker site to have and it's hard to see anything but progress from here. Hopefully this Black Chip review has whet your appetite to give the site a whirl.
Top