Creating a New Poker Account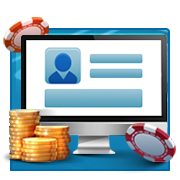 Playing poker in a live casino or cardroom is easy: you walk in, buy your chips, flash the membership card, and sit down and play.
Creating a poker account online, however, takes a little more effort. There are usernames to create, secure passwords to think up, and a deposit method to choose
And that's all after you've chosen a good site in the first place.
To take some of the trouble out of creating a new account, here's our step-by-step guide to making your first online account the easy way.
1 - Picking a Site
So, where should you play online? Those TV commercials might look attractive, but there are other factors to consider. Before you've even dreamt up an online handle, picking the right site is vital.
How big are the bonuses? Are there are any offers for new customers? Is the software trusted? Do they have a good record with paying out winnings quickly, and are they properly licensed?
2 - Choosing a Username and Password
When signing up, you'll need to come up with a unique log-in username and password.
Make them original and easy to remember in case you don't want to store cookies online when you come back to log on. And make sure you don't store your password if you're going to be playing at no-download sites on a public computer.
Depending on the site, you may be able to upload a photo or image to act as your online screen 'avatar'. This will display next to your screen name as you play.
You will also have the chance to pick a different screen name to your log-in username which also appears next to your avatar during games. See the box for why some thought should go into picking a good screen name.
3 - Setting Up Your Tables and Display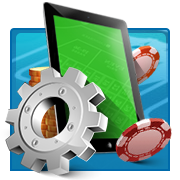 OK, you've got a username and password; now to set up your game screen.
Depending on the software the site uses you can choose different graphics for the playing cards and different layouts for the game screen.
If you're thinking of multi-tabling, investigate whether the site allows for tiled poker tables - i.e. simplified screens that cascade across your monitor for easy access
4 - Making a First Deposit
For real-money games, you will have to make a deposit using a chosen banking method, be it debit/credit cards, a digital e-Wallet, or a straight bank transfer.
Choose your bank deposit method carefully, especially if you live in a jurisdiction where you may find certain options difficult to process. Also ensure that the site you've signed up to accepts the method for both deposits AND withdrawals, and check for any fees that may apply.
Head to the Cashier - this will be displayed clearly in the poker room lobby - and select your deposit method from the menu.
If using a card, enter the long number and CVV2 code on the back. If you're using an e-Wallet, simply enter your username and password and you'll be taken through the e-Wallet site process. Some sites also accept prepaid vouchers; just enter the 19-digit code on the voucher and your funds will appear in your poker account.
5 - Picking the Right Deposit Option
All good poker rooms will have a handy drop-down checklist of all the deposit methods available in your country. Just choose the country you're in and the currency you want to deposit with, and the available options will appear on-screen.
There is a minimum amount to deposit (normally around or the currency equivalent). Once in your account, you can use the money to play any real-money games you want.
Remember that some sites will apply an exchange rate to convert your currency into one accepted by the online room. There may well be a margin added to the official rate, so make sure you're aware of this before depositing funds However, the best poker sites generally accept deposits in USD, Euros, GBP and CAD as standard.
6 - Deposit Rejections
With the legal situation changing in some countries with regards to online poker, you may find that your bank or card provider will reject your deposit.
Before you deposit, make sure you're up to speed with the current gambling laws in your jurisdiction. Even in newly-regulated jurisdictions in the US, some card providers will reject gambling transactions, so it's a good idea to have a Plan B like an e-Wallet or wire transfer.
7 - Age Verification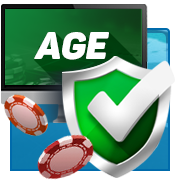 As a fight against fraud, and in compliance with sites' licensing deals, you may be asked to verify your age when making a first deposit.
This can involve sending the site copies of documents like a passport, copy of a recent utility bill, or copy of your driver's license. Once received and verified you should be able to carry on playing.
8 - Transferring Player Funds
Once your funds are in, you can use them to buy in to cash games, tournaments or satellites, convert them into another currency, or transfer them to another player.
Transferring funds to a player at the same site is easy and merely requires you entering the Player ID on the appropriate Transfer tab. Funds usually leave your account within the hour.
9 - Earning a Welcome Bonus
While setting up a poker account is pretty straightforward just by visiting the site direct, you may want to take advantage of a welcome bonus.
These can be triggered by signing up with a special promotion code, either entered when you open the account or when you make your first real-money deposit.
Bonuses can be hard to activate (see our dedicated pages on this website) but used sensibly they can provide canny grinders the chance to earn lots of free cash, just for playing poker.
10 - Getting Help
Good poker sites will have dedicated departments to help with deposit issues. If you can't contact them via the instant chat, use the site's email address.
Once you have an account up and running, updating your details like home address, phone number and password is easy. You can also keep tabs on your player points - if available - and any exclusive offers you may be entitled to.
Choosing a Good Screen Name
There has been some research done into how your username and on-screen appearance can create an impression to your opponents. [1]
Successful online pro, Phil "OMGClayAiken" Galfond, is said to have chosen his screen name as it would make opponents embarrassed to lose against him.
Try to make opponents remember you. Having a generic screen name like "Tom12345" will make you look like any one of a thousand online fish who just signed up for fun. Coming out all guns blazing with "URGoing2Lose" or "GiveMeURMoney" will rile other players and sew just a few seeds of doubt as to your ability.
Remember, your opponents can't see you; you need to work hard to create a "persona" before you sit down.
And one last tip: don't pick an insulting screen name containing swear words; the poker room will just make you change it.
[1]
http://poker.stackexchange.com/questions/1542/research-on-the-effect-of-a-screen-name-or-avatar-in-online-poker
More Related Guides
Top