Best Badugi Poker Online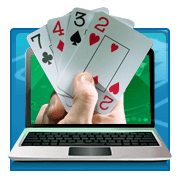 If you're looking for the next big thing in online poker, Badugi could well be it.
Although not available that widely in 2023 , some of the top gambling sites on the net offer Badugi online poker with cash games at various stakes.
Learning the rules to this 4-card game takes a few minutes; mastering it takes years. But get your Badugi online poker journey off to the best possible start by signing up to some great rooms.
Find top real-money Badugi action on the net:
Our
Best

Online Poker Sites for 2023
History of Online Poker:

Badugi Facts

Although it's not known exactly how Badugi found its way onto Internet poker sites and Vegas Dealer's Choice tables, it's thought that the game appeared in South Korea in the 1960s and 1970s.

Badugi seems to have been translated from the Korean for "spotted dog", referring to the need for players to get four cards of different suits (or 'spots').

As with many card games that sprung up in Asia around this time, it's thought that Badugi became popular among American GIs stationed in Vietnam and Thailand, and was subsequently brought home when they returned after the Vietnam War

In terms of poker online, Badugi is available to play for low-to-medium stakes at cash games running 24/7, and more gaming websites are introducing tables all the time.

The 2014 World Championship of Online Poker (WCOOP) featured a $320 Fixed Limit Badugi event, but as of 2023 the WSOP has yet to catch up with a live tournament addition to its schedule.
How to Play: Getting Started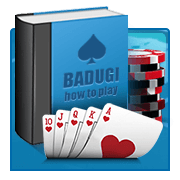 If you know a thing or two about lowball games like 2-7 Triple Draw or Razz, you should grasp Badugi.
The aim of the game is to get the lowest 4-card hand possible. Aces count as low cards in the game and are powerful if you get dealt them at the beginning. Bigger cards like queens and kings, conversely, are terrible starting cards in Badugi.
The strongest hands in Badugi online poker games are those containing no pairs and four cards that are low and in different suits, known as a 'Badugi' (e.g. 4s 3d 2h Ac).
Betting in Badugi
Small and big blinds are placed before the action starts, as in Hold'em games. Each player is then dealt four cards each face-down. A round of betting follows, and players can then draw (or exchange) any of your cards to help improve your hand. You also have the option of 'standing pat', or choosing not to draw.
Two more rounds of betting and draws then take place, and anyone left at showdown reveals their hands. The lowest, or best, hand wins the pot.
Hands are ranked by the highest card first (with straights ignored), so a player with 9-7-6-4 would lose to a player holding 8-7-6-4. The 'Badugi' is the best possible hand, a four-card low hand 4-3-2-A with four suits in your hand.
If no player at showdown has a Badugi, the pot is decided based on the best 3 or 2-card hand. Hands containing more than one suit count against you, so if you had 10h-5h-4c-3s the higher heart (the 10h) is ignored, giving you a 'Three-Card Five' of 5h-4c-3s-x. You can still win a pot with a Three-Card hand, as long as it beats another player's Three-Card hand or a Two-Card hand.
Find the Best Badugi Sites In 2023
If you're after something a bit different, gambling on real-money Badugi poker online is the way to go.
In terms of mastering online poker, Badugi is an easy game to learn, and if you get a few key strategies under your belt you can steal a march on your opponents.
We think alike here at OnlinePoker.com, and our experts compare and test lots of sites offering poker online. Badugi games at our recommended sites must have a good flow of traffic and be available in a range of stakes around the clock.
We also check that all our top Internet rooms offer a good range of deposit options and have solid security and cash-out times.
Sign up today with one of our great selected gaming websites and you can earn an exclusive welcome bonus when you play online poker. Badugi players can potentially earn hundreds of dollars in bonuses when signing up.
Badugi in 60 Seconds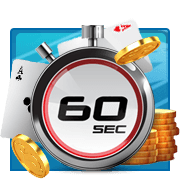 Badugi poker online is a web version of the popular Draw game. Each player is dealt four cards face down, and after a round of betting players can exchange any of their cards. Two more rounds of betting and two more draws are made as players aim to form the lowest 4-card hand.
Players need to aim to have four non-identical cards as close to Ace as possible and of four different suits. (Aces are low cards in Badugi.) The best 4-card 'Badugi' (a hand containing four cards of different suits) is therefore 4-3-2-A of different suits.
The lowest unique hand at showdown scoops the pot, but if no-one has a Badugi, hands are ranked on the best three cards of different suits, then two cards of different suits, and then one-card hands.
Top Tip: Know Your Good Hands
As with any variant of poker you're not familiar with, it's important to get a basic grasp of hand rankings. Refer to this handy 'cheat sheet' when playing so you know what Badugi hands you're aiming for.
Top 10 Hands in online poker Badugi games (listed best to worst, and all hands in four different suits)
A-2-3-4 (lowball straight, the 'nuts')
A-2-3-5
A-2-4-5
A-3-4-5
2-3-4-5
A-2-3-6
A-2-4-6
A-3-4-6
2-3-4-6
A-2-5-6
Top Tip: Think About Position
As with most Draw games, you have to utilize your position to learn information on your opponents in Badugi online poker.
If you're last to act, for example, it gives you a great advantage as you can glean an idea about what your opponents hold or don't hold.
For example, if two players before you don't draw when it's their option, you can surmise they have a Badugi already and don't need to take any more cards. This makes your decision to stay in the hand or fold much easier. Find out more in our top 10 tips for Badugi poker players.
More Related Guides