UPDATE FROM THE REVIEWS TEAM:
Full Flush Poker has recently shut down amid reports of financial difficulties, and onlinepoker.com no longer recommends this site to players.
If you're still looking to get gaming, America's Cardroom is a very similar alternative in terms of quality and gameplay, and a site we'd recommend instead.
Full Flush Poker Review

CLAIRE FRANKLIN,
For

OnlinePoker.com
Current Bonuses & Promotions
Full Flush Poker
Full Flush Poker and the poker network it has always been a part of, the Equity Poker Network (EPN), both opened in November, 2013, the same month that legal state-run gambling was launched in New Jersey. The Equity Poker Network operated under the ownership and management of Equity Marketing. The network's headquarters and server were based in Curacao, the same jurisdiction granting its license. The site chose a Norwegian firm called Playsafe Holdings AS as its software provider.
Unfortunately, as many of you reading this website are probably already aware, both Full Flush Poker and the Equity Poker Network appear to have folded. The information coming from Full Flush Poker itself was that the site was temporarily offline due to a software glitch while they were making improvements. However, that does not appear to be the case. The purpose of this report is to give you a better understanding of what actually happened and why. Afterwards we will recommend an alternative site you might consider in place of Full Flush Poker.
Many online poker rooms choose to join a poker network, which is a group of poker rooms working together using the same software and sharing the same games and tables. Joining a network not only gives a site more visibility, but allows for larger player pools than would be possible otherwise with the site operating independently, particularly if it is a small site without much traffic.
Equity Poker differed markedly from other poker networks, however, in being set up as a nonprofit cooperative. Instead of having each individual poker skin in the network contribute based on its share of the revenue, EPN charged a flat monthly fee that was the same for all operators. Full Flush Poker, the flagship site, became, at least for a while, the biggest and most profitable poker skin on the network.
EPN was founded by Clive Archer, an entrepreneur and online poker industry veteran. The combination of Archer's own expertise, the well respected team he brought with him, and the use of a software company with a decade of experience led to early confidence that Full Flush Poker would live up to and exceed its expectations.
Popular with Low Stakes American Players
Another noteworthy feature of EPN and of Full Flush Poker, in particular, was the intention from the outset to cater to casual recreational players, including residents of the U.S. No player was permitted to have more than one account on the network. So if a player had an account on Full Flush Poker, he or she could not open a separate account at one of the network's other poker skins.
Ever since Black Friday, the options for American poker players who wanted to play legally online have been limited. Thus, for many players in the U.S. without convenient access to the games in any of the three states where state-run online poker rooms have been legalized, Full Flush Poker offered a viable alternative. While the betting limits were too low to be of interest to mid and high stakes players, the site was very appealing to beginners and other low stakes casual recreational players in the U.S. Full Flush Poker not only offered a generous Welcome Bonus to get players in the door, but lots of inexpensive cash games and tournaments and very soft competition. The games offered included limit and no limit hold 'em, Omaha and Omaha High Low.
What Went Wrong
Unfortunately, there were also some major problems with this site, which probably contributed to its ultimate downfall. One problem was poor traffic, resulting in small playing fields and shorthanded ring games and small tournament fields. Other annoyances like very limited banking options with hefty fees, little game variation, no high limit games, and no late registration for tournaments also kept players away. The fact that the tournaments were basically crap shoots rather than an opportunity to be rewarded for good poker playing skills was another reason for the low turnout.
In addition, many players might not have liked the site's policy of not allowing the release of the Welcome Bonus in segments as they were cleared, like most online poker rooms. Instead, the bonus had to be cleared in its entirety before a player could have access to any of it.
Adding to players' frustrations, loyalty points earned through play could not be redeemed for cash; they could only be used for buying into tournaments. With no cash games higher than 1-2 no limit, most players opting for limit games, and no VIP program, there was little to maintain the interest of anyone other than rank beginners and small stakes players.
Although it is much easier to see all of these problems in hindsight than it probably was for players to be aware of them before putting themselves at risk of not being paid, the writing was on the wall for a long time. However, the final nail in the coffin was indeed the increasing difficulty in recent months that winning players experienced making withdrawals.
December, 2015 founder and former Director of EPN and consultant to Full Flush Poker Clive Archer resigned due to poor health, and the business acquired new ownership. Meanwhile, Full Flush Poker reportedly had already been experiencing financial difficulty for some time, but ever since the new owners took over, player payments have become much slower and, most recently, nonexistent. Reportedly, virtually all of the withdrawals that have been processed recently have been cash payments of $360 or less. Larger withdrawals and requests for payments using other methods have been pending for months. Unconfirmed reports also state that the site owes $5 million to affiliates. The Full Flush domain is now on sale for a measly $1,500.
Unfortuately, these developments do not bode well for players who are waiting to be paid. When and if they might get their money remains to be seen.
Offline Since September 30, 2016
On Friday, September 30, 2016, players at Full Flush Poker began reporting that, without any warning, the site had gone offline. However, those who were able to reach Technical Support were advised not to worry, that the site was in the process of updating its software and the temporary glitch would be corrected.
The only further communication was on social media the following Monday, October 3, this time notifying customers that the site was "in the process of updating ongoing solutions to offer a new, more exciting platform." Players were also reassured that they would receive "updates on this change each day." Full Flush Poker apologized for the inconvenience and, in response to players who were concerned about the money in their account, stated that "all balances are safe."
As the days and weeks went by, however, and both Full Flush Poker and the Equity Poker Network have remained offline with no further communication, the prospects of the site being up and running anytime soon, if at all, are becoming increasingly remote. In fact, Curacao, which is known to be a jurisdiction that is not particularly strict in its licensing requirements and quite lenient with regard to what each individual operator is allowed to do, has in this case taken action. It has recently suspended Full Flush Poker's license, along with those of thebackroomcasino.com, and bellugopoker.com, the only other two remaining poker skins on the EPN (at one time there were 12 poker skins on the network), and equitypoker.com as well. Even if Full Flush Poker were to miraculously reappear and resume business, given the recent history, we cannot recommend playing there.
Looking For The Full Flush Poker Download? Americas Cardroom is a Better Choice
On a brighter note, for those of you who were playing on Full Flush Poker and are looking for another site, we have good news for you. Our experts have carefully researched the possibilities to see what sites would be safe and secure and would offer the same advantages as Full Flush Poker without the problems. Specifically, we were interested in a site with a good track record, that would not be intimidating to casual recreational players and would treat them fairly, and would also be open to American players in most states. The online poker room we came up with that best fits these criteria, is www.americascardroom.eu.
Americas Cardroom has been offering online poker since 2001, so that information alone showsyou that this is a site you can trust. Longevity is an excellent indicator of a business that acts responsibility and treats its customers fairly. In addition, because Americas Cardroom has been serving online customers for well over a decade, you can be reasonably certain that the software has been updated over the years to reflect the latest developments in both online and mobile technology.
Like the name of the site says, Americas Cardroom welcomes American players. You can choose from a wide range of banking methods, and withdrawals are quick and no hassle. While you will be assessed fees for withdrawals, they are generally processed within two business days.
Americas Cardroom is a member of the Winning Poker Network (WPN) and is powered by WPN's own proprietary software. WPN is very highly regarded in the poker industry.
Are you still hesitating about joining? As a new player, as soon as you make your first deposit, you receive all of the following:
100% match bonus up to $1,000
$250 New Depositor Freeroll
20 Days of Free Jackpot Poker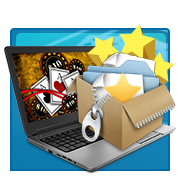 Top