Best HORSE Strategy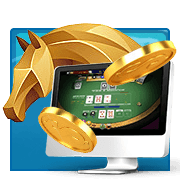 It's the game that many poker pros often define as "the true test of skill" and that's led to HORSE becoming one of the most popular variants in recent years.
Although the prospect of playing five different styles of poker in a single session can be daunting for amateurs, HORSE strategy, in general, isn't that different from any other format.
In fact, once you've mastered the basics and feel comfortable switching between games, the route to success in HORSE is a smooth ride thanks to the relatively low standard of play among many online player
The team at OnlinePoker.com loves a challenge, and we've done our best to bring you ratings on a range of gambling sites offering HORSE online poker.
At OnlinePoker.com, we find the best HORSE Internet gambling:
The Basics of HORSE Poker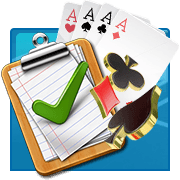 HORSE is a game that's played with a "round-of-each" format. This basically means that the variant switches after the dealer button has made a single revolution of the table.
Each session of HORSE poker online begins with Fixed Limit Hold'em, then rotates through Fixed Limit Omaha Hi/Lo, Razz (7-Card Stud Lowball), 7-Card Stud (High), and finally 7-Card Stud Hi/Lo (Eight or Better).
When the 7-Card Stud Hi/Lo round is complete, the game goes back to Fixed Limit Hold'em, and so on.
When switching from Omaha Hi/Lo to Razz, the button is frozen because the first person to act (the bring-in) is determined by the player with the highest card. Additionally, the button is frozen so that when the game switches back to Hold'em (after 7-Card Stud Hi/Lo), nobody misses their chance to be on the Button or has to pay extra blinds.
All the component games in HORSE are played Limit or Fixed Limit - there are no Pot Limit or No Limit games. Moreover, the limits are kept the same throughout the entire game rotation, so if you play / Fixed Limit Hold'em, then you'll also play / Fixed Limit Omaha Hi/Lo, and so on.
Being Flexible
The biggest skill you need to develop when you're playing HORSE is to be flexible.
One of the biggest mistakes amateur players often make is to adopt a Hold'em mentality and apply that to every round.
What do we mean by this? Hold'em players, especially No Limit proponents, will be used to making big bets and bullying players off pots. Unfortunately, this isn't possible in HORSE as the game is often played as a mixture of Limit and Pot Limit. This means you have to be comfortable playing across all streets and reading hands.
Attempting to bulldoze your way through a game is a recipe for disaster as the best HORSE strategy is to be subtle and fluid. Don't get stuck in a single mindset and be prepared to switch from being aggressive to conservative depending on the game you're playing.
Being Observant
Another top HORSE tip online poker players need to be aware of is: be observant. While it may seem like an obvious point to make, the amount of amateurs that lose track of the game they're playing is actually a lot higher than you think.
Not keeping up with the action will lead to silly mistakes and it will prevent you from carrying out our aforementioned HORSE strategy tip. Flexibility depends on being observant and your overall profits depend on using both of these skills in unison.
Don't Skip Rounds
The final HORSE strategy tip we can offer you is to be consistent. Skipping rounds is not only bad etiquette at the table, but it will lead to gaps in your overall skill set. If you're not comfortable with a particular round of action then we suggest you do the following:
First, go off and read as much literature on the game as possible. Learn the basics first and then use this knowledge, combined with your overall poker experience, to formulate a strategy that works for you.
Secondly, play some low limit cash game sessions of the game you're deficit in. Get used to the flow of the game and how often you should be value betting, bluffing and making moves pre-flop. Once you're comfortable in this format, you can then jump back into HORSE games and work on blending your skills into a seamless strategy.
Finding Good Value Online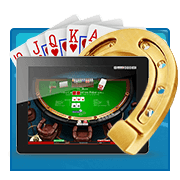 As we've already mentioned, online HORSE strategy should involve learning the basics because the players you'll be facing won't be experts. Poker players often overestimate their skill level and many often believe that success in one format will directly lead to success in another.
Juicy cash games will often involve players playing a lot of pots without very much aggression. Look for low Pre-Flop Raise (PFR) stats in the lobby combined with high VPIP (basically the amount of players seeing a flop) figures.
This dynamic is indicative of a weak game and one you should actively try and ante-up in. Additionally, if you're looking for a HORSE tournament, choose games with small fields and solid guarantees.
Most HORSE low stakes tournaments online will have guarantees of around and, while this may not seem like a lot, these games can actually be highly lucrative as you can achieve a much higher win rate than you can in Hold'em events.
Finding Great HORSE Sites in 2023
HORSE poker is becoming a lot more popular and this year we've managed to find the best games in the industry.
Although we still advocate a solid HORSE strategy filled with observation and table selection, we've made sure that the average player you'll face is weak enough for you to exploit. So, if you're looking to play HORSE online, check out our recommended sites in our guide today.
Mastering a Wide Range of Games
It goes without saying, but before you play any HORSE poker game online you should have an understanding of each game.
Believing you can offset any lack of knowledge in a particular discipline with skills in another is a recipe for disaster.
Although it may have been the case a few years ago that you could implement this strategy, most players are too savvy for this nowadays which means you need to be on top of the action in each game to survive.
Test out your skills in micro-stakes games and become comfortable with each format before you saddle up and start riding the Pony Express to Cashville.
More Related Guides